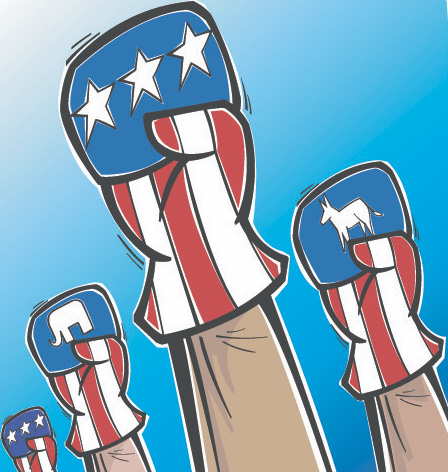 Braver Angels is a national organization with local alliances that bring politically dissimilar individuals together through interactive events in an effort to depolarize America.
Landon Whitby, 43, said the original group started in the "battlefield political ground of Ohio" as a grass-roots movement following the 2016 Trump-Clinton Presidential election. Four years later, there are local alliances in cities all over the United States where right-leaning Reds and left-leaning Blues regularly participate in events designed to break down preconceived notions of the 'other' side through structured, interactive conversations.
Whitby, who leans conservative, has observed "there are more liberal leaning participants who want to have the discussion," therefore he has reached out to predominantly conservative groups, "appealed to their sense of patriotism" to gather participants in equal numbers from across San Diego county.
"The political divide is so deep right now that people are not just 'not talking' but loathing each other as enemies to society. We have to live together in the nation but the other side is not going anywhere. If we don't change, the country is going to crumble and we'll all have to enjoy the rubble together," Whitby said.
Whitby, who is establishing a local group in San Diego county, recently organized a virtual workshop moderated by Mary Thomas-Vallens.
At the workshop, 16 participants worked through an exercise called a Fishbowl, structured so each person had an opportunity to explain why they believe their side's values are good for the country, then relate what reservations they have about their side's stance.
Most events, temporarily being held online due to physical distancing through the COVID-19 pandemic are much smaller and have included people across the political spectrum from self-proclaimed Trump supporters to an outspoken socialist, Thomas-Vallens said.
"The majority of people who turn out are older, white, more educated and Blue. Randy and I did a workshop before COVID and a 16-year old high school student came who said he absolutely loved it. We later did an event in Orange County for Irvine Unified School District with social studies teachers that was very engaging. I think having older participants is due to a matter of time, not a matter of interest," Thomas-Vallens said.
Currently, Braver Angels is working on an initiative with colleges and universities called Common Ground, Thomas-Vallens said, where the idea is to pick an issue and have participants work toward change in that area of interest.
"The issue one group picked is addressing climate change in Southern California and how it affects everyone, like with wildfires," Thomas-Vallens said.
Visit www.braverangels.org for more information.