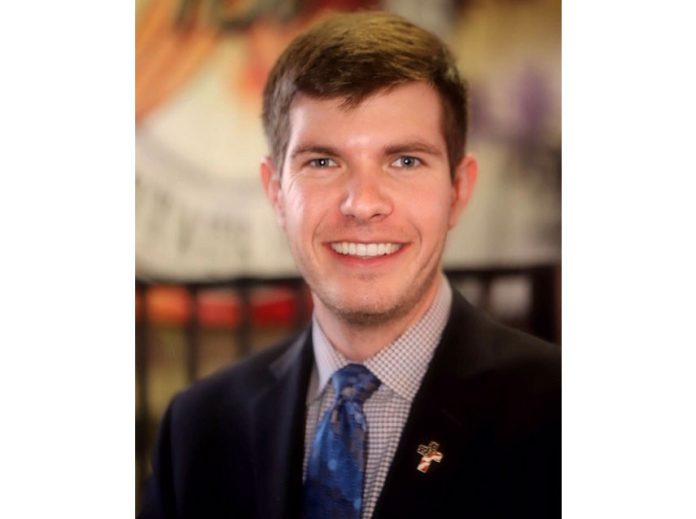 Lakeside resident and near-native Andrew Hayes is the newest member of the Lakeside Unified School District's Governing Board. If you didn't notice his name on the recent November ballot, it was because no one chose to run against him. When the filing deadline passed in September, the lack of an opposing candidate made Hayes the instant winner.
Not bad for a 24-year-old who already has many years of experience under his belt in serving the public.
Lakeside resident and near-native Andrew Hayes is the newest member of the Lakeside Unified School District's Governing Board. If you didn't notice his name on the recent November ballot, it was because no one chose to run against him. When the filing deadline passed in September, the lack of an opposing candidate made Hayes the instant winner.
Not bad for a 24-year-old who already has many years of experience under his belt in serving the public.
"I'm very excited for this opportunity," said Hayes in a recent interview, hours before he was to fly off to Sacramento to attend mandatory training for his new job. Hayes will join four incumbents on the board. His four-year term will begin when he is sworn in on Dec. 13, 2018 at the main offices of the Lakeside Unified School District.
If you sit down with Hayes in the community, one of the first things you discover is that he will be recognized by many a passerby.
"You can never go anywhere and not know anybody," he said. "To me, that's a blessing, because if people recognize me and we can talk, that's how government should work."
A native of San Diego County, Hayes was born at Sharp Mary Birch Hospital while the family was living on Mount Laguna. The Hayes family moved to Lakeside when he was about two years old.
Hayes attended a parochial school in the City of San Diego and then went to Tierra del Sol Middle School back in Lakeside. He graduated from El Capitan High School in 2012. Hayes was accepted at the University of San Diego, where he came away with two degrees: one in Political Science and the other in Business Administration.
His path to public service developed while he was at university.
"Politics was never on my radar. I never thought that I would enter in a public service kind of role," he said. Growing up, he wanted to be an engineer, because of his love for math.
He pursued that goal in his first year at USD, but found he did not have the passion for the work. His next thought was to become a lawyer, because he liked debate, he liked policy and he liked details. He started taking philosophy courses (and eventually minored in it), but after a little research and visiting a number of lawyers in their offices, he discovered a distressing fact.
"They don't really like their jobs," he said. "They may make a lot of money, but they are unhappy with what they do."
Again in career limbo, Hayes thought that since he was earning a business degree, an internship with a financial investment firm might be right for him. The stock market and investing had always interested to him, so it might be a good fit. However, that did not work out either.
"Every door that I wanted to open, closed," he said. "Every – single – door. So I prayed about it. I said, this is insane – I need a job."
During this personal reflection, Hayes realized he did have an interest in politics, though he had never considered it as a career. He remembered listening to conservative talk radio shows back in the sixth grade. In high school, Hayes started the Young American's Club at El Cap, in which students discussed contemporary politics. Suddenly, he had clarity of vision.
"I went to the only place where I knew to go to start, to jump in – to the Republican Party," he said.
Hayes helped with campaigns during an election cycles.
"I walked precincts and that kind of thing. You meet a lot of people and make a lot of friends. I justso happened to meet someone who worked in Senator Joel Anderson's office."
Hayes learned the senator had an internship program and that intrigued him. That was more than four years ago and the rest, as they say, is history.
A tremendously personable guy, Hayes excelled as a community assistant and liaison for Senator Anderson. Approachable, friendly, engaging and never at a loss for words, Hayes found his niche and his community responded in an almost overwhelmingly positive and supportive manner.
"I think we've done some awesome, awesome work. I helped the Senator organize 21 town hall meetings, providing close to 1400 people access – direct access – to their senator. To me, that's a huge achievement."
These meetings spanned Senator Anderson's district, from Lemon Grove to Borrego Springs and as far north as Fallbrook and San Marcos – and all the cities and towns in between, including Lakeside.
"I take my job very seriously, to represent a lot of people," said Hayes, an obvious statement to anyone who has met the young man or watched him at work. "Everybody deserves access. And I sometimes am their most direct access to Senator Anderson. We have couple of mottos in our office. Once of them is: Constituents are not an interruption to our day, they are the purpose of our day."
That's not Hayes' only motto.
"It's our job to make government work for our constituents," he said. "Those are mottos that I have embodied and that I live, daily. And I'm going to live them on the school board."
While his time and experience with Senator Anderson's office has been enjoyable and fulfilling, Hayes knew he wanted to take his own public service to another level. What that might look like was not immediately evident to him, though an idea had already formed in Hayes's mind.
"When the opportunity for the school board emerged, I had to pray about it and think long and hard, because education is really tough. The reason it's tough is that you are always dealing with the problem of scarcity and the balancing of resources. Frankly, that's the number one problem you face in schools," he said. "I realized that I am a product of Lakeside schools and a lifelong Lakeside resident and – at the end of the day – I got a great education. I want every kid going forward to have that experience that I did as a child here. And that's what really motivated me."
In 2017, longtime school board member Kevin Howe retired before the end of his term. A replacement was necessary and an appointment required. People in the community encouraged Hayes to seek the office. He applied for the position and went through the process, but did not get the job. In his feedback, Hayes learned that board members were impressed with him enough to suggest a run for the position.
When the next election came about, Hayes jumped into his campaign.
Though most of the community already knew he was running for the board, Hayes said he was surprised at the response.
"I was overwhelmed and still am – humbled – by the support that I received from my community."
Did this open and wide support convince any potential opponents to not run?
"I think the community came around me, saw that I have some things to bring to the table, and said 'let's give Hayes and this board a shot.' AndI think I had a lot of resources at my disposal in my campaign. I raised $38,000 – which is more that anybody for school board raised in Lakeside, ever. And that was all from community contributions. My average contribution was $110. That's pretty grass roots."
But did he scare away the competition? "No. I don't want to think of it in those terms," he said. "I'd rather think of it as, the community in Lakeside knows me, saw me, and was encouraged that I wanted to be there."
Hayes has experience that few new members could bring to the governing board table. He has intimate knowledge of the state's budgeting and funding decisions and how school districts are impacted, which alone will be a valuable asset.
Additionally, he has developed relationships not only across our county but also at the state level.
"I know different people in different places on school boards in the state. I think that's going to be helpful."
Hayes may be the youngest member ever elected to the LUSD Governing Board. When speaking with him, it is hard to believe he is only 24 years old.
He has a youthful appearance, but carries himself with a mature yet energetic demeanor. Does he think his age is going to be an issue?
"No. I wouldn't have run if I did," he said. "I think the issue comes down to generationism. We're in this weird period in our country where millennials – like me – are starting to move into leadership roles. It's an interesting transition because the older generation doesn't want to let go."
Hayes said he thinks his age will be an advantage in this position.
"Millennials have a bad rap – some of it deserved – but I'm not a typical millennial," he said. "I think I'm an older soul and I don't think it's going to be an issue for me. And I would really hope that before anyone in the community would discount me because of my age, we have coffee and we talk about it. I believe and I feel that my age is going to be an asset to the board. One, because I have the time to dedicate to the board. In addition, I have a youthful perspective as someone who was in the schools, as someone who saw it very recently and, by the way, who still has teachers in the district who taught me."
Hayes said he recognizes he will be working in a team environment.
"We have a really good board and a good school district. Like every district, we have our challenges. That's OK, we're going to get through them," he said. "One of the things I want people to know about the district that that we've made a 180-degree turnaround in the past two years. We had a really tough trial a couple of years ago."
Hayes said he feels the board put in a lot of time and effort to repairing those relationships soured at that time. Hayes wants to continue to build trust, within staff and the community.
"I want the board and all of the community to know that I am transparent. I want people to have my cell phone number (619-922-7208) and my email address (athayes32@gmail.com). They can call me or email me anytime, any day. I will get back to them. That is so important to me. I want people to ask me questions. I want them to call me."