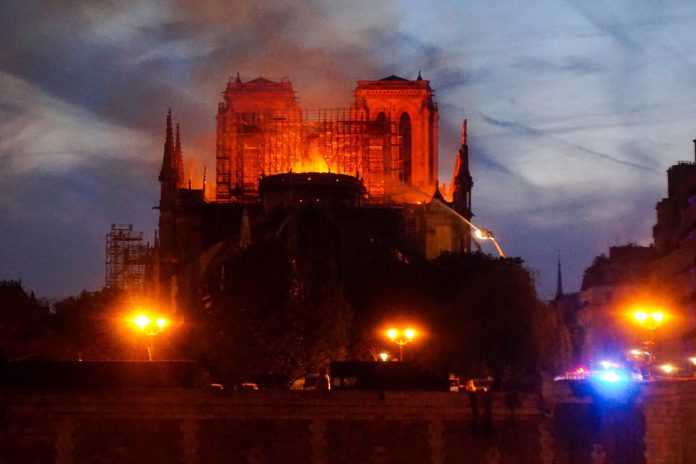 Paris has always been something of a second home to me. Ever since I first studied abroad there with Southwestern College in the summer of 2014 I've felt like this is where I've truly belonged, and the Notre-Dame Cathedral has always been the anchor that held the city together for me, even more so than the Eiffel Tower.
This spring I had saved up a little bit of money and had decided to revisit the city I loved, which I hadn't seen for nearly five years.
My trip had started prosaically enough, spent lazily walking through the narrow, crooked rues and taking in the ancient bohemian splendor of the city.
Then the unthinkable happened.
I had been spending the day of April 15 wandering around the Montmartre area of Paris, buying souvenirs and exploring the majestic hillside area when I heard the news that a fire had broken out inside the Notre-Dame Cathedral.
My first thought was one of disbelief, I couldn't fathom that such an ugly thing would happen to such a majestic and well-renowned building, let alone that I would be in the same vicinity when it occurred. It all seemed surreal, almost like a dream.
Then I shook off my reverie and my inner journalistic impulses kicked in. I knew that I had to see it, to document it, even if it was just to say goodbye one last time.
I had never run so much or so fast in my entire life, nearly flying up and down the serpentine subway stairs and hopping from train to train like a madman. Once I neared closer to the fray, a voice on the loudspeakers announced that the two stations nearest to the cathedral, Cité and St-Michel, were closed. But that wouldn't stop me.
I hopped off the train and took my chances on the surface. At first it was hard to see what was going on. There was an immense crowd of people standing, staring and taking pictures all along the bridges that connected the two areas of Paris across the Seine River. Traffic was stopped and police were patrolling the mouths of the bridges making sure no one was foolish enough to venture to the other side.
As I neared a corner I saw it and my heart sank. The top area of the cathedral was engulfed in flames.
After staring at the chaos for a bit, mesmerized by the yellow and orange fire that flickered and danced, seeming to relish in the thought of the devastation and destruction it had caused, I took out my camera and started taking pictures. Hundreds, thousands. My lens became my eyes, documenting everything I saw.
Then, one of the spires fell, and the roof gave way. I couldn't believe what I was seeing. This majestic cathedral which had inspired so many was going to be destroyed in a matter of minutes. Centuries of religious and artistic achievement would perish and become nothing more than a memory, than ash whisking away in the cool spring wind.
As I was assessing the damage, I kept an ear out for what the Parisians were saying. Through my limited knowledge of the language I was able to discern that no one really knew what was going on. Some speculated terrorists, a political demonstration gone wrong or perhaps faulty construction.
I stayed at the Cathedral's side for more than three hours, watching in shock with the thousands of others lined along the Seine. I thought about the gargoyles that kept watch over the city from the cathedral's rooftop, the pain they must feel at losing their home, powerless to stop it.
Just days before I had climbed those very same steep spiral steps to the top and saw the city laid out before me. I imagine what would have happened if I had instead waited and gone up that day. Would I have been trapped in the Paris sky, would I have burned along with the cathedral?
Eventually it grew late and it didn't seem that the firefighters at the scene had made much progress. All that running and adrenaline had caught up to me and I had grown tired, my legs weak. So it was with heavy heart that I decided to head back to my hostel. The metro ride back was surreal. Normally train rides in Paris are a boisterous affair, full of people laughing and talking and buskers playing their music for coin handouts. But this time it was quiet. People were lost in thought, wandering the corners of their minds in silence trying to figure out what to make of their beloved cathedral, now burning in the night.
Notre-Dame is such a staple of their city, their lives. It had never occurred to them to think what their skyline would look like without its Gothic arch.
That night I didn't sleep well, tossing and turning. In the morning, Tuesday, April 16, I read the news that while the fire was still underway, the worst part of it had been extinguished. French Junior Interior Minister Laurent Nunez told The Washington Post that, "It [the fire] is controlled but not totally extinguished."
Damage assessment is still underway and while some artifacts survived the flames, such as the crown of thorns said to have been worn by Jesus and a tunic worn by 13th century French King Saint Louis, but officials have said that much of the wooden interior had been ravaged by the flames.
Plans are underway to reconstruct the cathedral.
It has been difficult for me to write this article. I have written and rewritten it numerous times. How can I put into words the immense grief I feel when I think that I might never see the same Notre-Dame again? The building holds a special place in my heart, and when things get tough, I just think of its majestic gothic spires and ornate stone gargoyles to remind myself that there's still beauty in this world worth living for.
But Notre-Dame still stands.
It has seen plague, war, revolutions, violence and modernization over the centuries. Yet after each catastrophe the Cathedral stood tall. While it took a major blow last night, it will rise again from the ashes and light up the Parisian skyline soon enough.
In the words of French President Emmanuel Macron in an address to the nation, "Notre-Dame… is our history. The epicenter of our lives. It's the many books, the paintings, those that belong to all French men and women, even those who've never come. I tell you solemnly tonight: we will rebuild this cathedral."
I look forward to visiting the cathedral again in much better circumstances, once its back up on its feet.