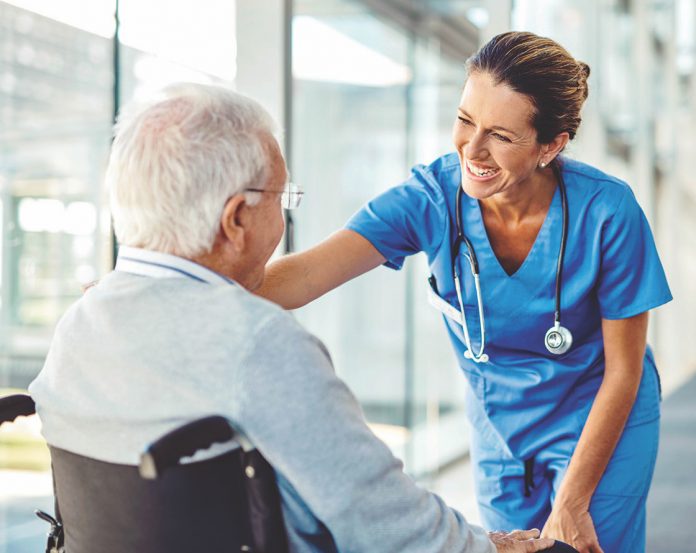 (San Diego, California, May 3, 2021) — Alvarado Hospital and Paradise Valley Hospitals, both members of Prime Healthcare, received "A" grades in the spring 2021 Leapfrog Hospital Safety Grade, a national distinction recognizing their achievements protecting patients from errors, injuries, accidents, and infections.
Both hospitals have been recognized by the Leapfrog Group for this award multiple times: Alvarado Hospital has held an 'A' since Spring 2019, and this is Paradise Valley Hospital's second 'A' in a row.
"An 'A' safety grade is an elite designation that your community should be proud of," said Leah Binder, president and CEO of The Leapfrog Group. "The past year has been extraordinarily difficult for hospitals, but Alvarado Hospital and Paradise Valley Hospital show us it is possible to keep a laser focus on patients and their safety, no matter what it takes."
The Leapfrog Group is an independent national watchdog organization committed to health care quality and safety. The Leapfrog Hospital Safety Grade assigns an "A," "B," "C," "D," or "F" grade to all general hospitals across the country and is updated every six months. It is the only hospital ratings program based exclusively on hospitals' prevention of medical errors and other harms to patients in their care.
"We are honored to be continually recognized for our achievements," says Paradise Valley Hospital CEO Neerav Jadeja. "Seeing first-hand what our nurses, physicians, and staff go through each day, enduring what they've had to endure during the pandemic, and still perform at such a high level is heroic. They do noble work. I'm proud of my Paradise Valley Hospital family, and this recognition from The Leapfrog Group is well-deserved."
Alvarado Hospital CEO Robin Gomez echoes Jadeja's sentiments. "Professionalism and a dedication to patient safety are such a part of the culture at Prime Healthcare that we at Alvarado Hospital, and Paradise Valley Hospital, cannot help but emulate. This is what the staff here expects from themselves and each other, and it's gratifying to see that this shows."
Developed under the guidance of a national Expert Panel, the Leapfrog Hospital Safety Grade uses up to 27 measures of publicly available hospital safety data to assign grades to more than 2,700 U.S. acute-care hospitals twice per year. The Hospital Safety Grade's methodology is peer-reviewed and fully transparent, and the results are free to the public.
"During a time when we recognize the heroes in our hospitals as they battle a pandemic, and now are providing a life-changing vaccine, we are honored to commend our dedicated staff and physicians for achieving this recognition," said Sunny Bhatia, MD, Chief Medical Officer of Prime Healthcare. "Putting patients and their safety first has and always will be a top priority at Prime Healthcare, and it has never been more important than it is today."
Alvarado Hospital and Paradise Valley Hospital were awarded "As" when Leapfrog updated grades for spring 2021. To see both hospital's full grade details and access patient tips for staying safe in the hospital, visit hospitalsafetygrade.org and follow The Leapfrog Group on Twitter and Facebook.
About Paradise Valley Hospital
For more than 100 years, Paradise Valley Hospital, a member of Prime Healthcare, has served San Diego and we are proud of our heritage of providing programs and services to meet the changing needs of our community. Today, our 291-bed, acute care hospital is the only San Diego hospital to be named a Top Performer on Key Quality Measures five years in a row. We have been given the Healthgrades Patient Safety Excellence Award seven years in a row (2014-2020). And Paradise Valley Hospital is home to the San Diego Spine & Joint Center, offering the latest technology and procedures for spine and joint patients. In addition, the hospital offers emergency services, maternity services, wound healing, acute rehabilitation, behavioral health, community wellness programs, and senior services. For more information, visit paradisevalleyhospital.com
About Alvarado Hospital
Alvarado Hospital, a member of Prime Healthcare, is a 306-bed full-service, acute care hospital centrally located in San Diego adjacent to SDSU. Ranked in the top 5% nationally for patient safety, the hospital has also been ranked among America's 100 Best Hospitals for Orthopedic Surgery™, Spine Surgery™ and Critical Care™. Alvarado Hospital offers more than 25 programs and services, including the Advanced Spine & Joint Institute, cardiac services, surgical weight loss, San Diego Rehabilitation Institute outpatient rehabilitation, sexual medicine, geriatric-psychiatric care, vascular services, an Emergency Department that is specially accredited for geriatric care. To learn more, visit AlvaradoHospital.com or call (800) ALVARADO.
About The Leapfrog Group
Founded in 2000 by large employers and other purchasers, The Leapfrog Group is a national nonprofit organization driving a movement for giant leaps forward in the quality and safety of American health care. The flagship Leapfrog Hospital Survey and new Leapfrog Ambulatory Surgery Center (ASC) Survey collect and transparently report hospital and ASC performance, empowering purchasers to find the highest-value care and giving consumers the lifesaving information they need to make informed decisions. The Leapfrog Hospital Safety Grade, Leapfrog's other main initiative, assigns letter grades to hospitals based on their record of patient safety, helping consumers protect themselves and their families from errors, injuries, accidents, and infections.