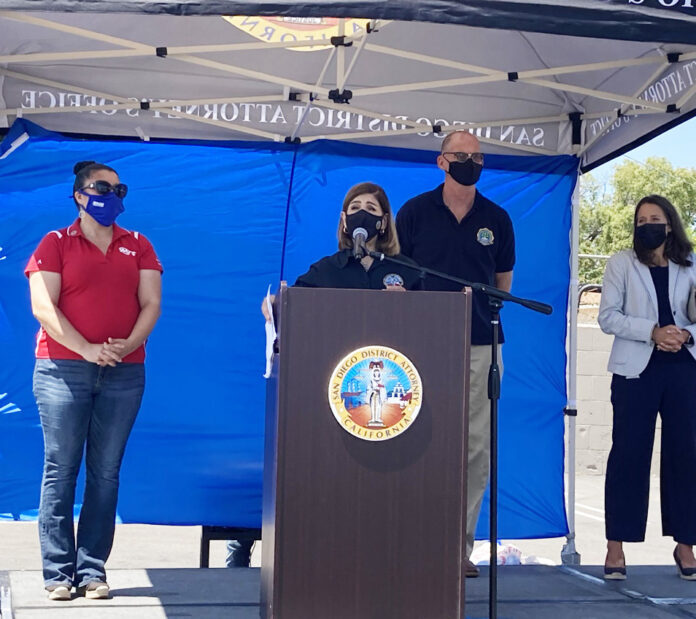 A Day of Action event hosted by San Diego County District Attorney Summer Stephan was held in National City on Aug. 28 to bring public awareness to an increasing fentanyl-related overdose death rate across San Diego County.
Over 30 agencies and organizations provided support for the event and representatives at over a dozen event booths provided information related to opioid abuse, and their own perspective on why their initiatives might be part of an overall approach to reducing opioid abuse throughout the county.
National City Mayor Alejandra Sotelo-Solis said the event was "about empowerment, engagement, a holistic way of looking at how to keep our community safe," and that the variety of agencies offered different opportunities for engagement.
When contacted for comment the office of East County Supervisor Joel Anderson said: "The epidemic of fentanyl-related overdoses is the latest in the tragedy of substance abuse, and we are looking at realistic ways to address this ongoing issue that causes tremendous pain and loss for affected families."
County officials are "stepping up our efforts to educate the public on how street drugs, no matter how authentic they look, are often mixed with fentanyl and are behind the alarming spike in deaths," Stephan said.
One fentanyl pill can be deadly, said the District Attorney.
"San Diego County is really ground zero for the entry of fentanyl into our community. We saw, in 2019, 150 overdose deaths and in 2020 that tripled to 461 and we're on track to see past 700 this year," Stephan said.
Emergency medical personnel demonstrated how to administer Naloxone, a medicine that rapidly reverses an opioid overdose and can potentially save someone's life. One common formulary, Narcan, can be administered through a sinus spray, buying time to obtain trained professional help for an individual who is overdosing.
"Take the atomizer that you've got, two fingers on the top and one finger on the plunger, put it in the nostril, push the plunger down and hold it for about 10-15 seconds," paramedic Susan Monroe said.
San Diego NAACP President Francine Maxwell said the event was, above all else, a harm reduction activity.