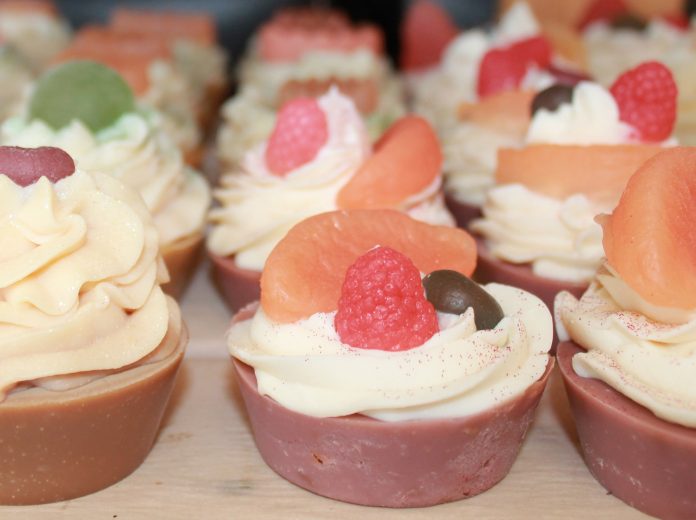 By Bethany Nash
For the East County Californian
Have you ever wondered where soap comes from? Have you ever thought it could be used in more ways than just for showering and washing your hands? Have you ever thought you could design your very own soap in your home?
By Bethany Nash
For the East County Californian
Have you ever wondered where soap comes from? Have you ever thought it could be used in more ways than just for showering and washing your hands? Have you ever thought you could design your very own soap in your home?
Master soap maker Kerri Mixon has thought of probably every possible use for soap. She is the owner and soapmaker for her successful business Pallas Athene Soap, and is a soapmaking teacher, author, and accomplished businesswoman. Some have even come to consider her the ambassador for soapmaking.
Based in Spring Valley, Mixon has been making a business out of soap since 1999. She runs her soapmaking business and classes right out of her living room.
"I absolutely love working out of my home," she said. "It's just wonderful. It really keeps me motivated."
Mixon has her certifications as a "Soapmaking Teacher," an "Advanced Melt and Pour Soapmaker," and as an "Advanced Cold-Process/Hot-Process Soapmaker." She is also trained in Aromatherapy, Nutrition, and Herbology.
When Mixon first began her soap business nearly two decades ago, it was the beginning of vegan soap, and her business was one of the leading producers of an anti-animal bi-product soap.
"We were kind of groundbreaking in 1999 because we were all vegan, 100% vegan soap," said Mixon. "Where we didn't have any animal bi-products, no bees wax, no honey, no lard, no tallow, no animal ingredients in our soaps. But now, we have lost our niche."
As California has remained in intense drought conditions over the past seven to 10 years, Mixon has made it her mission to regain her niche in the soap making world and find a more environmentally friendly soap that is no longer sodium based.
"More and more people have grey water systems in their homes," she said. "Almost every type of soap and detergent is a sodium based salt product. All of these soaps have sodium in them. Sodium is very detrimental to plants, it is very harmful. They need it in the tiniest amount, but what we put in the waste grey water systems is far more than what a plant needs."
Mixon and her husband, David Perez, who is the General Operations Manager of all branches of their soap making business, discovered that instead of using sodium, they could substitute potassium to be more environmentally friendly with all the same properties needed for making soap.
"It is much better for the skin," she said. "It isn't drying like the sodium is. So, the potassium salts are still natural, they're not drying to the skin, they're not irritating at all, and the plants love them, the plants need potassium so it does very well in a grey water system."
Beyond just being an entrepreneur in the soapmaking community, Mixon is also a soap artist and has found many ways to use soap, and make regular bath soap a masterpiece.
One of her inventions is to take a picture from a phone, print it on soap paper, and then place that in the soap mold, using a transparent soap. The result is a bar of soap with a very personal touch. How fancy.
Mixon has created an entire ocean scene out of soap. Using different colors, casting various molds, and layering each mold to create beautiful ocean scenery with sea creatures, waves, the ocean floor and starfish. It is a beautiful example of this master soapmaker's skills.
"Our motto is if you have a soap challenge or something to be made out of soap, we can do it," Mixon said.
Pallas Athene Soap also works with the Canadian Dental Association to create a specific rod of soap. The soap rods are used by dental technicians who have to carve a tooth from scratch in order to pass their final exam and become registered dental technicians in Canada.
Mixon does not just keep her skills to her soap shop. She and her husband have turned soap into a full-time job that completely supports them financially. They have an official Soapmaking Studio, where they offer classes for anyone to learn the art of soap making.
A variety of soapmaking classes are offered. From the basics of soapmaking, to advanced and intermediate levels. Other classes include, the Water Substitution in Soapmaking where students learn to use a fruit puree or wine in their soaps instead of water.
"Anything that can be made out of soap, we do it," Mixon said.
Mixon has a bookshelf stocked full of books on the art of soapmaking, and welcomes people to come and stop by to read in her soapmaking library.
"All of my books are available for anybody who comes by, who wants to stop in and sit and read," Mixon said. "They can't leave the building, but if someone comes [by] bring a cup of tea, have a seat, make yourself comfortable, spend the day browsing and reading."
Mixon also teaches business classes, where she educates people on the ins and outs of running a soapmaking business out of your home, as well as cosmetic classes where students learn to make lotions, bath bombs, etc.
Ladybug Lather reviewed the Soapmaking studio on Facebook leaving a five-star review stating, "This is the best venue for learning about all things soap and toiletries! Kerri and David are super! This is my happy place."
Tamika Lovelace, another reviewer, shared a similar experience.
"Everyone is fantastic, Kerri is incredible," she wrote. "You will learn so much, I have found my new passion…making soap…thanks to the soapmaking studio."
Register for classes on location at the Soapmaking Studio or on their website at soapmakingstudio.com. Materials are included in the class fee. Also, check out their store, Pallas Athene Soap, at pallasathenesoap.com.