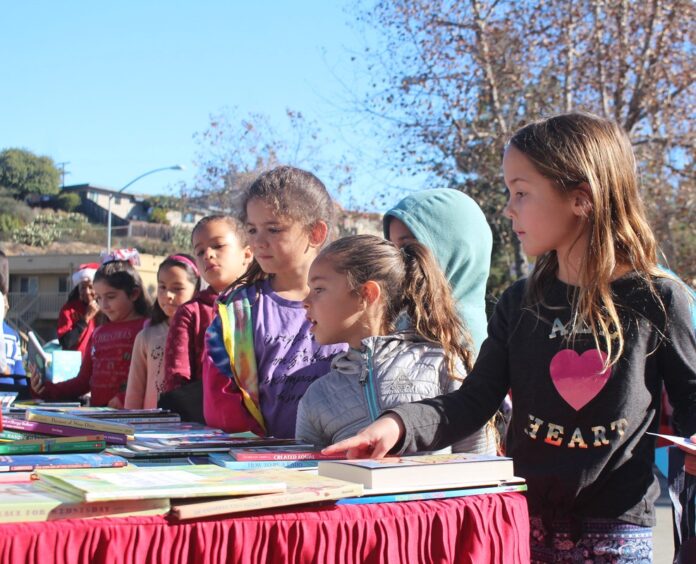 District 79 California Assembly member Akilah Weber and members of her office held their second annual Winter Literacy Book Giveaway event on Dec. 19 at the Salvation Army Joan Kroc center in La Mesa.
"At 77%, California has the lowest literacy rate in the United States. I started the Winter Literacy Book Giveaway because reading is fundamental to learning, and winter school break is the perfect time to get young people to fall in love with reading," Weber said.
Classics like "The Legend of Sleepy Hollow" rested alongside "Splat the Cat," waiting for little hands to choose them. Titles that have enjoyed critical praise, along with recent criticism were placed where high schoolers could reach for "The Poet X" or "To Kill a Mockingbird," literature and lessons in one novel.
"Reading is everything. We want our children to be successful in life and reading helps stimulate creativity, it affects so many areas of developing brains," Weber, a working medical doctor, said.
Kids are struggling, the doctor said, with basic math and language skills even as society "comes at them with TV, the internet, ads, everything" and she sees increased numbers of stress-related issues. As a child, Weber said, she was restricted to "Sesame Street" and "Reading Rainbow" on television, but was otherwise directed toward books.
California Secretary of State Shirley Weber— and Akilah Weber's mother— made a surprise appearance, casually telling children how she was known as "the Auntie who always gave books" but maintains those books have grown in value over the years.
Anecdotally, she said a hunt for a book she once gave someone decades ago revealed it had gone up in value from less than $20 to over $400 but the true value was in the story itself and its ability to take a reader anywhere.
"Smart people read. Books give you things you never thought about," the elder Weber said.
Volunteers from Phi Delta Kappa sorority, a group of retired educators who work toward literacy and provided more than 1,000 books for the event, took signed pledges from students promising to read during January.
Mingling among children escorted in classes from the Kroc preschool, Cheryl McClellan encouraged the youngsters to "never stop reading, never stop learning" before they took a stroll through the event.
Cookie Monster was there to give high-fives to young and old readers along with Kroc mascot RJ the Crocodile but the real draw was the sheer number of books laid out in the sunlight.
Tables were set up along the cul-de-sac at the community facility, with stacks of books loosely divided by school level, although children of all ages were encouraged to visit all the tables and strive for challenging reads.
Some of the books, Weber said, had been stored since the first book giveaway at Encanto Boys and Girls club a year ago when her office organized a drive for about 500 books but ultimately took in over 2,000 new and gently used reads. Additionally, new children's books donations doubled from last year.
Volunteers with the Young and Prosperous Foundation which aims to provide resources, promote social justice and encourage educational development in underserved communities manned the tables and helped steer younger kids toward books they might want to read.
Over the past few years, Weber said, she's noticed more female- authored books are available to kids, as well as books with Black and Asian authors and characters.
"Children are seeing: these people can do it, I can do it. When you can see yourself doing something, it changes your vision of what's possible," Weber said.