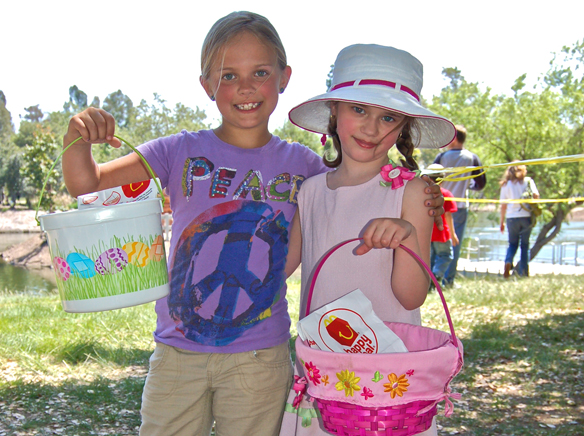 Events
Mt. Helix holds its Centennial Easter Sunrise Service
Sunday, April 16- 6:30 a.m.
Shuttles start at 5:00 a.m.
Events
Mt. Helix holds its Centennial Easter Sunrise Service
Sunday, April 16- 6:30 a.m.
Shuttles start at 5:00 a.m.
This year marks the 100th year that Easter service has been held at Mt. Helix Park. While the celebrated amphitheater was dedicated in 1925, services began in the park in 1917. We invite you to be part of this year's centennial celebration at Mt. Helix Park. Free parking and shuttles are available at three locations: at the park's lower lots at the corner of Vivera and Mt. Helix drive; California Bank and Trust (5500 Grossmont Center Dr. #408) in the Grossmont Center Mall and at the La Mesa Brigantine's lower lot (9350 Fuerte Dr.). Complimentary coffee and Krispy Kreme doughnuts will be provided. For more information call 619-741-4363
Get your photo with the East Bunny at Parkway Plaza
Now through April 15
Bring the family to see the Easter Bunny at Parkway Plaza Mall. Location: 415 Parkway Plaza, El Cajon, CA 92020. The Bunny Garden is, located in the Sears Court.
Times: Saturday 10:00 a.m. to 8:00 p.m. Sunday- 11:00 a.m. to 7:00 p.m.
Thousands of Easter Spring EGGstravaganza at Santee Lakes
Saturday, April 15, 2017-9:00 a.m. to 3:00 p.m.
The City of Santee, and Santee Lakes present the 14th annual Spring EGGstravaganza at Santee Lakes Recreation Preserve (Lake #5) on Saturday, April 15 from 9:00 a.m.-3:00 p.m.
Kids of all ages will enjoy a variety of games and activities including carnival rides, pony rides, petting zoo, inflatables, spring crafts and live entertainment by Primo DJ. Egg hunts run continuously during the event on Egg Hunt Island for children ages 4 through 8 and in the Egg Hunt Basket for those ages 3 and under. Parents, please be sure and bring your child's basket for all of those eggs!
Food will be available to purchase on site, or families are welcome to bring a picnic of their own to enjoy at the Park.
Fees include parking at $10.00 per carload and carnival rides and activities range from one to six tickets at $1.00 a ticket. Santee Lakes Recreation Preserve is located at 9310 Fanita Parkway in Santee. Limited VIP packages are on sale at www.ci.santee.ca.us. For more information call the City of Santee Special Event hotline at 619-258-4100 ext. 201
Easter Eggstravaganza
The Salvation Army Ray & Joan Croc Corps Community Center
Saturday, April 15
10 a.m.-1 p.m.
6845 University Ave, San Diego, CA 92115
619-287-5762
www.sd.kroccenter.org
Kroc Athletic Field
Brought to you by Kroc Center Ministries, infants and children up to 11 may hunt for more than 17,000 eggs. A visit from the Easter Bunny, bounce houses, games, music and more! $1 per person.
Free for Kroc members.
Easter Brunch
Lakeside VFW Post 5867
12650 Lindo Lane, Lakeside, CA 92040
Sunday, April 16, 8:00-11:00 a.m.
Mexican-American Easter Brunch, that includes Easter egg hunt, face painting and other activities for the kids. Bring the whole family to enjoy a fun event.
Services
First Presbyterian Church of El Cajon
500 Farragut Circle
El Cajon, CA 92020
(619) 442-2583
The sermons for lent are.
Maundy Thursday: Hope Shattered.
Easter: Hope Realized. Theme: Hope is not a concept or a feeling; it arises when we breathe in the Word of God."
Maundy Thursday 04/13/2017 at 7:00 p.m.
Easter Sunday: 04/16/2017 at 9:30 a.m.
United Church of Christ of La Mesa
The Joy of Easter
Mary Magdalene, Mary the mother of James and, depending on which Gospel you read, one or two other women – Joanna? Salome? – arrived together on the third day to find Jesus' tomb empty, then rushed to share the news with Simon Peter and that shadowy, never named disciple, "the one Jesus loved," the one who ran ahead of Peter to the tomb and seeing it empty, understood and believed.
Running to find Jesus… together… celebrating… together… understanding… together… believing. Easter morning… Resurrection… walking the path of faith so many before us have trod… running to find Jesus… together.
The minister and people of The Table: United Church of Christ of La Mesa invites you to share the joy, to celebrate with us the resurrection of Christ.
Easter Service
10:00am
April 16
United Church of Christ of La Mesa
5940 Kelton Avenue
La Mesa, CA 91942
619-464-1519
www.tableucc.com