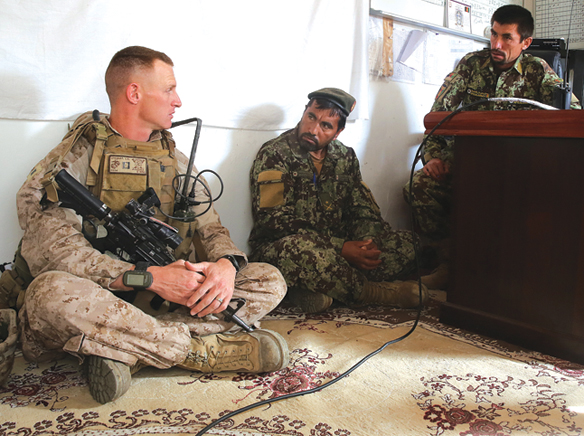 El Cajon native, Capt. Scott Stewart is the Weapons Company commander for the 1st Battalion, 7th Marine Regiment that is currently deployed in support of Operation Enduring Freedom in the Helmand province in Afghanistan under the Regional Command Southwest. He is currently hitting his two-month mark in his third tour in Afghanistan. Stewart and his company were recently recognized for its mission on April 17 with dual goals. To interrupt deadly enemy aid in searching three compounds of interest suspected of Taliban influence and offer support for the increasing responsibility of the Afghan National Army (ANA).
Suspected to contain a homemade explosive lab, these compounds are known to be a collective for narcotics and a home for local Taliban leadership.
As reported by Cpl. Joseph Scanlan, 1st Marine division, the convoy took seldom-used routes to avoid improvised explosive devices through the darkness of night. They stopped in the Washir District Center, where Stewart met with senior ANA officers and received intelligence about the compounds in question. During that time, a Gunnery Sgt. gave classes to Afghan soldiers on the maintenance and usage of a M2 .50-caliber machine gun. Approaching Payawak, aerial surveillance reported city dwellers fleeing the area. The Marines then continued on foot to the compounds, led by Afghan commandos.
"The area was disturbingly quiet. Only livestock and the rustle of wind blowing through foliage could be heard as they maneuvered through waist-high poppy fields. The vegetation was thick enough in areas where an IED a footstep away could easily remain unnoticed. Small holes in mud wall could erupt with enemy gunfire at any moment. The Marines proceeded forward with caution as beads of sweat began to run down their faces."
They found traces of ammonium nitrate, commonly used in IEDs and two antipersonnel mines.
After destroying the mines and gathering intelligence, the convoy left the compounds and headed back to home base at Camp Leatherneck as cautiously as they came. All made it back safely on this maneuver, part of the Marine's duty in supporting the ANA in efforts that they can take over the responsibility of the security of this region.
This is only two days in the life of Stewart and the other Marines in his battalion as they fight to help the Afghani nation and its people live a secure life without the threat of Taliban control.
In a brief phone call with Stewart from Afghanistan, these are the things he had to say about his time in Afghanistan, his mission, the people and his home.
"My company is a regional operations company. We get tasked to conduct disruption operations to try and interrupt lethal aid and narcotics off the battlefield."
"On one of my recent operations we pushed up our district center and I had the opportunity to meet some of the Afghan army and supportive nationals. Everybody we had the opportunity to meet were very friendly, very interested in working in conjunction with us. It has always been a pleasure. They are a very polite people. They always invite us in for tea, sit down with them and share some dates and nuts and talk about different things."
"I believe that the mission we have going on here is for the people of Afghanistan. I've been very impressed with the Afghani people that I have worked with over the past several years and watching the transition that has occurred. Where we came in and began mentoring them it is to a point now where we are now equal partners in the operations that we are conducting now. It has been very impressive to watch that and be a part of that."
"My grandparents still live in El Cajon and I have family in Lakeside, Spring Valley and Oceanside. We have spread out throughout San Diego County as a whole."
"I want to thank all of the family and friends back home that have supported the military with letters and boxes. Everything that they send is always appreciated. It definitely improves the morale of the soldiers here."