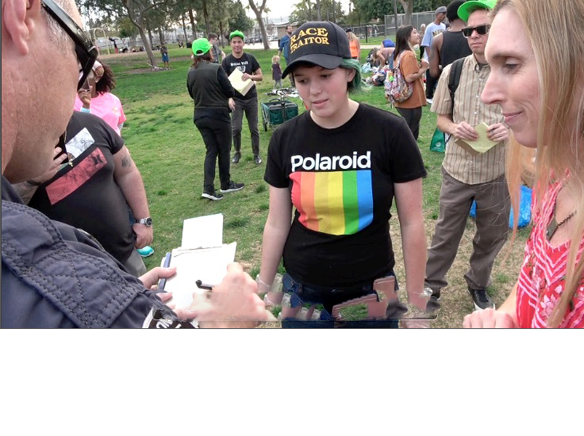 What looked like a typical family picnic gathering at Wells Park in El Cajon last Sunday afternoon made the local, national and international headlines only few hours later, with the social media on fire due to the dozens of constant live feeds from what was actually a protest to end a food ban targeting the homeless. Back in October 2017, the El Cajon City Council voted 5-0 to prohibit sharing food on public property as a preventive measure against Hepatitis A virus outbreak that killed 20 houseless citizens and infected 577 people throughout San Diego County so far, with

What looked like a typical family picnic gathering at Wells Park in El Cajon last Sunday afternoon made the local, national and international headlines only few hours later, with the social media on fire due to the dozens of constant live feeds from what was actually a protest to end a food ban targeting the homeless. Back in October 2017, the El Cajon City Council voted 5-0 to prohibit sharing food on public property as a preventive measure against Hepatitis A virus outbreak that killed 20 houseless citizens and infected 577 people throughout San Diego County so far, with the first reported patient presumed to have been located in El Cajon. Secondly, the city claimed thousands of dollars were wasted to clean up the trash allegedly left behind by the good Samaritans feeding the homeless at the park. Local activists are disputing both reasons as untrue and unconstitutional, citing similar ordinances challenged in court and overturned in other cities (San Jose, CA). Representatives of the protesters approached Mayor Bill Wells, during the first city council meeting of 2018, trying to convince the board to sit down and find a "humane solution" together.
A long list of organizations signed a petition against the city ordinance labeling it as step of a "Not In My Backyard" politically motivated strategy to rid the homeless people in El Cajon, following recent decisions to prohibit panhandling, camping and sleeping in the car on public property, locking up dumpsters belonging to businesses, so homeless people won't be able to search for food anymore, along with frequent sweeps ending in arresting homeless and causing them to lose whatever property they may have. Food Not Bombs, Breaking Bread Project and other organizations rallied again this weekend to give out mostly pre-packaged food, water, toiletries, clothes and other supplies, despite the warning given by the police during a similar event two weeks ago. Protesters are asking the city to solve three major issues: stop the food ban, provide bathrooms and hand-washing stations and increase the housing available for the homeless people.
Jan. 14
2:30 p.m. Activists are unpacking food and other supplies, organizing them neatly on the tables by categories. Everybody is wearing gloves, enjoying the nice weather.
2:50 p.m. Two vans belonging to local TV stations pull on the curb and crews are heading over the improvised camp. Mark Lane, one of the organizers, walks around warning the volunteers of the risk of being arrested. Homeless people knowing what's going on are waiting patiently around. Some are lining up to look through the clothes and shoes displayed on the side. Few protesters carry signs that read, "Feeding the Hungry is not a CRIME" and "We care." A pregnant young woman holding a child fast asleep on her shoulder carries a cardboard sign that reads in red and black, "Kindness is not a crime. Break the Ban." Michelle Macrorie has four kids "with one on the way" and came from Alpine with her family to support the homeless. "We come to this park often. We bring our dog and my older children come here to play."
3:00 p.m. The event starts. Cassie is the only person without a home who dares to approach the tables at this point. He considers, "the food ban really sucks. We need food to live, right?" He's been homeless for two years, just turned 37 four days prior and spent his special day sleeping on the streets of El Cajon. Cassie carries a backpack he tries to fill up with food and needed items; he is freshly shaved and wears clean clothes.
3:15 p.m. Debra Winter has been sleeping in her car for a year now. She is 58 years old and said, "I am not ashamed to ask for food and I am here for a good cause. It's not a crime to be hungry. Thank you everybody for coming out and supporting us." Winter said Golden Coral promised her a job few months ago and never followed through. "It's hard to get a job when you're homeless."
3:20 p.m. Preschool teacher Wydad Aziz, 30 years old, a Lebanese Palestinian who grew up in San Diego and has been laid off recently, talks about her passion for activism and serving the community. She wears a camouflage hoodie imprinted with the word "Obey" and is acting Zen behind her oversized shades despite the risk of being arrested. She explains how "this ban should not be implemented. It's unlawful." Aziz brought her friends to the protest and none of them are worried.
Kate Bishop gives out non-food items and talks about her work outside this event, showing a Ziploc bag full of "Maxi pads, wipes, a pair of socks, granola bar and a bottle of water – that's what I give out when people ask for help." Today, the volunteers brought more than 50 pairs of socks, boxes of wipes and toiletries donated by people throughout San Diego. Bishop is here with her husband and their two children, Sebastian and Dylan. Sebastian is 8 years old and is helping in the shoes and socks area, wearing gloves and speaking up: "I came to help out the poor because there is a bad law saying people should not feed the poor and I think that's a bad law and we should break it. They have nothing and we have something, so we need to give them something. It's unfair for them to have nothing. People are actually dying. I want to help them have a good life." His 3-year-old sister, Dylan, all golden curls and baby doll face, is more interested in playing with a homeless lady's puppy, but makes time for a short interview. "I am helping too," she said.
Two people are walking around the improvised camp picking up trash constantly in two big trash bags. Mary Ann Salapow is one of them. "I am here because I don't think anybody should go hungry when there are people willing to share food. I don't care about the politicians. I am picking up trash, so we can leave the place cleaner than we found it."
3:30 p.m. As soon as Salapow finishes her words, three El Cajon police cars park alongside the curb at the entrance. Shane Parmely, one of the organizers, heads toward the officers, her cell phone camera rolling. "Hi, I want to see who is out here today and how many cars do you have." Officer Greg Robertson smiles, "How are you doing, Shane?" "I am a fine, thanks." Stopping in front of the tables abounding in food, with everybody standing still, he said, "I am officer Robertson with the police department and I am here to say that on Oct. 24, 2017 (sic), the city council passed an ordinance that you're not allowed to food share on public property. "Voices in the crowd interrupt the speech. "We had no idea." Robertson tries to continue. "This park is city property and you're not allowed to food share. If you continue to food share…" cut off by activist Mark Lane who said, "Yes, you're allowed to share if you have an address." Parmely exclaimed, "This is a discriminatory ordinance." Robertson makes it clear that if the food share continues, "You guys are subject to arrest."
3:40 p.m. Several police officers, one carrying a video camera and visibly tense holding the other hand on his pocket stunt gun, observe the crowd closely and remaining silent to every attempt of questioning them. Three other officers remain by the cars in the waiting. As if suddenly awake, a frenzy soon ensues with dogs barking, people screaming slogans and a loud trumpet playing in falsetto as the activists continue to give out food and supplies, while dozen of media and personal cameras are going live on social media and on the local TV stations, pointing directly toward the officers, with many observers shadowing them closely.
The arrests had just begun.
"This is the sunset of the American freedom. What are we fighting for? For the police to come and arrest us? This is inhumane, this is against the Geneva convention," a protester's voice covers the crowd, silencing everyone, as Officer Ehlers makes the first arrest of the day, while chewing gum and smiling at Lane going live on Facebook while saying, "This is what they spend our tax money on, harassing us for feeding people who need to be fed. This is going to be overturned." Answering for The East County Californian if he is going to arrest anybody today, Ehlers takes his eyes off the yellow citation form he's filling out and nodes toward the young lady waiting silently for his verdict. "She is under arrest," he said. Her name is Sherry Villanueva and she speaks calmly with a subdued voice. "Nothing ever changes if we don't fight for what's right. We are helping the less fortunate, so I am willing to fight for this," she said.
The trumpet continues in the background, missing notes, breathing stridently at times and the whole scene looks like a movie set based on a dystopian script with elements of farce and Greek tragedy intertwined, while a third, neutral story flows on the edges – with protesters, police and the homeless people in a circle of crescendo action ignored from the side by the visitors at the park minding their own business, gathered as friends and families or playing with their children.
A dozen of volunteers were arrested, released immediately and given citations for two misdemeanors on different court dates, a move the protesters labeled as intentional, so they would not be able to show up in court together.
4: 20 p.m. The food sharing continues. "There is enough for everyone, come and get it!"
Alejandra Mendoza is a teacher and today she's holding several hand made signs she keeps rotating, a couple of them reading "Teachers 4 Feeding the Homeless" and "Teachers Teach Sharing is Caring. Did we all learn that?" She said, "There are kids right here, right now watching people getting arrested for doing something we teach them to do at school. So that's very confusing for them. We need to model what we're actually promoting in schools." During Mendoza's statement, activist Palmery is recording her own daughter getting arrested as the youngest protester to receive the citation at this event. Ever Palmery is a 14 year old and refuses to identify as a "she or he," helped out by their mother who instructs the officer to write down "they, them, theirs" as a pronoun. Asked by The East County Californian if they know the reason for their arrest, Ever turns toward the officer, "Why am I being arrested today?" "For breaking the municipal code," the officer replies. Ever smiles unfazed in a black t-shirt with a rainbow printed on the front under the inscription "Polaroid." Nobody seems to be scared or worried that they are under arrest and presented with criminal charges. People are posing and taking selfies with their newly acquired police citations.
4:35 p.m. All of the people The East County Californian talked to who were arrested on Sunday confirmed that none of the officers read the Miranda Rights to them or clearly stated the reason for being arrested. Several legal observers with the National Lawyers Guild constantly walked around, taking notes and refusing to give any statements to the press at that point.
Scott Dreher, a lawyer who just sued the city of San Diego for giving encroachment tickets to the homeless and also the city of El Cajon for trying to ban feeding and sheltering homeless people in the past ("And now we can sue them again"), confirmed he was there "to monitor the event because this ordinance is unconstitutional and discriminatory." Dreher found it hard to decide in between finishing a cookie he took from the homeless table and making a statement. He said he's prepared to sue the city if that becomes necessary. Dreher praised the police for being "very professional in the way they handled it…Practically speaking the police is caught in the middle…Elected officials should know better than to do this horrible stuff. This is bullshit." Dreher is doing all the work pro bono.
4:45 p.m. Sam Elia is a non-affiliated activist, there on his own, also running for the 71th District State Assembly. He is sick and didn't participate in the food sharing, but declared himself "a conspirator because I donated food." He blamed El Cajon Councilmember Ben Kalasho for not acting like a Democrat. He believes the problem is that there are no restrooms, water fountains, washing stations. "The city just spent $35,000 to put up signs against panhandling. Thomas Jefferson said: If there's an inhumane law, it's meant to be broken. We will continue to violate it. If we get arrested, we will get arrested every weekend. Now that they struck, we can fight, we can counter sue and take it to court," he said. Elia lived in El Cajon all his life and said he "will independently continue to give people food if I see them at the corner."
People are commenting to the press about the significance of the arrests during the Dr. Martin Luther King Jr. weekend. Almost everybody is holding a camera on and up.
5:00 p.m. Protesters are walking around the park giving what's left from the boxes of food to whomever wants it, homeless or not. Two guitarists end up with a box of dried snacks. A father of two girls declines politely." Thank you, but we cannot eat peanut butter." The "One Shoe Canoe" band is here to see if "the cops will really stop people from feeding the homeless. I am here to observe how free we actually are," laughs out loud band member Anthony Sanchez. The other guitarist, Anthony Stevens, lives in La Mesa and he came to play his guitar for the homeless "to sooth them." He said, "The fact that this is happening on Martin Luther King weekend is telling you that this has been happening all along and it's not going to stop until more people will show up at these events. You can talk about it at work around the water cooler, but if you don't get out and make an appearance, then they will think no one cares and will keep rolling policies. We will not allow any mistreatment of any people, whether it's minorities or homeless or disabled people. As a group we are going to stand up every time it happens until they get the message that we are in control."
Soon after, Sanchez is lending his guitar out to a little boy who leaves his soccer ball on the grass wanting to try out the strings. Approaching shyly, a girl wearing a hijab is listening to the song, while further toward the picnic tables, three or four police officers, cameraman included, are leisurely teaching few young boys how to ride their scooter safely, joking around and having a good time. In the meantime, the protesters are clearing the space carrying the supplies off the grass and picking up the trash, leaving the area spotless. Soon, darkness comes and organizer Lane is still in front of the camera, giving interviews. The police officers are leaving right after, as peacefully as they came. The homeless people left first.
Received at midnight. Berl Clifford Crist, houseless citizen of El Cajon, participant at the event and active member of the East County Homeless Task Force, writes that the city of El Cajon is trying to demonize homeless people and "they would rather starve us in hopes of pushing us out of town so that we may become someone else's problem, instead of creating solutions to reintegrate us into their so called normal society, by opening a housing first shelter, with housing navigators, job training, job placement through tax incentives for employers, etcetera, so we can once again become fully functional, economically viable citizens of the state of California."
Jan. 15
12:30 p.m. A press conference is taking place at Balboa Park organized by Break the Ban led by Mark Lane and Shane Parmely, with lawyers Francisco Aldana and Scott Dreher in attendance among other protesters, speaking in front of at least a dozen of cameras.
Parmely: "The mayor of El Cajon said that they are trying to make the parks less attractive to the homeless people. Well, where would you like them to go? Not everybody is going to Christian rehab. I think a lot of the city council members have personal ties and connections to these organizations receiving city money and are faith based. Where are the gay homeless kids supposed to go? The mentally ill? My sister in law was homeless in El Cajon, she's been missing for two years in Arizona and it kills me to think that somebody may not sharing food with her because the state has the law making it illegal to share food. "
1:08 p.m. Monica Zech, public information officer with the City of El Cajon sends out a press release stating, "The ordinance is intended to be temporary until the County lifts its emergency declaration. During this time, the City has worked closely with community groups that have historically fed homeless individuals in the park. These groups were in support of the City Council's action. After passing the ordinance in October 2017, the City took strides to inform the public of the more than a dozen locations where food is served and distributed. The City also published a list of restaurants that honor food stamps provided to eligible homeless individuals."
Jan. 9
Dramatic stand ups at the El Cajon City Council meeting ahead of the weekend protest. Gordon Walker, chief executive with the Regional Homeless Task Force talked for an hour with the Wells prior to a presentation of the goals and strategies employed by his organization in front of the council members and the public. Walker praised the city of El Cajon for being active in finding a solution and reaffirmed his credo in "housing first" as the most efficient way to end homelessness. Speaking with The East County Californian, Walker declined to provide a firm answer about the efficiency of a food ban and if there is any data supporting such ordinance from other cities. Next, Elia and Lane, organizers of the food ban protest at Wells Park, took the mike to persuade the board to put an end to the food ban and to request a meeting with the mayor and the council members to work together on this. Their passionate interventions remained unanswered. Lane prompted Kalasho, to "please, pay attention," accusing him of being disrespectful to his constituents for not listening to him speaking and promising to the mayor and the other members that although he is a Democrat like Kalasho, he will support the Republican candidates in the next elections to out Kalasho from the board for failing his electoral promises. After the meeting, Lane said how upsetting it is to see Wells wanting to meet with people who want to legalize feral pets in El Cajon, but not with activists who want to feed the homeless. He also threw his hands in the air imploring the guards in the room to arrest him. Lane stated that he hopes his mother would be proud of him following in her steps, as she was the one who founded the social workers union in San Diego back in the days.
Jan. 15
12:20 p.m. Contacted over the phone, Kalasho insisted that his comprehensive solution to end homelessness proposed to the board when he got elected received no response. Asked if the city of El Cajon has any immediate plan to assist the homeless, Kalasho admitted he doesn't know of such plan and advised the protesters have the option to sue the city. Kalasho claimed double duty, as a benefactor for the homeless through his non-profit, but also as a council member, which prevails. "Otherwise, I'd be right there with the protesters. If the data (on Hepatitis A) comes back and it's all clear, then I'm gonna have a chef hat on, apron and some gloves and I'll be giving out food with everybody. But if the data is still questionable, as a councilman I cannot do it."
According to the official data provided by the county, the outbreak started showing signs of slowing down on Nov. 14, 2017 and continued to decrease ever since. The first update of 2018 counted six new cases during the two weeks prior to Jan. 2 and no new case for the past two weeks as reported on Jan. 9.
Following up a recent coverage by The East County Californian and an attempt to intermediate a meeting between the Food Not Bombs organizer Dashiel MacTavish and Kalasho to help them find a common ground, Kalasho claims MacTavish never contacted him, while MacTavish said his call was never returned. Kalasho refuses to meet with Lane and Elia claiming their approach "is disrespectful." The protesters announced they are going to feed the homeless at Wells Park until the ban is overturned.
Jan. 27
Food Not Bombs is scheduling a similar event at Wells Park, same time, 3-5 p.m., calling it "Free Soup For The Revolution." On the event page, in capital letters, stands the message, "If you are willing to be arrested, please message us," followed by a list of needed donations.
A volunteer who prefers not to be named, said, "The fight is not over. We are just getting started."