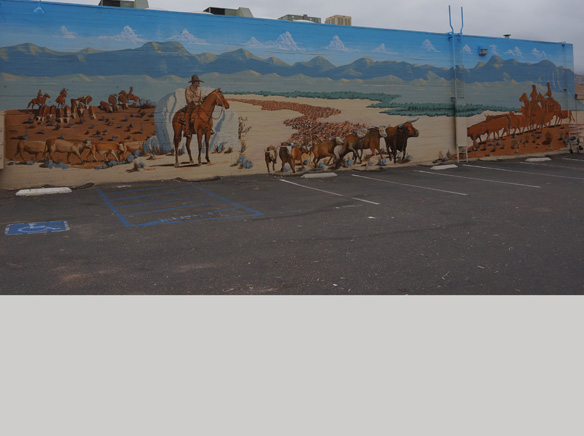 Nothing starts a new year off right than a quick review of the past year. It's always interesting to see how far we've come and startling to realize how quickly time passes. So here's a little "Around Lakeside" perspective, covering some of the things we covered in 2016.
Nothing starts a new year off right than a quick review of the past year. It's always interesting to see how far we've come and startling to realize how quickly time passes. So here's a little "Around Lakeside" perspective, covering some of the things we covered in 2016.
Betty McMillen began the year reporting on such Lakeside happenings as the proposed Equestrian Center (public input on design), the mystery of the missing bull from atop the old Pinnacle Peak restaurant building on Maine Avenue (apparently a senior prank – it was found on the roof at El Capitan High School), and David Ybarra's great mural work throughout Downtown Lakeside. Betty informed us about the new life for the old theater (did you know it was originally the town hall?) and the honoring of 101-year-old Lakeside resident Edna Kouns, for her ongoing preservation efforts in her hometown. Edna is one of the founding members of the Lakeside Historical Society. Did you know she remembers fleeing the great flood of 1916 when her family lived in the El Monte Valley? Just ask her!
My first story "Around Lakeside" put a therapy turkey into the spotlight. Marsha Edwords of Animal Assisted Therapy introduced Blue, the Blue Slate Heritage Turkey to an interested group at the Lakeside Branch Library back in June. A turkey in name only, Blue is quite the charmer. He visits young and older folks alike, bringing a little joy and a sense of wonder into many lives.
In July, Joel Scalzitti told me about his goal to open a new Mary's Donuts store in Lakeside. His patience and tenacity paid off: Joel opened that store in October in our historic downtown. The donuts are being made in the old Hardwood and Lumber Company building at Maine Avenue and Laurel Street. "Busy" seems a bit lacking in describing the activity in the donut shop – there have been lots of customers daily. Lakeside loves donuts (and who doesn't?).
Congratulations to Joel and thanks for becoming a part of our community.
Other local businesses highlighted included Oma's Pumpkin Patch, a 17-year tradition in the El Monte Valley, and the Sunshine Ranch Therapeutic Riding program, a wonderful non-profit organization in the Moreno Valley. Sunshine Ranch is operated by Stephanie Mitchell and serves children with special needs. The ranch was established about four years ago and holds two big fundraisers annually (Spring and Fall – and smaller funders throughout the year). You can support this program with purchases you make on Amazon Smile. Look into it!
The Lakeside Community Center has become a recurring topic of my column. Specifically, I spoke often with Ashley Westbrook, a supervisor for the San Diego County Parks and Recreation Department at the Lakeside office. Ashley and her staff are constantly creating programs and events for the youth of our community. If you have kids or know someone who has kids, you should check into the variety of offerings at the LCC. It's good, wholesome fun and it's affordable and local. They operate a Teen Center throughout the year, with expanded hours during the summer months, that is designed to be more an extension of school rather than a daycare. From their Wonders! Science Camps in the summer, to the family-oriented Harvest Hoedown in November and the holiday-themed Breakfast with Santa, the Community Center offers much fun for Lakesiders on a regular basis.
(The LCC is not only for the kids; it offers fun for adults as well. Check it out!)
Another regular stop "Around Lakeside" was our branch library. They offer a monthly host of programs for the entire family. Many are offered throughout the week, mostly designed for our children (another good place to keep your kids busy while learning). Saturdays often offer programs for the adult crowd, including the aforementioned "Let's Talk Turkey," as well as concerts, a class on local organic gardening, a presentation on Lakeside's River Park Conservancy, holiday celebrations, and much more. The library itself was also in the news, with a planned new building in the near future and our community striving to raise funds for it. These are exciting times for our public library with exciting breaking news soon-to-come (hopefully)!
There were many local happenings Around Lakeside, such as the quarterly Coffee with the Sheriff (usually held at the library and always filled with important crime and community info), County Supervisor Dianne Jacob's regular Coffee with Constituents, the Lindo Lake Subcommittee, and meetings on the fight to save the El Monte Valley from sand miners.
Though most folks know the "lake" in "Lakeside" refers to our very own Lindo Lake, we have two other lakes to lay claim to. While both the San Vicente Reservoir and Lake Jennings may be man-made, they are still near and dear to our community heart – and both were in the news in 2016. The Lake Jennings Campground, once on the cutting block for bleeding money, is now healthy and successful. Still improving on itself, the campground added five new teepee sites to reserve and spend a fun overnight. The other big lake news was the re-opening of the San Vicente Reservoir after eight long years. The closure allowed the dam to be raised and the water capacity to be nearly doubled. The fish population enjoyed the downtime, evidenced by the size of the fish and the ease of catching them. Fishermen lined up to test their skills this past September.
The year concluded with wonderful holiday events that remind us how fortunate we are to live and breathe in Lakeside. The Lakeside Chamber of Commerce's Spirit of Christmas on Maine Avenue is always a community highlight, enjoyed this year by thousands of our friends and neighbors. And Santa's visit to the Lakeside Rodeo Grounds was an event that parents and their children will not soon forget.
As with all new years, 2017 arrives with promise and hope. Hard work and a positive attitude are keys to a successful life. Happy New Year!
Comments and story ideas for Around Lakeside are always welcome. Feel free to email me at GaryMitrovich@gmail.com.