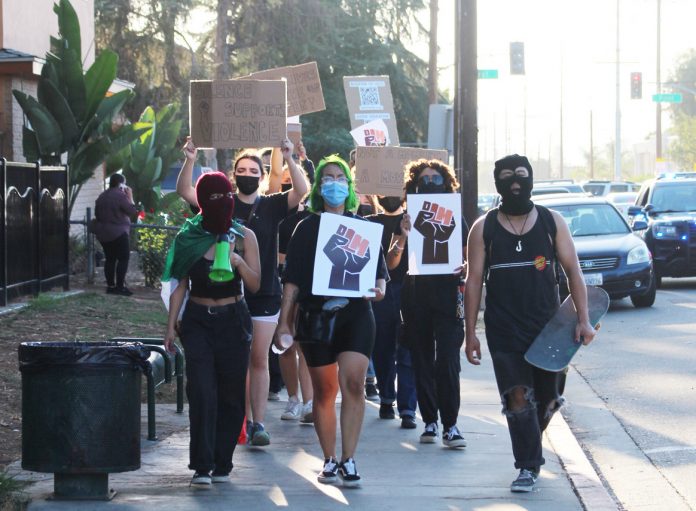 About 40 teens and young adults gathered in a youth-led march for Black and Brown unity at Wells Park on Sept. 26. Lessons learned from four months of weekend protests organized by several groups throughout San Diego County were evident with attendees moving through preparations as if they had a checklist.
Organizer Kassandara Mora took a deep breath as El Cajon Police Lt. Jeremiah Larsen approached with proactive questions prior to the march.
He asked Mora how many people were expected to attend, what time they would be marching and what route they'd take.
Both the organizer and the officer were succinct and clear about their intentions.
Mora told Larsen she was worried about the counter-protesters already seen driving past the gathering point in large trucks with Trump 2020 and American flags flying in the wind as they sped down city streets before the march began.
Larsen asked Mora to stick to the sidewalks, and shared his plans to handle any altercations that might arise by keeping counter-protesters isolated from the march.
"We'll have a couple of units and they'll stick by you guys if anything comes up. We do have a plan in place and if any counter-protesters show up, we will have the same talk with them," Larsen said.
Yvonne Carrancio, 23 was also waiting to march. She said she is determined to show up whenever possible but has heard from many people who sometimes feel overwhelmed at consistently turning up at protests.
Carrancio, who works at a mental health facility said she finds listening to loud voices at protests "especially minority voices is empowering" but hopes people who struggle take time away from the movement to recharge.
"If you feel like you're struggling, don't go. Mental health always has to come first. Protests don't change things overnight and if someone needs a break, they need to take time for themselves," Carrancio said.
Next to her, Angel Alvaraz Salgado, 17 said he sometimes finds it hard to wake up and attend a weekend protest but finds his inspiration online.
"I went to the original protest in La Mesa because I'd seen so many jokes online, just terrible comments and it really triggered me. I follow a lot of police brutality online and I think 'that could be me' because I've definitely been targeted, like getting stopped and questioned on the trolley about where I'm going, having my backpack searched for no reason. Those videos could be me so now, even if I'm not feeling it when I first wake up, I go," Salgado said.