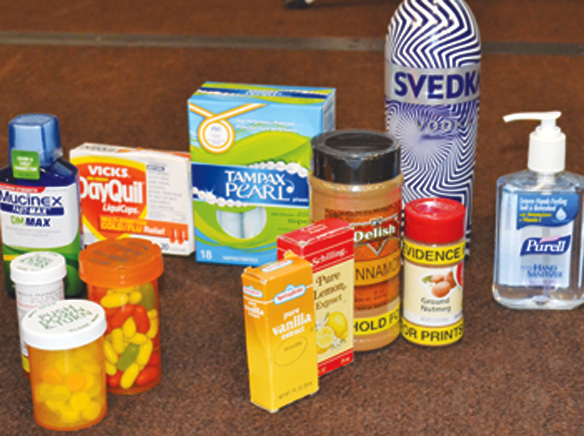 Retired San Diego Police Department Sgt. Philip Hubbs has more to tell than any parent ever wants to hear, more tragedies to report than he would like, and enough seminars to make a life-saving difference for families in East County and throughout the county.
Retired San Diego Police Department Sgt. Philip Hubbs has more to tell than any parent ever wants to hear, more tragedies to report than he would like, and enough seminars to make a life-saving difference for families in East County and throughout the county.
On Oct. 29, Hubbs' non-profit organization, PRONASA (Proactive Network Against Substance Abuse) visited the La Mesa Community Center. Mostly attendees were parents, some who brought their children along who went into different sessions than the adults. A dinner followed up by a ninety-minute presentation packed in a significant amount of varied information to couples, single parents, students and their families. Although substance abuse was the main focus of Hubbs' presentation, topics such as tobacco use, bullying and violence were addressed, because, Hubbs said, "They all tie in together."
Flanked by six booths of exhibitors such as Students Against Destructive Decisions, Vista Hill, and Crossroads Family Center, plus displays of paraphernalia, diagrams, and home products the uninformed person would not distinguish as an aid for getting high, Hubbs wasted no time revealing the dangerous lives of all teenagers. All teens are effected one way or another—if they do not use drugs, they are probably offered to them. If they do not get offered, all teens at one point most likely witness use, deals, or consequences of substance abuse.
"We're not just the parents, we're role models," said Hubbs. "Kids are getting smarter and more resourceful about getting high, and the parents are always the last to find out," he said, pointing to a screen presentation of seemingly endless news articles about kids lost to overdose, impaired driving, gang violence, and suicide. "Drinking and driving is still the worst problem."
If all of the topics Hubbs covered in the first few minutes were not enough to put his listeners on alert, the issue of parental liability gave the presentation a deeper legal dimension. Hubbs showed picture of a local teen who died as a result of using Spice with friends and died from a gunshot wound.
"The parent and owner of the gun and home where this happened is being sued for wrongful death by the parents of the victim," he said.
Crimes committed by and even the less serious missteps of minor children can land parents in court, paying restitution, or in jail. Hubbs segued into the social host ordinance, reminding parents who allow underage drinking or drug use in their homes will be prosecuted, just another reason to keep booze and drugs away from kids. Unfortunately, Hubbs also had a clip about a social host party with a fatal consequence for local teens.
If there is no house available for a party, kids will simply look on Craigslist for empty houses and gather there, notifying each other via phones and social media. If kids do not get alcohol from home or illegal drugs from friends or dealers, they access YouTube on how to get high from what's in their house (nutmeg, lemon extract at 84 percent alcohol, GHB manufactured from home cleaning products, even the medical marijuana that was legally provided to a family member).
"Three-quarters of teenagers have someone in their family with a medical marijuana card," Hubbs said. "If parents are going to keep these things around, just don't make it available to the kids."
Compounded consequences of substance abuse are unimaginable. Hubbs showed a six-minute video compiled from street cameras and dash cams installed in cars of teenagers.
"It is graphic, but you'll understand why I show it," he warned. The reaction of those watching, his video of actual footage of car crashes, the teens involved in them and their families left the community center silent until Hubbs engaged people in conversation, asking them if they knew about certain obscure drugs (jimson weed), if they knew what a pharm party or bottle safe was, or if they knew pot was easier to buy than beer or cigarettes.
"Did you know meth and even cigarettes are flavored now, too, being aimed at younger kids? And heroin is no longer the drug you end up doing but one you start with," he said.
Many parents were unaware of the trends, opportunities, and tools at the disposal of every kid. Faces of parents were solemn and pensive as some admitted they would not know how to handle the things they witnessed or heard about during the presentation.
Hubbs ended the presentation with another video, "Concrete Angel," by Martina McBride, a depiction of child abuse turned fatal.
"I show this one because child abuse is the pre-requisite to all of the above. If our kids do not get the nurturing they need at home, they will go looking for it elsewhere," he said.
Hubbs and the exhibitors stayed to answer any questions and speak to people individually. PRONASA's platform is based on the most current and available information as the best way for families to combat the problems facing their children. PRONASA speaks at schools, churches, youth and mental health facilities, civic venues, anywhere an impact can be made to educate, keep kids and get kids clean, and from being a statistic.
For more information, log on to pronasa.org.