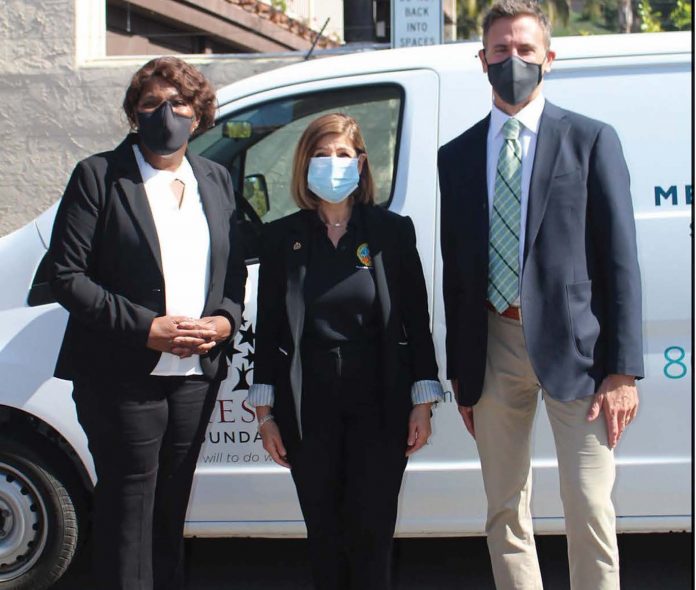 Meals on Wheels America, a national organization dedicated to addressing senior isolation and hunger is celebrating Champions Week in San Diego to help raise awareness for the growing number of seniors in need in the San Diego region, as well as the nation at large.
San Diego County District Attorney Summer Stephan kicked off the week-long campaign by delivering meals to elderly clients on Monday morning.
The organization, in a pre-pandemic world, utilized volunteers to deliver meals to senior citizens across the county, some of whom were already homebound or relied on Meals on Wheels volunteers for consistent socialization.
Now past the year-mark of physical distancing and more isolated than ever before, many of those seniors are increasingly vulnerable and in need of social interaction, Stephen said.
"As a society, we are most civilized when we take care of our most vulnerable," Stephan said.
The organization, which serves more than 2,000 clients each month across the county has seen a 47% increase in the number of older adults receiving home-delivered meals and other services since March 13, 2020.
South County Service Center manager, Meals on Wheels Chequita Falls said she and East County Service Center Manager Tim Ray often identify similar challenges in their areas, especially the double-challenge of having many older volunteers who are at risk of contracting COVID-19.
Although they are relatively younger and more mobile, many have been physically distancing and taking extra health precautions since the outbreak of the pandemic.
Meals on Wheels San Diego County President and Chief Executive Officer Brent Wakefield said they are frequently in need of volunteer drivers in East County.
Falls agreed she wishes the organization had a larger volunteer pool, but also said she has seen the organization truly take on their motto of 'More Than a Meal' in South San Diego county by helping elderly clients scheduled for their COVID vaccinations.
Older volunteers who aren't delivering meals, Falls said, have taken to making weekly housecalls, providing a familiar friend for seniors to talk with in the safety of their home.
The organization has enlisted the help of volunteer photographer Nicole Swallow who takes photos of requested, favorite spots then delivers the prints for seniors who cannot currently visit those locations in person.
Volunteers, she said, are "actively working CalFire and others, as well as a pilot program, Project Concern International," another organization working to overcome hunger and enhance health, to help elderly clients who are not necessarily tech-savvy work through online immunization scheduling.
"I would say this region is different because we have comparatively older seniors here, many with minimal family support as their adult children do not live here," Falls said.
Wakefield, on the other hand, said there might be slightly less isolation in some East County communities where "culturally, some of the families eat together and our seniors are sometimes less in need".
Stephen said visits from Meals on Wheels volunteers also serve as a type of wellness check, ensuring homebound seniors who are at risk of elder abuse are safe from harm.
Volunteers may be the only person Meals on Wheels clients see all day, simultaneously providing human contact and a safety net.
Anyone interested in learning more can visit www.sandiegomealsonwheels.org, Wakefield said.
Falls added that anyone wanting to learn more or volunteer can call (800) 573-6467 for more information.