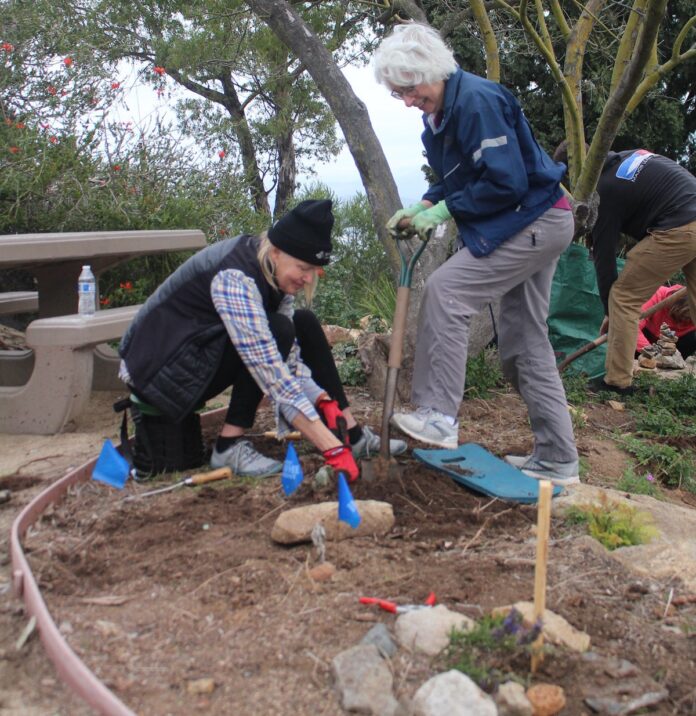 Volunteers gathered in the intermittently rainy morning of Jan. 14 just as they usually do on the first Saturday of every month to kneel in the dirt and tend the historic Mt. Helix Park gardens and landscape.
"Today, we're doing a habitat workday with the community. The goal is to put in more California natives to encourage pollinators and local wildlife," Mt. Helix Habitat Committee Co-Chair Patti Turkle said.
At the same time, volunteers were also tending to the native plants which draw birds, butterflies and visitors to the historic preserve, and adding in new plants around the area.
"It's important to remove the non-natives because they tend to dominate the area, they take over and they reduce biodiversity. They're stressors and they increase erosion," Turkle said.
The features that make Mt. Helix unique— the historic stone amphitheater, winding steps and circular composition — also make it challenging to maintain.
A group of residents danced their way through a Zumba exercise class held in the amphitheater while about 20 volunteers encircled the park and hacked invasive plants out of the surrounding earth along with discarded batteries, dropped bottle caps and forgotten trash.
Some of the hardscape like paved areas and retaining walls cannot be altered, Turkle said, as Mt. Helix is a historical site, despite being somewhat detrimental to the area.
"We have concerns about hardscape but this is a historical site so we're limited on what can be done. Also, as a non-profit, our mandate is to be open to the public but at the same time we're a non-profit so we rely on volunteers to maintain the site," Turkle said.
Native Plant Expert Ed Piffard, a self-described 'artist with a side obsession' said the Mt. Helix cleanups are unique because frequent and returning volunteers "can sort of adopt an area" and end up developing a sense of ownership over particular zones at the site.
"People put in real effort to rehabilitate their area," Piffard said, and despite the transitory nature of the space, small sections end up with personal caretakers who unofficially oversee key areas of the site.
Father and son team Joseph and Jason Halverson worked together to remove invaders ahead of other volunteers who were slated to replace the damaging plants with native species. Jason, 7, hacked at the roots of a particularly tough weed until he spotted an alligator lizard living in the area. His father said it was "just by chance" they came upon the clean-up and decided to join in but will likely return for future events.
Near the father-son duo, longtime volunteers Paula Block and Caroline Harrod also dug into the soil, cleanly pulling out any invasive plants then carefully planting natives to flourish in the earth.
"Oh, we're planting a little St. Catherine's lace, some wooly blue curls and I think we're also going to put in a little Ceanothus," Block said, casually tossing an unwanted weed aside.
The Habitat Restoration Group was started in 2013 by several gardening enthusiasts who wanted to preserve the park with "a policy of bringing back the butterflies and birds," Block said, and volunteers have since turned the park into a pollinator island.
Consistent volunteers, Piffard said, get to know at a glance which plants should be removed in order to allow the soil to regenerate.
"Weeds change the earth and the network that holds the soil together," Piffard said.
With a couple dozen volunteers on site each month, the same could likely be said of people.
Visit www.mthelixpark.org for information on upcoming events and future clean ups at the site.