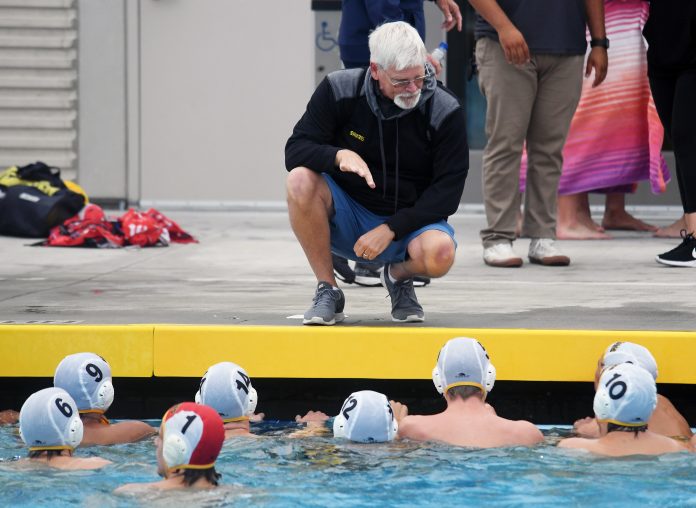 Rod Bowen is entering his 28th year coaching water polo at Santana High School. Prior to that he coached six years at Monte Vista High School.
Bowen received recognition for his lengthy dedication to coaching by receiving an all-star service award from the High School Sports Association of San Diego last year.
He's not finished by any means.
"I love the sport," Bowen said during a break while coaching the San Diego Shores 16U A boys team during last weekend's USA Water Polo National Junior Olympic qualifying tournament. "It keeps me young. I want to do something fun."
In Bowen's case, it's been a family affair.
His sons Eric and Alex went through the Santana program. Eric Bowen attended Princeton University while Alex Bowen attended Stanford University.
Alex Bowen competed in the 2016 Rio de Janeiro Olympic Games for the United States and remains a member of the U.S. men's national team.
"It's a lot of accolades to win but he earned it," the elder Bowen said in regard to his son Alex, a 2011 Santana graduate. "I'm real proud of him."
Rod Bowen remains proud of his current group of water polo players and what they have accomplished.
Bowen serves as head coach of the Shores' 16U A team that is regarded among the best in San Diego County. The team has captured the bronze medal at the last two National Junior Olympics, which is considered the top tournament annually for youth water polo in this country.
"Hopefully we can improve on that this year," he said.
The Shores 16U A team finished 6-0 in the field of 19 teams in last week's Pacific Southwest Zone qualifying tournament.
Shores racked up a pair of imposing wins on the first day of competition by defeating Poway Valley, 23-2, and Sons of Odin, 22-6, on June 17.
Shores topped La Jolla, 11-6, in a game last Friday and remained undefeated with a pair of wins on Saturday: 11-6 over Del Mar A and 22-6 over the North San Diego Stars.
Shores wrapped up his perfect showing in the tournament by defeating Carlsbad A, 11-6, in Sunday's final game.
Bowen's squad, which features players from eight high schools, will compete in the 50th annual USA Water Polo National Junior Olympics July 20-23 in Irvine.
It's a big deal for all concerned.
"The kids get to play against the best water polo players in the country in the Junior Olympics and USA club championships," Bowen explained. "It's good for these players, as they get to see teams from other parts of the country they normally wouldn't during the tournament season."
Bowen's Santana teams regularly play among the toughest schedules in the San Diego Section. The Sultans have made several trips to the division semifinals during Bowen's long coaching career but are still looking for that first CIF championship.
But it hasn't been for a lack of effort.
Santana advanced as far as the Division II semifinals in 2016, losing 8-6 to eventual CIF champion Valley Center. The Sultans ended their season in the Division II semifinals in 2017 following a 10-9 loss to top-seeded Clairemont, which went on to claim the CIF title.
Santana finished 22-6 in 2013.
Bowen remains encouraged by the growth of the sport within the section.
"There are more high schools now and more kids playing, it's been great for the growth of the sport," he said. "There are a lot more opportunities. The kids who are playing in the Division III final are just as excited as the kids playing in the Division I final."
Add Sultans
A pair of Santana alumni will be attending this year's Junior Olympics as members of the 18U Southern Water Polo Club: Anson Rasmusson and Sam Odenkirk, both former All-CIF honorees with the Sultans.
Rasmusson, in fact, will be attending his fourth Junior Olympics event, including the past three years with the Shores program.
"It's a lot of fun," the 2018 Santana graduate said. "You see a lot of different teams from all over the country. It's non-stop water polo. If you want to place among the best teams, you have to bring your 'A' game."
Odenkirk, who plans to attend Southern Utah University this fall for academics, will be making his third trip to the elite tournament, including the previous two with Shores.
"We went in at the highest level we could," Odenkirk recalled. "We were playing the best teams in the country. One of them was the best team in the country and played them to a one-goal game. It felt good."
Rasmusson, a driver, will be returning for his second season with Grossmont College this fall after collecting 76 points on 28 goals and 48 assists in 23 games last season as a freshman for the reigning Pacific Coast Athletic Conference champions.