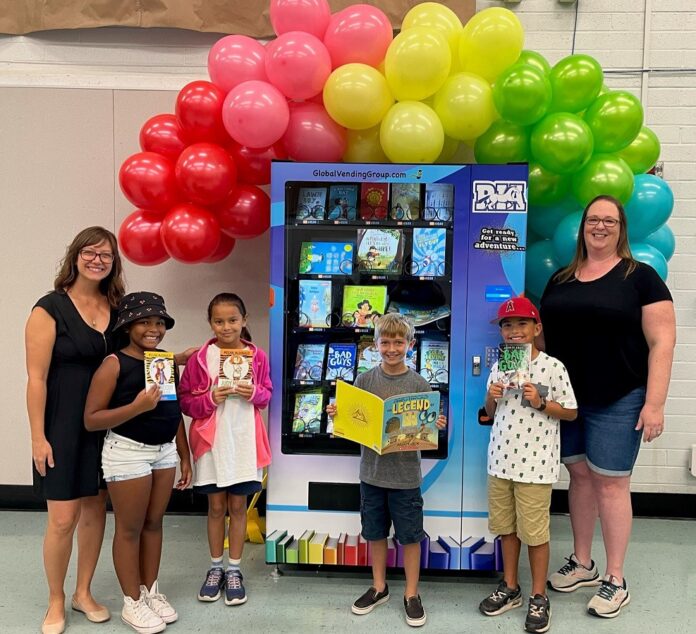 The Riverview International Academy PTSA in Lakeside, unveiled its Book Vending Machine for students on Sept. 8 in celebration of International Literacy Day.
PTSA website coordinator Alexandra Cabrera said her mother, who lives in New Mexico, sent her a newspaper clipping about a school there getting a book vending machine, and she thought the idea was fantastic for the school. She took it to the PTSA board, and it agreed it wanted to donate the vending machine to the school, and committed to funding the program, which will keep books stocked year-round.
"We got the machine. We got to customize it with our logo, then we told the teachers we would give them free tokens every month to distribute to kids in their class as a reward system however they see fit. Most teachers would recognize kids for working hard on their work, or for good citizenship, but everybody has their points where they are doing a good job," she said.
Cabrera said teachers will decide when the kids get their gold token to use it to go pick out their free book, with the intention of providing a free book to every student in the school, 900 kids, every year. Riverview serves pre-K through fifth grade.
"Riverview International Academy is a trilingual school, so there is English, a Mandarin/Chinese program, and Spanish. So, we have three different languages of books stocked in the machine," she said. "That is also why we chose International Literacy Day to have our unveiling."
Cabrera said Lakeside Union School District Rhonda Taylor, some of the district's trustees, representatives from the County Board of Supervisors, who gave out certificates to the kids that earned their tokens during the ceremony.
"They were able to redeem them and that was really exciting for them," she said. "They got their free book, and they got a certificate for being part of this moment from the County. They had a lot of fun."
Cabrera said when they first brought the machine out to set it up, it was exciting for the kids to see it. "One of them offered to live in there," she said. She said the kids were so excited that they were asking how they could get their teachers to give them their token so they could get their first book.
"It has been overwhelmingly exciting for the students, which make this all the more worthwhile to see that," she said. "We are excited to see this. We are excited to be able to continue to provide these books for generations of students through Riverview."
Cabrera said the machine was created by a vending machine company in Buffalo, New York, and that this program is taking hold across the country with around 500 book vending machines now. "It is definitely spreading like wildfire," she said.
Cabrera said her youngest is in fourth grade, so she will be involved in this program for two more years and is extremely happy that her idea came to fruition.
"Everything we do at the PTSA is geared towards positively impacting the students," she said. "But this one is really tangible. Especially to the students. It is something they can see, feel it, and experience. It is not like supplementing technology or paying for field trips. This is a prize that they can earn. It feels good to provide something like that."
Cabrera said Riverview is a school of choice, and many Lakeside families go there, but it also brings in students from all over East County. Santee, El Cajon, La Mesa, Ramona, Alpine, and beyond.
"Another one of our big missions with the PTSA is equity and inclusion," she said. "So, this itself fits into that mission as well. Everybody is going to get a book. We are going to supplement those home libraries, especially for kids who are not getting good home libraries."