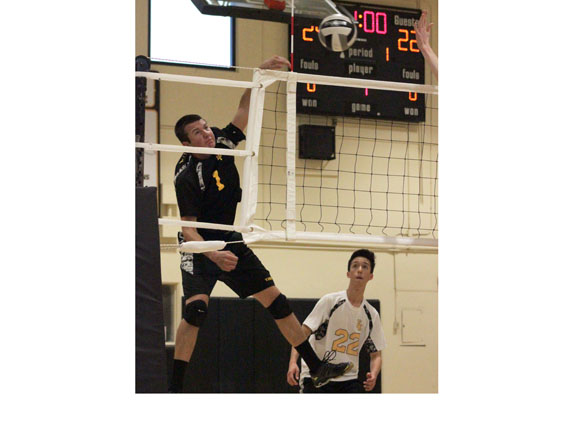 Proving it is possible to come a long way in a short time, the El Capitan Vaqueros are making a run for their third boys volleyball league title in a row.
Proving it is possible to come a long way in a short time, the El Capitan Vaqueros are making a run for their third boys volleyball league title in a row.
Undefeated at the end of the first round of league, the Vaqueros are on a steady path toward repeating last year's successes. Last year, just a ragtag team of new volleyball players, mostly recruited from the school's offseason teams, the boys of El Capitan charged into 2016 with one previous league title and a lot of enthusiasm. They won league again, undefeated, and made it to the semi-final round of CIF.
This year, said senior standout Sergio Libero, they hope to make it to finals.
"We want a third league title," he said. "And our next goal is: win CIF."
Star still newly on the rise, the Vaqueros went from a rebuilding team to the team to beat in just a few short years. Although the makeup of the team has been different each season, this year's seniors could be what finally brings them all the way to a CIF championship. Described by their coach as natural-born leaders, both Libero and team captain Dylan Curtis are making great efforts to cultivate a successful team.
"It's a difficult task to be a leader," said Libero. "But we're stepping up our game and we're getting better and progressing."
Although they are setup to do well in league, the Vaqueros have not won any of their non-conference games, which may present a challenge for them if they make a bid for CIF.
Head coach Jason Cavazos said it took the team a while to get everything oiled and working this season. Hopefully, he said, all the gears are working properly and the team can hold its own.
"Early in the year we played some tough teams," said Cavazos. "We were learning. We have a lot of teams who've never played varsity before. Trying to figure out how to do their jobs and put them in the right positions takes time and I feel like right now we have the right rotations and the right people in the right spots." =
Although all of the seniors on the team have played varsity volleyball before, the Vaqueros are still very much a team of recruits from other sports. Many of the players are from the basketball team where Cavazos serves as assistant coach. =
"That helps because they're long and lanky," said Cavazos. "And it's just good having athletes do more than one sport."
This, Cavazos said, accounts for much of why they struggled at the beginning of the season.
"We have a young volleyball knowledge team, so finding out how to play was big for them," he said. "The more they play, the better they get." =
Curtis, the team's only club player, said he and the Vaqueros are looking forward to the rest of their season, now that the bumpy start is behind them.
"We knew what we were doing but we couldn't piece it together so we struggled a lot in the beginning," he said. "But we're surprising a lot of people. Going into the Valhalla tournament we're going to play a lot of better teams. Hopefully, we dominate the rest of the season and then pull out strong in CIF. We're not going to step off the gas pedal."
Last season, Cavazos said he had a low-key approach to the volleyball team. Then head coach of the basketball team, Cavazos said that because volleyball was not his "passion sport" he was able to approach the game from a more laid-back, fun-oriented perspective. But with two league titles in hand, and having stepped down from the head coaching position on the basketball team to serve as campus athletic director, Cavazos said he treats volleyball differently now.
"I've come to like the game a lot more," he said. "But with that comes a lot more expectations."
Still, Cavazos insists, the game should ultimately be about having fun.
"When I'm ready to step down will be when I'm not having fun anymore," he said.
It is a mindset he applies to his players as well.
"I feel like we're getting better every day," said Cavazos. "And to be honest, that's all that matters: that kids are having fun and getting better."