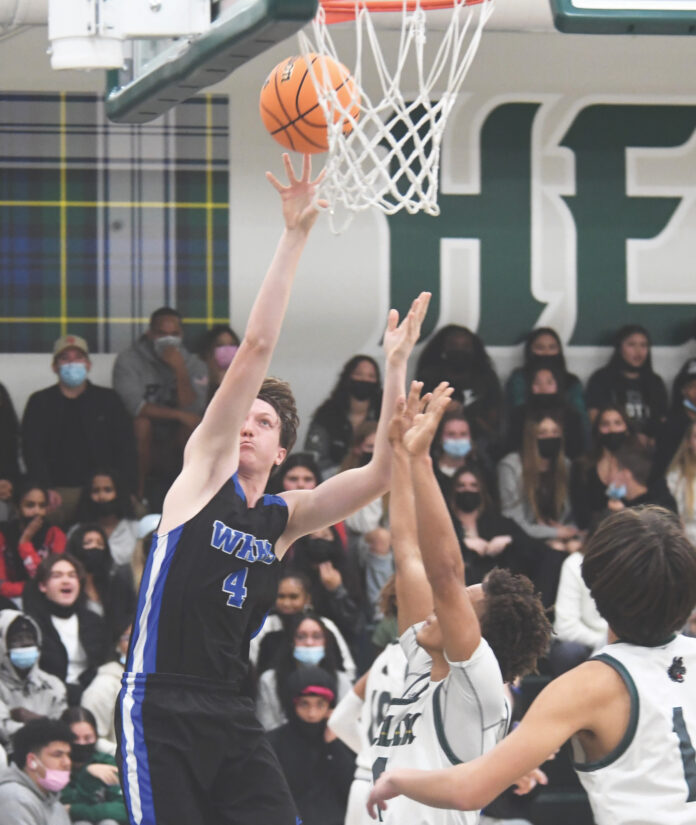 The San Diego Section boys and girls basketball playoffs are scheduled to tip off Feb. 15 in a total of six divisions. That doesn't leave much time remaining for regular season play in a season in which COVID-19 protocols have postponed many games.
The playoffs are beckoning, however.
Eight teams will be admitted to the Open Division playoffs in each gender field while 16 teams will be selected for postseason competition in each gender field for Division I, Division II, Division III and Division IV. Twelve teams will compete in each gender field in Division V.
Playoff pairings will be announced on Feb. 12. Any play-in games will take place before the start of elimination bracket play.
The section has already announced championship venues for this year's finals.
Mira Mesa High School will host the Division V boys and girls championships on Feb. 24 and the Division IV boys and girls championships on Feb. 25.
San Marcos High School will host the Division III boys and girls championships on Feb. 24 and Division II boys and girls championships on Feb. 25.
Montgomery High School will host the Division I boys and girls championship games on Feb. 25 and Open Division boys and girls championship games on Feb. 26.
Qualifying for the Southern California regional playoffs will include the following criteria: All eight teams in the Open Division will advance, semifinalists and finalists in Division I will advance, the champion and runner-up in both Division II and Division III will advance and the champion only in Division IV and Division V will advance.
Teams also will need to follow COVID protocols in alignment with current California Department of Public Health Guidelines for youth sports.
•Weekly COVID testing continues to be strongly recommended for student athletes throughout the duration of the playoff schedule.
•All spectators, coaches and official game personnel are required to wear a mask throughout the duration of the event.
•Teams needing to isolate or quarantine may be removed from the playoffs based upon adherence to the current schedule of contests.
•Attendance at each contest is required to remain under 500 spectators in alignment with CDPH "mega" indoor events. To go above 500 spectators, schools/districts would be required to check for vaccination status or negative COVID test (within the previous 72 hours) for all those in attendance.
•All spectators, game personnel and student athletes not currently participating in the contest are required to wear a face covering throughout the duration of the event.
Now that the rather long list of guideless have been set, it's time for teams to qualify for postseason play.
That may be easier said than done.
Helix Charter High School boys coach Jason Cavazos said his team has already had two games postponed because of COVID issues and cannot afford many more games to be stricken from the schedule in the battle for this year's Grossmont Hills League championship.
"We have our backs up against the wall," Cavazos said in regard to scheduling.
Helix isn't the only team facing make-up games in a dwindling regular season schedule. Almost everyone has been affected in either losing league or non-league contests.
The Highlanders hosted the West Hills Wolf Pack in a key league matchup last Friday. The hosts prevailed, 69-64, in a game in which it appeared the Scotties were headed for a potential rout before the visitors stormed back to create a nerve-wracking ending.
With the clutch win, Helix improved its league record to 2-0 in league play, 8-10 overall, heading into Tuesday's scheduled matchup at Grossmont (3-0 in league, 11-10 overall).
West Hills dropped to 11-7 overall, 1-3 in league.
The Highlanders built a 31-28 halftime lead and opened the second half with a pair of crowd-satisfying three-point shots to quickly extend their lead to 37-30.
Another trey padded the lead to 40-30. The Scotties led 51-39 at the end of the third quarter.
Things got especially interesting in the final minute and change of regulation play.
The Wolf Pack, rallying fiercely, narrowed the Helix lead to 66-60. The Highlanders responded with a deuce but West Hills countered as the teams were still separated by just six points on the scoreboard at 68-62 with 22 seconds to play.
A lay-in by Jake Partington narrowed the score to 68-64 and had the Wolf Pack fans howling for more.
But Helix's Markees Williams sank a free-throw with 9.3 seconds left to provide the final margin of victory.
"We hadn't been in a situation like that before, so it was something new to us, but our kids handled it well," Cavazos said. "We couldn't afford to be 1-1 going into the Grossmont game. We wanted to be ready. We wanted to play hard."
Partington led all scorers in the game with 20 points while Williams and teammate Jackson Daniels both dropped in 10 points for the victorious Scotties.
Caden Aiken and Jake Kelly both scored 12 points for West Hills in a losing effort.
In other GHL games last Friday, Granite Hills topped visiting Valhalla, 70-57, while Grossmont whipped past visiting Mount Miguel, 72-57.
Valhalla defeated host Mar Vista, 74-49, in a non-league contest on Saturday.
Postseason promise
A number of East County teams do appear to be in the mix to earn playoff berths, including top-half seeds.
Helix (8-10) entered the week ranked 19th among boys Open Division/Division I teams, meaning the Scotties would likely qualify as the No. 11 team in Division I if the playoffs started today.
Valhalla (9-8) entered the week ranked 17th among Division II boys teams and thus needs a strong finish to make the top-16 playoff cut.
Grossmont (11-10) and Granite Hills (13-5) entered the week ranked fourth and fifth, respectively, among Division III boys teams, while Steele Canyon (10-9) was seventh.
West Hills was ranked ninth among Division III boys teams.
Monte Vista (15-4) is the top-ranked Division IV boys team while El Capitan (6-9) entered the week ranked 11th in the division.
El Cajon Valley (10-12) was ranked sixth among Division V boys teams while Mountain Empire (10-4) was ranked 11th.
Grossmont held the early edge in Grossmont Hills League play with a 3-0 league record while Monte Vista was out to a 3-0 start in Grossmont Valley League play.
Mountain Empire is battling for the Pioneer League title with an early 4-0 league record.
Mount Miguel (12-6) looks to have a good chance to qualify for the Open Division girls playoffs with the current No. 6 Division I ranking while Helix (7-5) was ranked ninth among Division II girls teams entering the week.
Monte Vista (10-12) entered the week ranked fifth among Division III girls teams while Santana (10-7) was ranked 10th, West Hills (7-4) was ranked 11th and Liberty Charter (9-9) was ranked 12th in the same division.
Steele Canyon (10-11) is ranked third among Division IV girls teams, followed by fifth-ranked Granite Hills (10-8) and seventh-ranked El Cajon Valley (10-9).
Steele Canyon was the early leader in the Grossmont Valley league girls standings with a 3-0 league record, followed by Granite Hills at 2-1.
Senior Khamira Carter leads the Lady Cougars with 12.8 points per game scoring average.
Mount Miguel led the Grossmont Hills League girls standings with an early 2-0 record, followed by Grossmont and Helix both with 1-1 records.
San Diego Section Basketball Rankings
Top 40 Boys rankings
MaxPreps through Jan.25
1. San Marcos 15-4
2. St. Augustine 15-6
3. Torrey Pines 15-4
4. Mission Hills 14-6
5. San Ysidro 14-5
6. La Costa Canyon 13-5
7. Mission Bay 15-6
8. Cathedral Catholic 15-8
9. San Diego 13-6
10. Francis Parker 10-4
11. Del Norte 16-5
12. La Jolla Country Day 12-6
13. Carlsbad 12-8
14. Santa Fe Christian 13-8
15. Montgomery 16-5
16. Mater Dei Catholic 10-6
17. San Dieguito Academy 11-6
18. Orange Glen 15-5
19. Madison 15-6
20. Scripps Ranch 14-7
21. Hoover 13-7
22. Otay Ranch 11-8
23. Eastlake 12-7
24. Mt. Carmel 10-7
25. El Camino 6-7
26. Bishop's 12-8
27. Grossmont 11-10
28. Patrick Henry 12-11
29. Monte Vista 15-4
30. Sage Creek 10-8
31. Army-Navy Academy 11-9
32. Calexico 9-5
33. Olympian 9-9
34. Rancho Buena Vista 9-11
35. Granite Hills 13-5
36. Poway 8-14
37. Morse 12-6
38. Victory Christian Academy 13-8
39. University City 9-8
40. Helix Charter 8-10
Top 40 Girls rankings
MaxPreps through Jan. 25
1. La Jolla Country Day 16-2
2. Cathedral Catholic 13-3
3. Mission Hills 12-6
4. El Camino 12-3
5. Bishop's 12-2
6. Mount Miguel 12-6
7. Bonita Vista 9-6
8. Carlsbad 12-7
9. Westview 14-7
10. Del Norte 14-8
11. Poway 13-5
12. Rancho Bernardo 14-4
13. Scripps Ranch 15-4
14. La Costa Canyon 10-7
15. San Pasqual Valley 8-7
16. Fallbrook 12-6
17. Otay Ranch 12-2
18. Oceanside 14-4
19. Mt. Carmel 14-6
20. Grossmont 10-2
21. San Marcos 10-10
22. Imperial 14-5
23. Mater Dei Catholic 5-6
24. Eastlake 9-8
25. San Ysidro 16-3
26. Olympian 9-4
27. Classical Academy 18-5
28. Lincoln 14-4
29. Holtville 11-5
30. San Dieguito Academy 6-7
31. Helix Charter 7-5
32. Maranatha Christian 8-8
33. Rancho Buena Vista 10-8
34. Victory Christian Academy 7-7
35. Mira Mesa 13-7
36. Pacific Ridge 10-8
37. St. Joseph Academy 10-10
38. Our Lady of Peace 5-11
39. Ramona 10-9
40. Morse 9-7