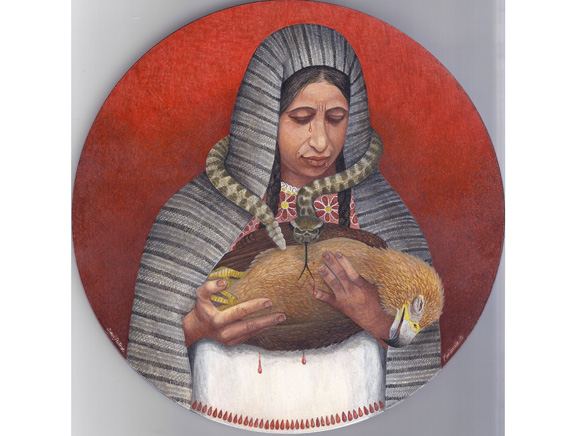 Sponsored by Grossmont College's Student Success & Equity Fund and the Latin@ Alliance
Sponsored by Grossmont College's Student Success & Equity Fund and the Latin@ Alliance
Microcosmic and meticulously rendered, Marianela de la Hoz's egg tempera paintings and assemblages are intended to ensnare their viewers. Their diminutive size forces the spectator to lean in and engage them as an unwitting voyeur, spying on seedy phantasms fixed into surreal dreamscapes. "[They are] an intimate and sometimes terrifying mirror in which I look at myself and you look at yourself, perhaps finding a personal connection in that nearness."
Acutely aware of our current troubling times, Marianela uses this absurdist, confrontational portraiture to delve into the different dualities which influence human existentialism- good and evil, life and death, secularism and religion, while focusing on themes of motherhood, education, societal roles, and the subjugation of women in Mexican culture. Her version of magical realism has been termed "white violence" for its subliminal use of satire, dark humor, and blood to explore both human psychology and spiritual lucidity.
Marianela de la Hoz was born in Mexico City and currently resides in San Diego. Her work has been exhibited in galleries, museums, and universities across the United States and Mexico, and is part of private and public collections around the world.
"Tiempos Complicados" will run from Sept. 25 until Oct. 10 at Grossmont College's Hyde Art Gallery. The Hyde Art Gallery will host an exhibition opening reception on Thursday, September 28 from 5 – 7 p.m. and a gallery walkthrough with the artist will begin at 4 p.m. just prior to the reception. There will be refreshments and live music by guitarist Anthony Cutietta. Admission is always free and the public is encouraged to attend.
For additional information please visit www.hydeartgallery.com.
Gallery and parking information
The Gallery's daily hours are Monday to Thursday from 10 a.m. to 6 p.m., and on Fridays by appointment only. We are closed Saturday, Sunday, and legal holidays. Visitors are required to purchase a $2 one-day parking permit at a vending machine located in any parking lot. For the evening of the opening reception, parking passes will be complimentary. To obtain a pass, enter code 223 into any machine.
September 25 – October 10, 2017
Reception: Thursday September 28, 5 – 7 p.m.
Gallery walkthrough with artist begins at 4 p.m.
Hyde Art Gallery, Building 25, Grossmont College
8800 Grossmont College Drive, El Cajon, CA 92020