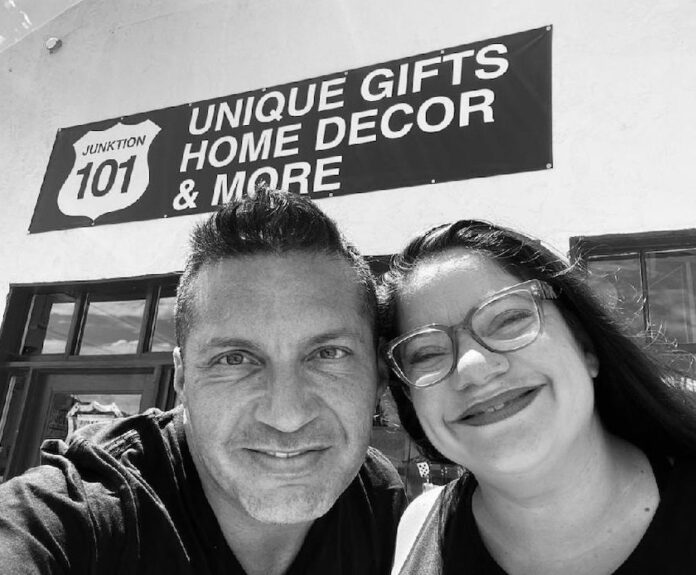 Alexis Frost Cazimero and her family are no strangers to East County. Along with her mother and brother, they put on events all throughout San Diego County pre-Covid from El Cajon, to North County and all the way out in Orange County, bringing thousands of people to local events. But life, then a pandemic, changed the direction of this close knit family.
Cazimero lost her son right before giving birth to her fifth child. She had taken an extended maternity leave, she then lost her job, lost her home, then came the COVID-19 pandemic.
"We kind of just laid low for a little while and then COVID turned into days, then it turned in months and we were like, 'oh my gosh, what are we going to do?'" she said. "I had exhausted all my maternity leave, all my unemployment benefits were gone, and I am one of the ones that fell through the cracks, and I am still fighting with Social Security."
Cazimero said that all their vendors from over the years looked to her for what they were going to do, as they were also losing their businesses, their homes, jobs and losing their way in the pandemic.
Her mother, Ellen Pterudis, sold her home, used all her retirement, and the three of them opened up Junktion 101 in San Marcos for some of those vendors, that after so many years, were no longer just clients, or friends, they had become family, said Cazimero. They quickly outgrew the 5,000 square foot building in San Marcos. Within three months they had around 33 vendors under one roof. Cazimero said many people that knew her in East County, asked when she would open a shop in East County, as the pandemic was hitting small businesses and entrepreneurs everywhere. So, on the Fourth of July weekend, the family opened up Junktion 101 Alpine, to serve those vendors.
"We have got to stick together and know what's most important. That is for us to keep our businesses open number one, because these small businesses are what makes up this town and you know we all are strong if we stay together," she said. "They're not going to shut us down anymore. There is no more of that. It is hard for a little mom and pop shop that is using all their money and all their resources and then when they have run out of resources, they cannot stay open."
Cazimero said that her brother Sean Cuadra deserves so much credit and that he is really the "absolute, most amazing marketing brainiac," who is the real brains behind this idea.
"He keeps us all on track," she said. "He is marketing for 50 businesses, which is so wonderful because they don't have thousands of dollars to pay some marketing firm to market for them. They have lost everything. They have lost their homes. They have lost their way. So, he really is so amazing and helps every single one of them, single moms, stay at home moms, single dads, dads that were carrying their families, making six figures now and lost their jobs."
With all of this work the family is doing to help local vendors, the family has not taken a penny from either business. Everything made goes directly into the business and Cazimero said that they took over a $30,000 loss last year.
"Like I said we used every last cent my mom had so these businesses could have life again," she said. "I must say some great things have come from COVID. You have found that you could go with less, that your family's most important and that you really are better together as friends and family."
Cazimero said that each section of Junktion 101 is a small business, and the variety of vendors are extremely diversified. The shop contains handmade clothes and accessories, apothecary, unique gifts and trinkets, vintage items, and much more, with the stock growing as new vendors come in. Even her mother has started sewing and selling her items in the store.
"We have single mom artists. A great mom, father and daughter group, the daughter does plants, and the parents do antiques. So, they are called 'plantiques,' they are amazing," she said. "We have a little vintage. We have a Val Kuzma designs. About 80% of her booth is handmade. I mean hand stitched. Every bead is picked out by her, it is absolutely amazing. I am so proud of her. Stacy B Designs. She was the visual designer for Macy's for 26 years and COVID happened. So here she is. Started her own clothing line and doing her thing and she is doing fabulous."
Born out of COVID, Cazimero said that the place is meant to be much more than a shop. It tries to employ people that have lost their jobs. Any item in the store marked Amazing Grace, that money goes towards its Amazing Grace Foundation.
"And all that money goes to help people that have lost their job because of COVID," she said. "So, someone needs a job. That is how we pay them. Amazing Grace is so cool. This is almost a better story that just keeps getting better and better. It is just so important because, you know, so many of us, deal with mental health."
Cazimero said that is a subject no one wants to talk about, but that it is necessary to have this conversation, especially how the pandemic has affected people in so many ways.
"Nobody ever wants to shine light on that, and now more than ever, our poor children are suffering from that are moms that are at home," she said. "Just trying to figure out how to get through the day. So many people are really suffering from mental health, depression and anxiety. And you know, they just look at you go, you look fine. Well, you know it is a serious thing. Well, we want to give people a safe place to come and feel that they can heal. And however, that healing to is going to take place. Let us encourage that healing whether it be with painting or sewing or creating a space where to sell your items."
Cazimero said that it could be recreating a cool jean jacket and embellishing it, then selling it.
"And that makes you feel good," she said. "Then that is what we want you to do. If you want to grab a cup of tea or cup coffee, you can come here and walk around and just hang, we want you to do that. We do not care what color you are, what walk of life you come from, how old you are. This is a place for everybody and there is a space here for everyone."
In the beginning of the pandemic, Cazimero loaded up her kids in the car and they delivered food to seniors who were afraid to go out. With Junktion 101, they are continuing the effort to feed those in need buy purchasing boxes from the San Diego Food Bank and giving them out to customers in need. She said that they take donations so they can buy directly from the Food Bank, so that they always have a stock of boxes in the shop.
Junktion 101 Alpine is open every day from 10 a.m. – 5 p.m. and is located at 2249 Alpine Blvd. If you are interested in becoming a vendor email info@junktion101.com.