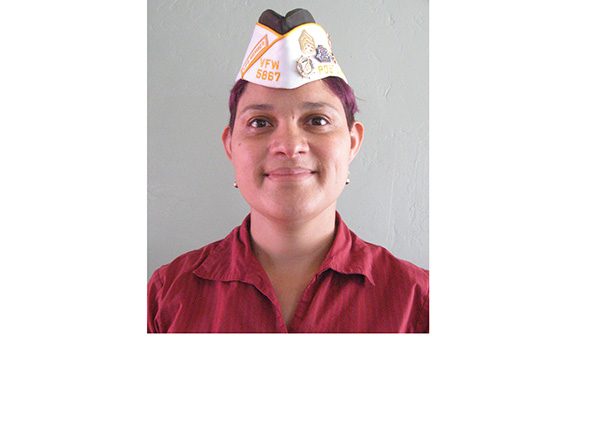 Persuading any Marine Corps veteran to speak about their accomplishments in uniform and time in combat is difficult at best, because the Marine culture eschews tooting one's own horn. Marines give credit to others and do not seek it for themselves. We sat down to chat, 14 years to the day since Operation Iraqi Freedom (OIF) began. The war in which this Marine fought.
Persuading any Marine Corps veteran to speak about their accomplishments in uniform and time in combat is difficult at best, because the Marine culture eschews tooting one's own horn. Marines give credit to others and do not seek it for themselves. We sat down to chat, 14 years to the day since Operation Iraqi Freedom (OIF) began. The war in which this Marine fought.
If asking a sampling of 100 folks in the East County (or anywhere else for that matter) to describe a typical veteran, it is likely an old, gray bearded white guy would be the answer from 95 percent. Certainly, the number of remaining World War II, Korean, and Vietnam veterans might fit that description. But since Operation Iraqi Freedom (OIF) began, we now have younger veterans, including the women who served our nation in combat in unprecedented numbers.
Ana Sanchez is one of them.
Her quick smile and ready laugh might fool some people. But do not be fooled. Sanchez is a Marine, through and through, tough as nails, and proud of her service, as the military tattoos on her arms tell the world. Going through boot camp twice speaks for that dedication, as did volunteering for the Female Engagement Teams during the war.
By training and assignment, Sanchez held the 2311 Military Occupational Specialty (MOS), Ammunition Technician. Ammunition technicians work in every facet of the ammunition field, including receipt, storage, issue, and handling of ammunition and toxic chemicals. While in country, Marine-speak for describing being deployed to a combat zone, she also volunteered for the Female Engagement Teams, also known as the Lioness Program. This program was established in recognition of the cultural barriers to males searching women in Muslim countries. Volunteer lionesses were trained to search the local females for weapons and explosives, as well as in ground combat. This meant going outside the wire, away from the relative security of the bases as members of ground patrols, exposing themselves to ground combat. For Sanchez, it meant, "one day I was pulling out bullets and the next day I was shooting them."
Sanchez joined the Marine Corps in 2002, serving on active duty until 2014 and in the Marine Corps Reserves for three years, just recently ending her time in uniform. Fifteen years in service to her country. When asked why she entered the military, she said she joined to "get away from my parents." After graduating high school at the extraordinary age of 15, she was in college when she decided, convinced by six of her high school friends who were joining up, to enlist. Her father said, "whatever you want to do it's your life and I'll support it." She expressed how important it was to earn her father's pride, being the first in her family to serve in the military.
Although her father was supportive, her mother wanted her to remain in college. Her mother told her, "this isn't for you. You're a girl. That's not for girls, it's for guys. There's a war going on right now." Nonetheless, Sanchez enlisted.
After reporting to the Marine Corps Recruit Depot Parris Island and beginning training, she broke her leg and was discharged. Determined to be a Marine, she recovered, got back into shape, and enlisted again, having to start all over again. Ironically, this led to her spending a lot of time on the Quarterdeck doing incentivized training (IT), because (as Sanchez explained) the Senior Drill Instructor (DI), "didn't like recycled people (recruits reentering training), so we were on the Quarterdeck doing IT all the time. Anytime she got pissed off, she always called out my name."
Doggedly determined, Sanchez overcame the challenges, going on to complete boot camp and her MOS training. Over the coming years, she served around the world: Okinawa, Japan; a short stint in Hawaii; Quantico, Virginia; MCAS Miramar; and Camp Pendleton, with three deployments to Iraq, Bahrain, and Afghanistan. As a woman Marine in a combat zone, she spoke of going out on missions with the guys.
"It was pretty tough," she said without shame or hesitation, she discussed the difficulty, the challenge of having to urinate when out on a mission. As she put it, "I had to be more of 'hey, watch my back,' because I have to squat to go to the restroom." Nonetheless, this challenge did not stop her from accomplishing the mission. On the related topic of women being fully integrated into all Military Occupational Specialties and specifically the infantry, Sanchez said if they volunteer and meet all the standards, they should be able to be grunts. Given her combat experiences, Sanchez identified not being able to talk with her family when she wanted to as the single biggest challenge during those deployments.
And this challenge was more daunting as a mother. During her first deployment, her daughter was five-months-old and lived with Sanchez' parents. Her daughter did not realize mom was away, even though Sanchez' mother showed her pictures. So it was really hard on Sanchez when she came home after a year and her daughter did not "want Mom."
During the next deployment to Bahrain, she could video chat with her daughter, who was 5 to 6-years-old, which was better. On her third deployment, her daughter somewhat understood, being a veteran of two previous separations. However, her son was 7-months-old and, after getting home, Sanchez had the same experience with her son, as he did not really know Mom and pushed her away. It took longer for that relationship to build, than it had with her daughter. But by the interaction between mother and son during the interview, their relationship is rock solid now.
Asked what else she remembered from those deployments, Sanchez recalled when in Afghanistan, after returning to Camp Leatherneck from a Forward Operating Base (FOB,) everyone was given a care package from the Veterans of Foreign Wars (VFW), an experience she credited with getting her involved the VFW. Acknowledging the image of "a lot of old guys sitting, drinking at the bar exchanging war stories" is somewhat true, but she also spoke of the amount and type of support they provide veterans and their families. While still on active duty, she joined a local VFW prior to one of her deployments, "just to be a member." She related not attending meetings, but just being a member. Initially when she walked into a VFW, she said folks assumed she was a wife, a member of the auxiliary, not a member, "which turned me off a bit." In addition to her gender, it is likely her youth contributed to that mistake by the others. But she made sure to correct those assumptions.
Looking back at her time on active duty, Sanchez spoke of sharing with her subordinates that there is life outside of the Marine Corps. Citing the terrific, constant support of her husband, she related how they had started a business outside of the Corps, while she was still on active duty. This was an example she held up to her troops, telling them "there are other things to do outside of the Marine Corps, if they choose to do so, and they can take the skills they learn in the Corps and apply them there."
As the discussion moved to addressing her separation from active duty, Sanchez bluntly said, "I was nervous. I really didn't want to leave, but I really didn't want to stay either." Referring to unspecified problems within her unit at the time, she said she really did not want to be part of what was going on. Additionally, she explained that the Marine Corps comes before everything, including the family. Sanchez said that means your significant other takes care of everything. Keeping her options open after just a bit more than 12 years, she signed on to the Marine Corps Reserves for a three-year contract. That contract has now ended and Sanchez no longer wears the uniform.
She stated being part of the VFW is her greatest achievement since leaving active duty, relating that she does a lot every single day. She is the Quartermaster for Lakeside VFW, VFW First District's 30 Year Trustee, and VFW First District's Women's Veterans Chairperson. Sanchez said it very rewarding to "be able to still give back to veterans, to those who actually need it."
Asked what the VFW provides her that she cannot get somewhere else, her reply was, "I'm not going to say camaraderie, it's family. They give you that feeling of family, like you are actually at home."
Even with the generation, age, and gender differences, she attributes part of it to a shared understanding, because "everyone knows what you've been through." Smiling, she spoke to the increasing presence of women veterans in the VFW and similar organizations. "Not a lot, but more and more." She specifically encouraged her fellow women veterans to check out the VFW.
In a general comment about how the nation views its veterans, she offered, "They still don't understand, but they are trying."
Sanchez said the most important aspect is the Veterans Administration (VA), observing it is also trying. She observed that things are getting better, slowly, but progressively. Even with that observation, she expressed understanding older veterans' complaints about the VA. She addressed the impatience of some veterans, young and old, who expect immediate support and get frustrated if they are not taken care of quickly. She offered that since here are suggestion boxes all over at the VA, "If they have a gripe, put in a suggestion. Put in a solution. Don't just say, 'this sucks'." The VA is improving. "America is trying," she said, "but it's slow," she said.
Since leaving active duty, Sanchez has spoken with high school students during organized visits, telling them "exactly how it is to be a woman in the military," though leaving out "the gruesome parts." She tells them, "You kind of have to suck it up. When over there, a Marine is a Marine. You're not a woman or a man, you are a Marine. You must do your job, whatever it is." She recommended that if the military is something they are considering, to first think out it, "very, very, very carefully." Think about not being able to be home all the time. Think about working 12-14 hour days. Think about it not being a civilian job. "You are literally signing on the dotted line that you are going to give the government your life for the next four years."
As serious as service in the military is, there are also humorous times. One such time occurred for Sanchez at a Mess Night when she was stationed on Okinawa in Japan. Married and pregnant at the time, she wore her maternity uniform, which is a smock. Though regulations stated she should wear trousers or a skirt under the smock, she did not, since it went down to her knees. Almost no one else knew the uniform regulations pertaining to pregnant Marines. Well, almost no one. A woman Warrant Officer spotted Sanchez, took her back to barracks, and made sure she wore a skirt under the smock. After returning to the Mess Night, in good Marine Corps tradition Sanchez was roasted many times that night. Not only was she roasted, so were the male Marines who did not know the uniform regulations pertaining to pregnant Marines. She laughed as she shared this memory from years past.
In response to being asked about her views about the nude photo scandal embroiling the Marine Corps, Sanchez offered two succinct observations. Hesitating slightly, she first said, "If women and men want to allow themselves to be pictured that way, they should deal with the consequences. It doesn't matter. If you allow yourself to be pictured that way, it (the photos and/or videos being leaked) is going to happen."
For those photographed without their permission, Sanchez equated it to pedophilia and strongly advocates going after those involved. She also agreed with Marine Corps Commandant General Neller's comments, "How much more do the females of our Corps have to do to be accepted? Was it enough when Maj. Megan McClung was killed by an IED in (Iraq)? Or (when) Capt. Jennifer Harris was killed when her helicopter was shot down while she was flying blood from Baghdad to Fallujah?"
At the end of our conversation, Sanchez said people must understand that many more women are going off to war. She commented that while many, if not most, stay on relatively secure Forward Operating Bases or main camps, like Leatherneck, some go out on missions.
"We do what we have to do, even though we don't want to," she said. "To protect our freedoms. We do it for our families. We want our families to understand that why they are here is because of people like us, even like people who came before us, doing what we did."
Ana Sanchez did more than enough to be accepted by this gray beard Marine. Yes, indeed, a lioness walks among us here in the East County.