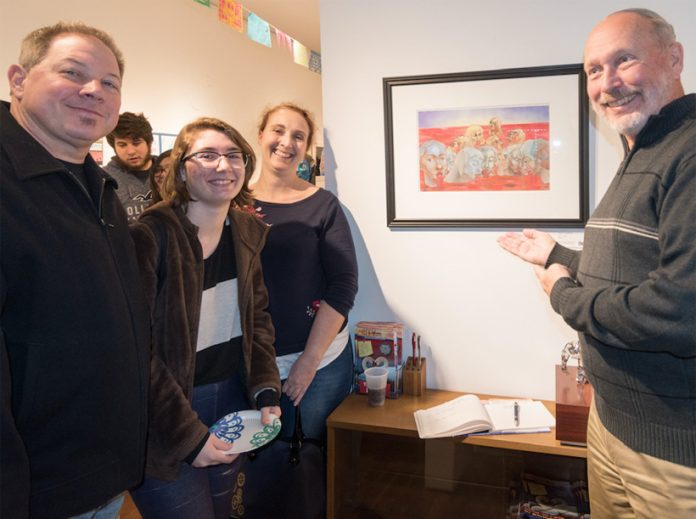 The returns have been in for something like 50 years, and they fuel one immutable fact: exposure to the arts in education results in everything from higher attendance to better test scores and social and intellectual development.
Study after study after study indicate that brain synapse, problem solving and even motor skills improve in the presence of art programs, with students often excelling in classwork involving other subjects.
Right now, some 50 student artists from 11 Grossmont Union High School District schools are willing cases in point.
All that's left, they say, are the end products, on display in "Avenue — Students' Artistry Entering Public Appreciation," running through Feb. 22 at Studio C Gallery, 128 E. Main St. in downtown El Cajon.
The exhibit, which opened Feb. 1, features sculpture, jewelry, photography, painting, drawing, digital designs and mixed media.
All artists have been hand-selected for their skill and dedication to their media and coursework.
The program is the product of discussions between Steele Canyon High School art instructor Kenda Francis and Studio C owner Carlos Castrejon, who sought to create an opportunity for young artists. Francis was awarded a $700 grant from the El Cajon Rotary Club; the funds covered gallery rental, advertising materials and opening-night food and drinks.
And she believes she has the answer behind the undeniable outcomes in art-related class performance.
"Art," Francis said, "is an experience where a person is vulnerable. They're synthesizing an experience and putting that into a form of expression, and it seems that overcoming the difficulties of creating a work would instill the set pathways for them being able to problem-solve and be successful in other areas."
Sanctions from teachers, she added, are a vital component in success.
"When I was in high school," the El Cajon native and El Capitan High School graduate added, "I had an art teacher who exhibited my work in places that made me feel so confident. The little sparks can really start something important."
Enter exhibitor Kyra D'Augusta, a Steele Canyon High School senior who's been painting since freshman year and has been creating art since childhood. D'Augusta, 17, is the painter of "We're Full," featuring a series of women's disembodied heads, with the subjects spewing red throughout their environment.
"I chose red for the liquid," D'Augusta said, "because it's a color associated with anger and suffering. The title … is a declaration that women can't hold in our frustrations and traumas anymore; it's time to let it out."
That's art for ya, one of the most democratic and liberating channels of self-discovery known to man. That's also maldistribution of resources, a longstanding conundrum that hasn't escaped D'Augusta's attention.
"There are times I find myself on both sides of the art debate," she explained. "On the one hand, I believe art is one of the most subjective and flexible concepts in the world, and people should be allowed to create and love whatever art they choose. On the other hand, though, the idea that 'you can call anything art' can be detrimental to the art community. I often find it hard to accept that there are some artists that are panhandling to buy their next meal, while others put so little effort or skill into their pieces and get rich over it. This is especially concerning for someone like myself, who wants to make art their sustainable profession."
Them's fightin' words — and D'Augusta, who prefers the pencil medium, will live by them as she pursues her career via studies at an art college in the fall.
"Art is everywhere," Francis concluded, "whether you're designing clothes or the interiors of cars or arranging your own living rooms. Art (gives voice to) those experiences and ways to live life in general," one reason she finds the studies on art in education such a boon.
"I quite love the gallery scene," D'Augusta added. "Seeing people come face to face with your favorite pieces and observing their reactions to your work can be invigorating, and honestly a little embarrassing, but I would definitely be in another (exhibit) if I had the opportunity."
Presumably, 49 fellow students feel the same way.
The phone number at Studio C Gallery is 619-540-5575; the web address is studioc.gallery. The venue is open Thursdays through Saturdays from 10 a.m. to 3 p.m. and by appointment.