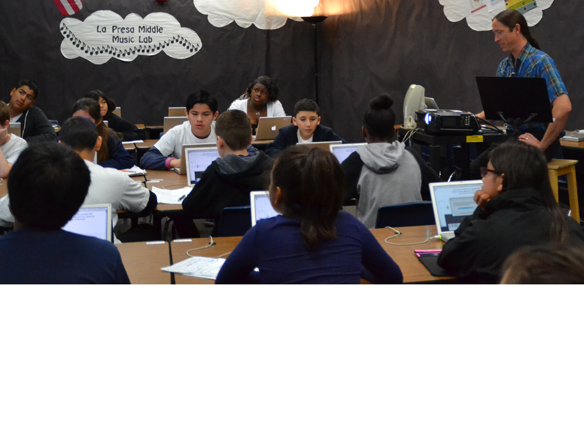 La Presa Middle School Principal Michael Allmann is an educator of some 20 years, 11 spent with LPMS. Educators with that amount time have watched theories tested and changes filter through and out. This is how he knew the latest changes—integration of STEM into schools needed changing. The change he felt necessary, adding arts into the Science, Technology, Engineering and Math, is now a movement on his campus. He recruited educators top in their field, and together they built a school-wide STEAM academy for grades four through eight. Through community meetings, they asked district parents what they wanted for their children's education. Overwhelmingly, parents yearned for arts to be taught, fortifying his position. Allmann and his new STEAM Program Coordinator Michael Brus (2014 La Mesa Spring Valley School District Teacher of the Year) made presentations to the LMSVSD and this month, one last presentation will be made on the expansion and enhanced curriculum. With upward to 50 applications already submitted, more than 100 interested parents attended LPMS's enrollment meeting last week.
Based on SDSU's Project Lead the Way curriculum, LPMS currently offers up to four Pathways for students—Biomedical, Arts (dance, band, choral), Engineering and Technology. Supported by the LMSVSD, teachers trained at SDSU over the summer to educate students in classes like robotics, medical detectives, computer animation and media tech. LPMS Cheryl Craig, teacher of robotics, is trained in design and modeling, automation and robotics, and medical detectives. Her favorite so far she said, is robotics.
"The kids are really involved in it, and coding is a new area for me so it's new all the time," she said. "It's not something I've done over and over. There is always a new challenge."
Unlike teaching linear subjects that do not get much revision, technology is fluid, students are challenged, as are the instructors. The hands-on aspect of STEAM is engaging in the classroom. Craig said because of the coursework—building, coding, it is different for each kid. She noticed positive changes in students over as little as two years, the kind that teachers hope for.
"We went to our first robotics competition, they walked in and felt overwhelmed. But by the end of that competition, they were real energized and came back with different things. Couldn't ask for anything better. It's an excellent program," Craig said.
National and global economies, private and public sector jobs like healthcare, infrastructure and defense all rely on the common denominators of STEM. They also rely on skilled, new blood to sustain the work force. Ask any LPMS teacher—starting in fourth grade is not too early to teach skills that are, and will be, in demand.
"You skate to where the puck is going to be," said Brus.
But why the A for arts at LPMS? How can the arts contribute to a cure for cancer, saving a rainforest, or building a bridge that can withstand a megaquake?
A STEM education is the education that everybody needs, Allmann said.
"The reason we think that A is so important is the creativity part of the process of engineering and technology. You have to be creative to build things for people. We could've just had a STEM school, but you need creative people to give ideas to engineers. We want kids to experience all that. Which is why at the middle school level, we give them foundational experiences in each of those areas, grades four through six, and then when it comes to [grades] seven and eight, we're going to ask them to choose a Pathway," Allmann said.
By the end of sixth grade, students will determine their area of interest and maybe even, expertise.
"You don't have to cross the freeway to be in band or dance, we've got those things here," Allmann said about the arts in balance with the other Pathways.
What Brus called "preparing students for the world of work," and "shaping their minds while they're young" means offering students so many topics of interest and chances to discover potential that something not only sticks, but lights a fire. Allmann and Brus intend to add fuel by connecting with available industries in San Diego, which would provide prime opportunities to show students what is out there for them. LPMS plans to be full with students who will benefit from STEAM curriculum, but also have "multiple community resource partners that are heavily involved in the education of our kids. I see us having a well articulated and established mentorship program, and a wonderful articulation between us and the high schools that provide those types of programs."
LPMS feeds into Steele Canyon, Monte Vista and Mt. Miguel. Mt. Miguel has medical pathways courses, and Monte Vista has auto engineering and gaming programs. Steele Canyon has a performing arts program, and is also looking into biomedical pathway.
While awareness of what is offered at LPMS and what is ahead are vital steps for improving education in San Diego and East County, unless the students are on board, the reality is, each day stands to be nothing more than another boring day at school.
LPMS students are anything but bored. While they may not realize until later the quality of education they are receiving now, especially compared to years ago, does it really matter? They are having fun, at school. How do teachers manage that?
Aaron Irwin teaches students piano on digital keyboards. No instrument? No problem. Each one of his students has a Macbook, where they use the keyboard to play notes, write and compose music, plus learn music theory on software programs like Garage Band and Finale. That software could be the creation of art-technology collaboration like Allmann described. However the methods of learning in classes is all executed like poetry in (digital) motion.
In Mr. Talmadge's Media Tech class, student's produce, direct, film and edit a weekly broadcast, in addition to designing the yearbook. Utilizing green screens, teleprompter apps, things used a few years ago took twice as much time and effort and are now streamlined and second nature to Talmadge's eighth grade "school leaders" who have the can-do, why-not, means-to-an-end relationship with technology that leads to new, breakthrough ideas.
"Shaping the culture of the school," is how Talmadge described what his students do, including his two editors-in-chief. "It's not as much a professional newscast as it is a student newscast, with nothing but personality, and we can mold it however we want."
He was also recruited due to his expertise with technology. Using his training and gaining trust in his students is what he wants to do to set the tone for the school.
"The broadcast also goes out to our feeder schools, so the little guys get to watch what the big guys are doing," he said.
LPMS itself has had to adapt and use new ideas to survive. The recession hit LPMS hard. Housing became unaffordable, families left the area, and teacher's positions were eliminated. But where imagination meets application, the right people can change all that. STEAM has proven a rebound platform for LPMS.
LPMS already has the classrooms to accommodate the additional students. There is space for three classrooms (limit thirty-three students each) at the fourth, fifth and sixth grade level. Two teachers would be added immediately to accommodate the increase in enrollment, and more staff could be added as students come to the school. LPMS plans to keep the fourth through sixth graders separated from the older grades, with separated bathrooms and lunch area. Class rotation, however, would be the same.
Being on the quarter system, LPMS has a change in elective every nine weeks. With the approval to add fourth through sixth grades, 12 different elective STEAM classes would be added and offered to those students. This would ideally lead them onto one of LPMS's four Pathways.
Listening to a kid psyched over building in Robotics and competing over the weekend with peers, or watching eighth graders edit mini-masterpieces to a target audience with a message, and their future, in mind is the ultimate gratification for students, educators and parents—visionary learning is working, and not all of it's rewards are in the future.
To learn more about La Presa Middle School and their STEAM program, log onto www.lmsvsd.k12.ca.us/Domain/26.