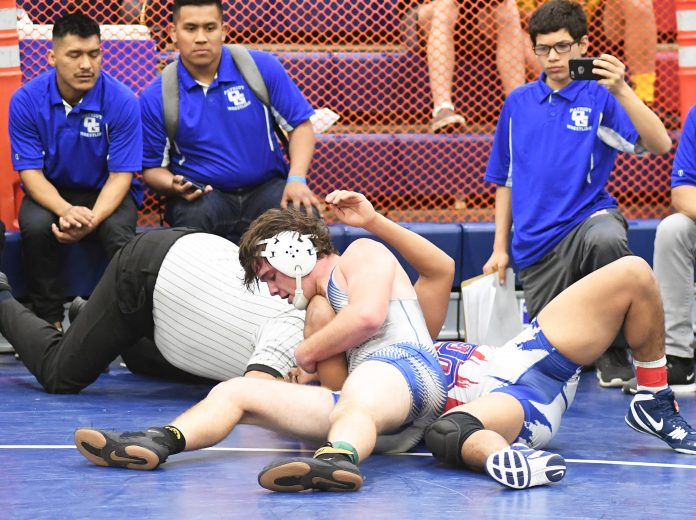 The West Hills High School wrestling team has produced one of the school's finest seasons on record in 2018-19, and it's not quite over yet for the Wolf Pack.
West Hills will send nine wrestlers to this weekend's San Diego Masters state qualifying tournament at San Marcos High School. Competition is Friday and Saturday.
The top four place-finishers in each of 14 weight classes advance to the state championship tournament the following weekend in Bakersfield.
The Wolf Pack, which won a tie-breaker with Granite Hills for this year's Grossmont Hills League dual meet championship, recorded a solid fourth-place finish among the 19 teams competing in last Saturday's San Diego Section Division III championship tournament at Montgomery High School.
West Hills advanced seven wrestlers to the semifinal round, five to the finals and netted one weight class champion – Jake Maheu at 172 pounds.
The Wolf Pack finished six points behind third place La Costa Canyon in the team standings.
West Hills has been walking on air since winning the team championship at the Monte Vista Invitational in mid-January.
"It was very motivating for our team," Wolf Pack coach Mike Proctor explained. "We have a lot of seniors on the team. It meant a lot to them to leave a legacy for the following generations of wrestlers at the school to show that it can be done."
William Funes (108 pounds), Travis Byrd (128), Norman Stone (147), Maheu (172) and Saul Sanchez (222) all represented West Hills in the championship round at last weekend's divisional championships.
Maheu, seeded first in his weight class, defeated Orange Glen's Julian Garcia, seeded fourth, by an 18-5 major decision to complete a perfect 3-0 run through the division. Maheu failed to yield a technical point in recording 7-0 (quarterfinal) and 6-0 (semifinal) decisions in his first two matches.
Proctor sees the Wolf Pack mat man as being a factor in the upcoming Masters tournament.
"He's continued to improve over the course of the season to become a legitimate contender for state," Proctor said. "He wasn't even in the conversation at the beginning of the season."
Sanchez, who was seeded second in his weight class, finished runner-up by a narrow 6-5 decision to Mt. Carmel's Tyler Watson, top-seeded in the weight class. Both mat men had advanced to the final with pins in all their preliminary matches.
Sanchez had recorded a 27-second pin in his quarterfinal-round match while Watson had opened the tournament with pin times of 58 and 25 seconds.
Stone, also seeded second in his weight class, met top-seeded Alexander Hendrix of La Costa Canyon in the finals. Hendrix had rolled up an impressive three first-period pins in advancing to meet Stone, who also had racked up three falls.
Controversy surrounded the match, however, after Stone appeared to get Hendrix in a pinning move just as the opening period ended. But a conference between officials ruled that time had expired and the match was allowed to continue.
Hendrix later slipped out of another possible pinning move by Stone, and the West Hills wrestler fought back with a late flurry in the dying seconds of the third period to force overtime.
Hendrix scored the first takedown, however, to emerge on top by a 16-14 decision.
Byrd was seeded third in his weight class but upset second-seeded Micah Levine of Cathedral Catholic by a 9-1 major decision in the semifinals. Byrd had his hands full with Brawley junior Preston Brewer, a returning champion from last year's divisional, with Brewer recording a 7-3 victory in the finals.
Funes was seeded seventh in his weight class but recorded one of the biggest upsets in the tournament after pinning second-seeded Nathaniel Gent of Mt. Carmel in the quarterfinals.
Funes then proved that was no fluke by pinning third-seeded Alex Pullin of La Costa Canyon in the semifinals.
However, Funes' meteoric run ended in the championship round with a loss by first-period pin to Brawley's Daniel Moreno.
"He broke the bracket; I couldn't be more proud of him," Proctor said of Funes, a freshman.
Other place-winners for West Hills included Justin Zingale (fourth, 122 pounds), Edward Marquis (fifth, 184), Parker Bell (fifth, 197), Mathias Brooks (sixth, 140) and Ryan Ramage (seventh, 287).
The top six place-finishers at the Division III tournament advanced to the San Diego Masters tournament, with seventh-place finishers earning alternate nods.
Though the Wolf Pack sent 11 wrestlers to last year's Masters tournament, Proctor said he felt this year's team holds an edge over last year's squad, which also finished fourth at the Division III tournament.
"Overall, it's been the best team we've ever had," Proctor said. "Consistency has been the key where every one of the kids has shown up at practice every day and pushed each other. When you're pushing everyone around you, it creates this atmosphere of greatness.
"We put some kids into this tournament for them to get some mat time and watching them score points for the team was inspiring."
Monte Vista senior Blake Schmidt delivered one of the more inspirational performances at the Division III tournament.
Top-seeded in the heavyweight class, Schmidt was disqualified for an illegal slam against Brawley's Javier Martinez in his first match, meaning the Monarch grappler would have to battle back for a medal in the consolation wrestle-backs.
Though he admitted he initially thought about dropping out of the tournament after the disqualification, Schmidt said he changed his mind and decided to continue.
"I talked to my dad and my coach gave me a speech about perseverance," said Schmidt, who is headed to Montana State on a Division I football scholarship.
Third at last year's Masters tournament, Schmidt entered this year's postseason ranked fourth among 287-pounders in a bid to qualify for this second consecutive state tournament appearance.
He remained on course after pinning all three of his opponents in the consolation rounds to place third at the division finals. All three pins came in the first period – 30 seconds, 55 seconds and 22 seconds.
Monte Vista, which finished runner-up for the Grossmont Valley League dual meet title following a one-point loss to Grossmont, recorded individual five place-winners (and four Masters qualifiers) to place ninth in the team standings at the Division III championship tournament.
Jahnick De La Cruz finished third at 115 pounds while Sebastian Garcia finished fourth at 154 pounds. Ronald Barry finished sixth at 172 pounds while Sebastian Valdez finished seventh at 222 pounds.
El Capitan, which placed 11th in the team standings, totaled five place-winners (and three Masters qualifiers): Cameron Horton (fourth, 162), Jacob Jones (fifth, 108), Stryder Prather (fifth, 128), Manuel Lopez (eighth, 115) and Blaise Hunt (fifth, 134).
Santana, which finished 13th in the team standings, had five place-winners (and two Masters qualifiers): Jessie Hernandez (sixth, 108), Cameron Wilson (sixth, 154), Angel Vega (eighth, 147), Ahmad Hassan (eighth, 172) and Liam Clark (eighth, 222).
El Cajon Valley's Emanual Medina finished eighth at 287 pounds.
Brawley captured its 19th consecutive CIF divisional championship by out-pointing Mt. Carmel 254.5 to 223.5 to win this year's Division III team title.
Brawley finished with five individual weight class champions.