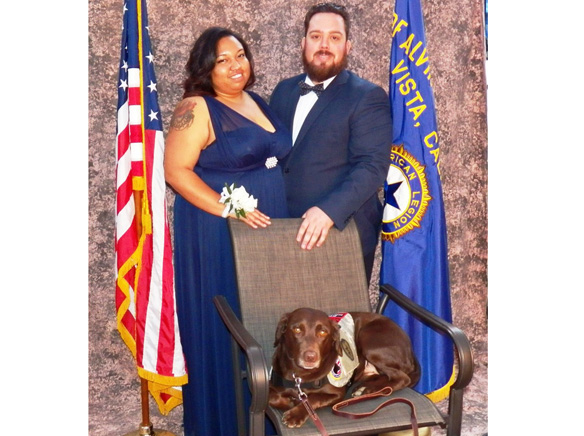 Jonathon Marroquin has had more difficult life experiences than most people ever live through. When Marroquin provides counsel, his advice should be considered thoughtfully.
"Share your story," he says. "When you are feeling most vulnerable, reach out for help, not only for yourself but for those you love. Your experience is not unique, and you are not alone."
During a recent interview in El Cajon, Marroquin shared his story.
Jonathon Marroquin has had more difficult life experiences than most people ever live through. When Marroquin provides counsel, his advice should be considered thoughtfully.
"Share your story," he says. "When you are feeling most vulnerable, reach out for help, not only for yourself but for those you love. Your experience is not unique, and you are not alone."
During a recent interview in El Cajon, Marroquin shared his story.
Marroquin's adult life traces a path through military service in overseas combat environments to struggles on the home front. He is recovering from multiple life traumas with his psychiatric service dog Berkley at his side, his nearly constant companion. This Veterans Day, the pair will celebrate their first anniversary together.
Marroquin was a student at Patrick Henry High School, 16 at the time the 9/11 terrorists struck. He describes himself at the time as "very religious" and drawn toward serving others. He joined the Junior Reserve Officer Training Corps when he was a sophomore, continuing in the program through his senior year.
After graduation Marroquin joined the U.S. Army, and was assigned as a chaplain's assistant, thinking to become a chaplain himself. He was sent to the Sunni Triangle in Northern Iraq during August 2006, assigned for 15 months at Forward Operating Base McHenry. His duties included armed protection service as the unarmed chaplain's bodyguard and performing chapel administrative tasks.
As of March 2006, that region around Hawijah was considered one of the most dangerous in Iraq.
Marroquin's tasks included working on the "remains detail," recovering bodies of the dead and making arrangements for proper handling of human remains. His work included care for those killed among his fellow soldiers and also civilians.
"What I saw has torn my heart out," Marroquin said quietly. His unit lost 18 soldiers KIA.
Coordinated car bombings targeted a girl's school with 50 students. Thirty-two girls and their teachers died, and Marroquin helped in the aftermath.
Other incidents were also heart wracking. "The worst thing I saw was with Iraqi kids. One of our jobs was to make friends with the children. I had one soccer ball to give out one day, with a crowd of lots of kids around. I saw an obviously special-needs boy, and I handed the ball to him. Another bigger boy came up immediately with a piece of broken glass. He slit the younger boy's throat and then took the ball. That little boy died right there, and I had his blood on my boot."
Marroquin later suffered a combat-related head injury while dismounting under fire to protect his chaplain. He was unconscious briefly but returned to duty.
His Iraq tour of duty over in late 2007, Marroquin's unit came back to festivities and celebration. But sometime during the four-six month time back home, Marroquin says now, he began having noticeable psychological problems. He engaged in highly risky driving. He had unremitting nightmares. He was plagued by confusion and hypervigilance.
Over Easter weekend 2008, Marroquin thought about suicide. He imagined driving his car off the road into a deep ravine. He stopped himself, though, and told his NCO when Monday rolled around.
Marroquin landed in Tripler Army Medical Center in Honolulu. He had had no prior medical conditions and was identified as experiencing post-traumatic stress and major depression. Seven drugs prescribed either caused side effects or failed to work as intended. "Prolonged exposure" therapy was subsequently proven to be ineffective and on its own terms extremely traumatic. (Now, Marroquin takes only two medications, an anti-depressant and another prescription to treat insomnia.)
Eventually back stateside in San Diego, with a 2009 honorable discharge, Marroquin made plans to study for a human services degree through the University of Phoenix while settling down with his family.
But more troubles loomed.
Marroquin was reinjured during a seven-car pileup on the freeway, with his car hit three times. Physicians came to the conclusion that the accident complicated what had been traumatic brain injury for oxygen deprivation to Marroquin's brain from his head injury in Iraq.
Marroquin's wife delivered a lovely daughter, Grace, now eight years old. During her second pregnancy, she was ordered on bed rest for a blood clotting disorder, and Marroquin had to assist her with all personal care at home. Their son, Joey, was delivered prematurely by C-section and sent directly to the neonatal intensive care unit. At six months of age, Joey was diagnosed with a terminal condition, which Marroquin explains as "chromosomal micro-deletions," resulting in three active medical ailments, any of which may be fatal. Joey was placed in hospice care, and the family said goodbyes to their little boy not long ago. Joey passed away on Thursday, October 26, under sedation. If Joey had survived, he would have turned four in December.
Marroquin's marriage has been a casualty of these traumas. Marroquin and his wife are separated and may divorce.
Marroquin has survived through all this and is recovering.
For one of his university courses, Marrroquin chose to investigate veteran services available in San Diego. He discovered Shelter To Soldier, a charitable nonprofit describing its mission as "saving lives two at a time," first by rescuing dogs at risk of being euthanized for lack of shelter space, and second by training and partnering those dogs as psychiatric service companions for recently separated veterans of military service, especially those diagnosed as experiencing post-traumatic stress, traumatic brain injury and depression.
The post-service casualty rate, according to the Veterans Administration, is loss of 22 to 23 U.S. military veterans committing suicide daily. Among homeless dogs, about 2.7 million are put to death annually, for scarcity of adoptive homes and shelter space. Those startling numbers inspired longtime dog trainer Graham Bloem and his wife, Kyrié, to found Shelter To Soldier in 2012. STS provides service dogs free of charge to veteran recipients.
Marroquin was impressed with the organization. As part of his student assignment researching the organization, he filled out an application to receive a service dog through STS. Marroquin was very surprised to receive an immediate response from Vic Martin, a veteran advocate volunteer with STS, who had received his own service dog for Veterans Day 2014. Martin told Marroquin that he qualified to be a veteran recipient.
Marroquin spoke fondly of his time, a little over two years, of involvement with STS. "Everybody who works there believes in the mission," Marroquin related. The training program takes a little over a year of partnering the veteran with a dog.
The first stage in the process, though, is finding the right match. Marroquin said that STS arranges "dates" between each veteran and dogs in early training, and the matching is "kind of like marriage."
"That takes a long time," Marroquin continued. "Berkley and I picked each other. We established a spiritual bond forever. There was definite magic to it."
Berkley was trained to perform three specifically tailored tasks for Marroquin. When he becomes stressed, she is trained to perform "compression" by rolling on his feet to comfort him and relieve anxiety. She learned how to wake him from nightmares. And she was taught how to navigate around the in-home machines and equipment required to treat little Joey's conditions.
With Berkley at his side — and at times rolling on his feet — Marroquin now goes on speaking engagements and appearances on behalf of STS. Marroquin is progressing with his studies toward the Bachelor of Science in Human Services degree. His goal is a service career as a client representative for hospice patients, or a victim advocate or veteran advocate.
Marroquin expressed pride in how Berkley serves him and his family. "She's amazing," he said. He noted that she has taught herself two news tasks to perform. She learned on her own to block Marroquin's bathroom door until he takes his medications each morning. She now wakes Marroquin's daughter, Grace, when Grace suffers from nightmares. Marroquin said that Grace calls Berkley "Chocolate Kiss" or "Miss B."
Marroquin further noted, "Because of Berkley, I have been able to take care of my son." Marroquin plans to outfit a motorcycle with a sidecar for Berkley. In coming days, Marroquin intends to travel with Joey's hospice "memory bear" to visit special locations the boy was never able to see.