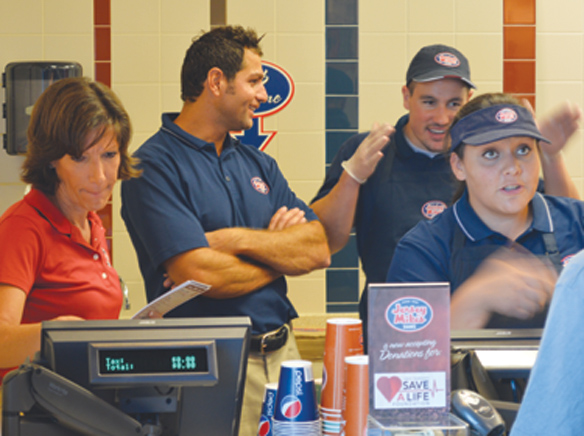 Piles of fresh sliced roast beef, turkey, Swiss cheese and bacon overflow the freshly cooked bread, slightly crunchy on the outside and melts like butter on the inside with Jersey Mike's Subs Club Supreme. And the only way to get the experience of taste, time and tradition is ordering it Mike's Way (with onions, lettuce, tomatoes, spices, red wine vinegar and an olive oil blend). This is the only way to experience El Cajon's newest eatery for the definitive submarine sandwich experience. And ultimate it is. In using only the freshest ingredients, the taste of every ingredient is highlighted in every bite taken. Gone are the days of sub sandwiches that have the same perpetual taste from the first to last bite.
What began in a prime location in Point Pleasant, New Jersey in 1956 is now a national franchise with more than 750 stores nationwide. Branded by its fresh ingredients and its commitment to supporting the local community, Jersey Mike's Subs launched its first East County location in El Cajon on Wednesday, Oct. 2 with a charity event that lasted through Sunday. This is nothing new to Jersey Mike's, as the franchise itself adopted the founder's passion for helping others and is embedded in the entire Jersey Mike's culture.
This is the main reason that Owner Ray Ibrahim chose Jersey Mike's Subs. He said it was an investment in a superb product and the community it serves.
"You will not find us on every corner like Starbucks and Subway," he said. "We want to be a destination for people to come to."
In tradition with Jersey Mike's, Ibrahim gave out 10,000 cards for the grand opening offering any regular sub off of its menu for a minimum donation of $1 to the Eric Paredes Save A Life Foundation. By the end of business Sunday, the store raised $2,614, which Ibrahim matched dollar for dollar and presented a check to Save A Life yesterday.
"People love the product, it's the best sub you'll ever have, but at the same time Jersey Mike's is all about giving back to the community," he said. "It's not all about money, it's about helping people and you have to have that spirit to be a part of the Jersey Mike's franchise."
Cathy Brown, Jersey Mike's area director for San Diego County, said this location is the 20th store to open since 2009 with its first store in Mission Valley. She said nothing in the store is pre-bagged and everything is prepared fresh daily and use only high quality meats and cheeses that are sliced to order.
"It's an authentic East Coast sub," she said. "Ray bought a five store package that will be spread out through East County with his next store opening up in Santee in November and a third location in the works."
Moureen Legg, Save A Life executive director said Ibrahim's partnership with them on his grand opening was "a match made in heaven."
"We are so impressed with Jersey Mikes' and its philanthropic spirit that donates so much time, energy and money in helping local causes," she said. "Choosing us when there are so many other needy charities out there is such an honor."
Founded by his parents after his sudden death, the Eric Paredes Save A Life Foundation mission is to raise awareness of Sudden Cardiac Arrest (SCA) until IKGs are a standardized part of well-child exams and pre-participation sports physicals. Among teens, heart abnormalities are found in 20 out of every 1,000 screened.
SCA is not a heart attack but an abnormality in the heart's electrical system that abruptly stops the heart and fatal if not properly treated within minutes in 92 percent of cases.
Brown said 7,000 school kids die each year due to SCA and it organizes free heart screenings, focusing on teenagers and sports because this is not provided and teens do not recognize the symptoms if they have them. It is working to place Automated External Defibrillators (AED) at high school events and working on legislation that will add EKG and hear tests for school athletes.
"Even though some schools might have an AED, many times it is not close enough to save a life," said Brown. "CPR and an accessible AED within the first two to four minutes is the only way to treat SCA."
Save A Life's next free heart screenings is on Sunday, Oct. 20 at Patrick Henry High School. For more information on risks, screenings, volunteering, donating visit EPSaveALife.org.
Living in El Cajon, Ibrahim said it is the ability to give back to the community that makes this venture so great.
His second location will open in Santee on Nov. 13 at 9331 Mission Gorge Road. This time he is handing out 16,500 of the charity cards with the help of the Santee Chamber of Commerce where all proceeds will go into the Santee School District.
The El Cajon location is located at 141 Broadway. For more information about Jersey Mike's Subs or to order online visit jerseymikes.com.