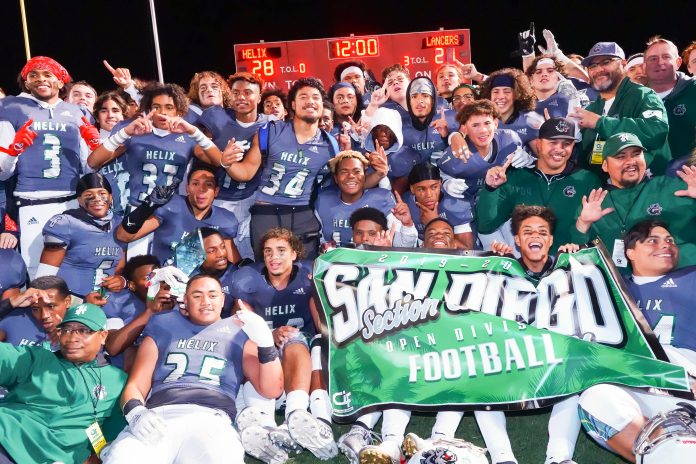 The top-seeded Santana Sultans (11-1) will try for their first-ever San Diego Section CIF football championship when they meet the second-seeded Serra Conquistadors (10-2) in the section's Division IV final at Southwestern College's DeVore Stadium on Friday at 1 p.m.
The Sultans gave up the game's first touchdown last Friday night to the Orange Glen Patriots but after the initial series, Santana stopped star back Cael Patterson with a stifling defensive effort, limiting one of the section's all-time leading rushers to just 129 yards – 60 of which came on a run on the game's first drive – as Santana won 35-14 behind four touchdown passes from senior quarterback Nathan Temple.
But the team won the game with a stunning performance by the defense, led by senior Michael Richter's three sacks. Richter has shaken opposing quarterback to the ground 17 1/2 times this season, tying a school record.
"After that first run we kind of locked in," Santana senior linebacker Cameron LaRiccia said. "We've already beat Serra once (34-10 at Serra in Week 2), now we're going to go out and do it again."
Temple passed for 227 yards and touchdowns to Randy Smith and Jared Forster in the first half, then he connected with senior Dean Landers late in the second quarter as the Sultans were hardly threatened after the first 12 minutes of the game.
Senior running back Brooks Moutaw rushed for 141 yards on 15 carries, and despite doing most of the Sultans' groundwork over the last two years in Santana's prolific passing offense, he has amassed nearly 2,200 career rushing yards and 28 career touchdowns on the ground.
He rushed for a 35-yard touchdown for the Sultans' final touchdown on Friday night, giving him 34 total in his three-year varsity career.
Santana trailed 6-0 when Temple threw a 60-yard bomb down the right side to Smith for a 7-6 lead. Forster's touchdown was a thing of extraordinary effort, as the junior escaped the grasp of three would-be tacklers en route to the end zone.
Landers caught touchdowns of 16 and 18 yards, the second of which came in the third quarter.
Santana played its first football season in 1965 and has had two other title game berths, including most recently in 2016 (a 38-24 loss to La Jolla Country Day), which also was in Division IV.
Running behind the Sultans' self-proclaimed Big Belly Crew – led by Luke Simanek, Andrew Golembiewski, Jayce Lynch, Adrian King and Jordan Ortiz, Santana's balanced offense is averaging nearly 38 points per game. 
"It's going to be a great game," Simanek said of the final. "We've got to keep this going and get things done and win this championship."
Temple has thrown for 2,348 yards and 34 touchdowns this season.
In the win over the Serra back in August, Temple passed for 210 yards, including 143 yards and two touchdowns to Smith. Moutaw rushed for 89 yards and a score in the game.
Ironically, it was against Serra that Temple suffered a broken collarbone in Week 2 win in 2018, knocking him from the lineup for seven games. The Sultans finished the regular season 5-5 but advanced to the section semifinals in Division IV, falling to eventual section and state champion San Diego.
Given the fact that the Cavers eliminated Santana last season and that Orange Glen won section and state titles last season, as well, gives the Sultans' potential championship resume a boost for a state playoff run.
Helix 28, Carlsbad 21 – The No 1-ranked Helix Highlanders won a tenth overall section championship by winning the San Diego CIF Open Division championship game over the third-seeded Lancers at DeVore Stadium last Saturday night.
It was the Scotties' third section Open Division title since the creation of the format in 2013.
A scoreless tie at halftime, Carlsbad took the lead on the first play of the third quarter on an 80-yard touchdown on a short reception by Lancer star Cole Wright.
Helix sophomore running back Christian Washington, who has filled in more than admirably for injured senior superstar Elelyon Noa, rushed for 160 yards behind the line of Leandre Rayle, Anthony Lombardo. Shawn Martinez, Noah Viloria, and Cezer Valdez.
Washington tied the game at 7-all with a 36-yard touchdown run in the third quarter. He has 1,107 yards and 15 touchdowns this season, most of it coming after stepping into the starting role for Noa.
Senior Keionte Scott, who last year at this time was contemplating his next prep career move after his program in Las Vegas was dropping down to eight-man football, had a 30-yard interception return for the go-ahead score in the third quarter.
Now, a year later, Scott is one of the most overlooked two-way stars in the county, probably because he wasn't a known commodity coming into the 2019 season. He currently has 36 receptions for 563 yards. He has 14 touchdowns and four interceptions.
On the Lancers' ensuing series, senior linebacker John Carroll, a candidate for the Grossmont Hills League defensive player of the year, intercepted a pass and returned it 38 yards for another score, putting Helix up by two touchdowns with five minutes left in the third quarter.
Junior Alejandro Van Holten scored the final touchdown on a run for Helix, which will move on to a CIF State Southern California division bowl game with a state title game berth on the line.
The Highlanders will likely be placed in the D1-AA division, the same division in which they lost to Folsom in the state title game two years ago. The opponent will be announced on Dec. 1.