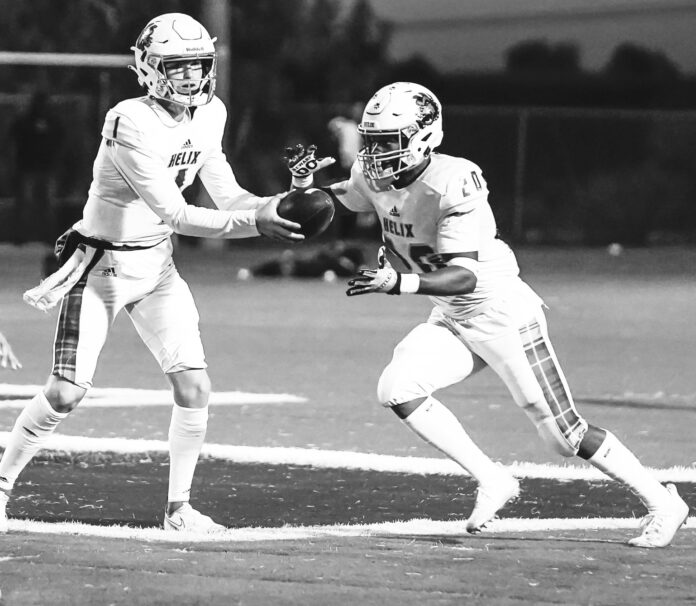 In an atypical twist, the Helix Charter High School football team entered last Friday's non-league game against the host Otay Ranch Mustangs as the lower-ranked team.
Otay Ranch entered the contest, played at Eastlake High School, ranked 11th among San Diego Section teams (second in Division II) while the Highlanders were ranked 15th in the section (11th among Division I teams).
The section rankings are still taking shape and the Scotties look to reclaim some former glory before the 2021-22 prep pigskin season is over if their 29-14 win over the Mustangs is any indicator.
Helix never trailed in the top 15 matchup, though Otay Ranch tied the game, 7-7, on a leaping catch by senior Jayhalin Sanders with 3:55 remaining in the first quarter.
The Highlanders pretty much had the rest of the game under control through the running of senior Christian Washington (20 carries, 231 yards, three touchdowns) and some timely defense (four sacks, two interceptions).
Washington's star continues to shine after recording his second consecutive 200-yard, three-touchdown game on the young season.
In two games, Washington has rushed for 433 yards on 47 carries with six touchdowns. He's also logged one interception on defense.
Washington opened scoring in last Friday's contest on a 26-yard run, scored from six yards out to put the Scotties ahead 21-7 on the scoreboard and later broke off a back-breaking 68-yard run up the middle to negate an Otay Ranch touchdown (15-yard run by junior quarterback Brian Rudden) that had narrowed the score to 21-14 early in the fourth quarter.
"Every time he steps onto the field, he's one of the best players out there, so we naturally want to make use of his talent any way we can," Helix head coach Robbie Owens said.
Washington isn't the only Highlander making noise.
Sophomore quarterback Ryland Jessee completed 12 of 18 passing attempts for 165 yards with one touchdown and one interception for a 91.2 quarterback efficiency rating in the win over the Mustangs.
Jessee completed a 14-yard touchdown pass to senior James Johnson to put the visitors ahead to stay for good at 14-7
Senior Xavier Van led the Highlanders with 95 receiving yards on five catches.
Jessee is already drawing  comparison to former Helix star Alex Smith, who won two CIF titles with the Highlanders before moving on to storied college and NFL careers.
Smith earned distinction as the NFL's top-rated passer during the 2017 season.
Helix had two touchdowns called back or the final margin of victory against Otay Ranch would have been wider.
The game also featured a major leg injury to Mustang senior defensive lineman Kai Robinson that caused a 40-minute delay and an inordinate number of penalties incurred by both teams.
"We had to deal with some adversity," Owens said. "Our season is going to get progressively tougher. We'll need to play cleaner (less mistakes) than we did tonight. We had a lot of opportunities we did not take advantage of."
Jesse has passed for 248 yards with one touchdown and one interception so far this season with a 64.7 completion percentage.
"He's progressed a lot since the spring," Owens said of Jessee. "He was put into the position as a freshman. He didn't really have the right stance then but now he's developing. He's someone who has a lot of potential."
The Scotties remain on the road for Friday's top-notch matchup at sixth-ranked Mater Dei Catholic, which has outscored opponents 106-27 in a likewise 2-0 start.
Crusader junior quarterback Dominic Nankil has already passed for 684 yards and seven TDs.
"We'll need to be ready to go," Owens said of Friday's marquee matchup.