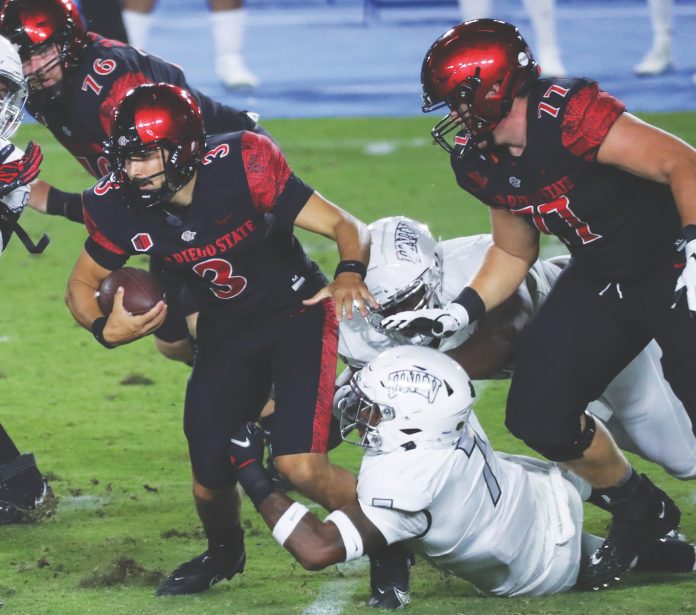 San Diego County preps helped steal the spotlight in San Diego State University's 34-6 season opening football win over the University of Nevada-Las Vegas last Saturday at Dignity Health Sports Park in Carson.
Helix Charter alumnus Carson Baker threw for 137 yards and one touchdown from the signal-calling position while Bonita Vista alumnus Greg Bell led all SDSU ball carriers with 111 net yards while recording his first touchdown as an Aztec.
Helix graduate Michael Shawcroft recovered a fumble while logging four tackles, including three unassisted tackles, to help buttress the SDSU defense that limited the Rebels to just six points, the program's fewest allowed in Mountain West game since shutting out Hawaii, 55-0, on Nov. 5, 2016.
The Aztec defense held UNLV to only one first down in 15 chances on third down, the lowest percentage (6.7) since Sept. 24, 2005 against San Jose State (0-for-17).
It was an all-around solid effort on both sides of the line of scrimmage for the Aztecs, especially for the team's large contingent of local players.
Though no fans were in attendance and the game was played 110 miles north of campus, SDSU players had to relish their performance in what was the team's season opener delayed by seven weeks.
Bell, for one, had to wait a year to make his SDSU debut on the field.
A 2016 BVHS graduate who helped lead the Barons to their first San Diego Section title in 50 years and a runner-up finish in the state bowl championships, Bell entered last Saturday's game with some somewhat meager NCAA Division I statistics: 173 rushing yards and 14 receiving yards compiled in four games at the University of Nebraska in 2018.
Bell left the Cornhuskers to transfer to SDSU, but a preseason injury kept him out of last year's Aztec lineup. Classified as a senior transfer, he now has one season of collegiate eligibility remaining, and looks to make the most of it if his SDSU debut is any indicator.
"I was just going out there trying to run the hardest I can," Bell said in regard to his long layoff of 25 months.
Bell was among six Aztecs to carry the ball in the game as SDSU rushed 46 times for 287 yards to control the pace of the game.
"It felt good to have four or five running backs out there and have all contributing and doing well," the former Baron standout said. "It took the load off everybody and everybody contributed well and it worked out good tonight."
Bell, who led all SDSU ball-carriers on the night with 19 carries, averaged 5.8 yards, bolting for 40 yards on his longest run from scrimmage.
He scored on a three-yard run with 7:51 remaining before halftime to make the score 21-0 following a blocked punt by senior Trenton Thompson and the ensuing recovery by Shawcroft.
The Aztecs lit up the scoreboard for 20 points in the second quarter to take a commanding 27-0 lead into halftime.
Baker opened scoring in the game on a four-yard touchdown pass to Ethan Dedeaux. Chance Bell followed with a five-yard scoring run early in the second quarter to make the score 14-0.
Matt Araiza (Rancho Bernardo) closed out the half with field goals of 27 and 22 yards following the score by Greg Bell.
UNLV made the score 27-6 on a four-yard scoring pass from Max Gilliam midway through the third quarter but Chance Bell closed out scoring on a 19-yard run with 8:25 left in the game.
SDSU head coach Brady Hoke was pleased by his players' effort considering the initial uncertainty of playing amid the ongoing COVID-19 (coronavirus) pandemic.
"It was great to get out there on the grass, compete against someone and obviously get a win," Hoke said. "The guys did a great job preparing. I thought we came out there with a lot of energy. They were excited to go out and play. We were playing as a team. We did a nice job."
The SDSU coach had good things to say about Bell and Baker's performances, in particular.
"It has been 25 months since Greg played, so I know how excited he was to get back out there. He had shown us some things during fall camp, if you want to call it that, that he was going to be one of the guys that we wanted to get the ball to.
"Carson did a nice job. He really did a good job of making a few things happen in the fourth quarter when he scrambled and found Ethan (Dedeaux) … really well done. He did a really good job of operating the procedures of the offense."
Baker had to wait most of last season before getting his own chance at making history, and it was sweet as he guided the Aztecs' to a 13-3 non-conference victory against Brigham Young University in his first career start in the regular season finale.
Baker is now 2-0 as a starter following last Saturday's win over the Rebels.
The redshirt sophomore started the game hot by completing 10 of 18 passes for 100 yards with one touchdown (and another called back due to a penalty) at halftime.
The team slowed down in the second half while defending its sizable lead. Baker finished the game with 12 completions in 25 attempts after going two-for-seven with 37 yards in the second half.
Bell and Kaegun Williams both had 69 rushing yards at the half, with Bell churning up precious yards in the second half to help the Aztecs run out the clock.
Baker carried the ball three times for 12 net yards to finish with a team-leading 149 yards in total offense. He completed passes to nine receivers, including two each to Dedeaux, Jordan Byrd and B.J. Busbee.
Elijah Kothe had one catch for 33 yards while Isa Richardson had one catch for 21 yards to highlight contribution by the SDSU receiver corps. Kaegun Williams had one catch for 19 yards while T.J. Sullivan had one catch for 16 yards.
Christian alum Jesse Matthews had one catch for 10 yards while having a potential touchdown catch negated by penalty.
Tight end Daniel Bellinger had one catch for four yards.
Araiza converted both field goal attempts while averaging 49.8 yards on five punts. He finished the game with 10 kicking points after tacking on four extra-point conversions.
The SDSU offense rolled up 424 yards in total offense on 71 plays while the Aztec defense held UNLV to 186 total yards on 64 plays.
The SDSU defense recorded five sacks for 30 yards in losses while the Rebels managed one sack for seven yards.
Both teams each lost one fumble. There were no interceptions by either team in the game, which lasted three hours and 33 minutes.
SDSU scored on six of seven red-zone possessions, including four touchdowns.
The Aztecs stopped the Rebels on their opening seven drives.
Team co-captain Dwayne Johnson, a senior safety from Vista Murrieta, topped the SDSU defense with 10 tackles, including eight unassisted tackles, while senior Tariq Thompson (St. Augustine) followed with nine tackles, including seven solo stops.
Caden McDonald logged eight tackles and 2.5 sacks while Connor Mitchell and Jonah Tavai also recorded quarterback drops. Cameron Thomas (Carlsbad) was credited with a half-sack.
McDonald, who added three tackles for a loss, earned honors as the MW Defensive Player of the Week by posting career numbers on the night.
Next in line after Bell in the ground-gaining department was Williams with 10 carries for 84 net yards. Chance Bell had seven carries for 40 net yards with two touchdowns.
Among other locals:
Eastlake's William Dunkle earned a start at right guard while Helix's Rashad Scott also saw game action at safety.
Senior co-captain/center Dominic Gudino (Olympian) did not play while recovering from a hand injury.
The Aztecs return to the gridiron in search of their second win of the season this Saturday night (6:30 p.m. start) when they travel to Logan, Utah, to take on Utah State. The Aggies are coming off a 42-13 loss at 25th-ranked Boise State, last year's MW champion.
Saturday's game will be telecast on the CBS Sports Network.
For details, visit goaztecs.com.