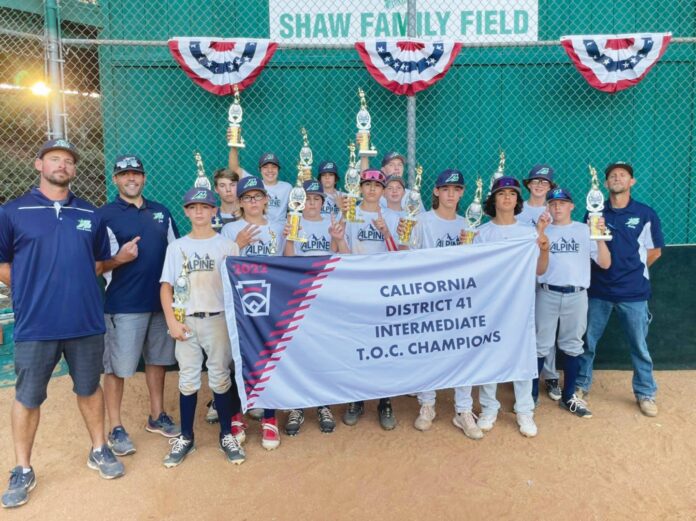 California District 41 Little League has been serving East County communities for more than a half century with a lot of history behind it.
El Cajon's Northern Little League (now Fletcher Hills) became the first California-based team to win the coveted Little League World Series title, that coming in 1961.
Northern La Mesa Little League (1957) and El Cajon Western Little League (1977) both recorded runner-up finishes in the late summer classic while representing East County.
Southern California ranks second with the most LLWS championships since the tournament started in 1947 with six behind leader Taiwan (17).
The Little League organization itself was founded in 1939 and is the world's largest organized youth sports program with millions of players and more than one million adult volunteers in every U.S. state and more than 80 countries.
The organization, which has since grown to include softball, currently manages seven World Series events — four in baseball and three in softball.
California District 41 Little League today includes 15 member leagues: Alpine American Little League; El Cajon National Little League; El Cajon Western Little League; Fletcher Hills Little League; Jamul Little League; Julian Little League; Lakeside American Little League; Lakeside National Little League; Mountain Empire Little League; Rancho de Oro Little League; Rios Canyon Little League; Santee Pioneer Little League; Santana National Little League; Singing Hills Little League and West Hills Little League.
The geography makes for some great neighborhood rivalries. Post-season play is divided into the annual Tournament of Champions and All-Star tournament play, which leads to World Series events. TOC championship games in the Minor, Major, Intermediate and Junior divisions took place in June. Rancho de Oro came out victorious with TOC championships in the Minor and Major divisions while Alpine American won the Intermediate Division TOC tile and West Hills captured the Junior Division TOC crown.
Twelve teams participated in the Minor Division TOC bracket: El Cajon National, Lakeside National, West Hills, Alpine, El Cajon Western, Fletcher Hills, Lakeside American, Rios Canyon, Jamul, Rancho de Oro, Santee National and Singing Hills.
Rancho de Oro went through the bracket undefeated with wins over Alpine (13-2), Lakeside National (16-8) and, in the championship game, Rios Canyon (10-0).
Rios Canyon advanced to the division final with wins over Lakeside American (17-14), Singing Hills (11-3) and El Cajon Western (13-11).
Lakeside National defeated Jamul (15-3) while El Cajon Western defeated Santee National (5-0) in other quarterfinal round matchups.
Eleven teams participated in the Major Division TOC bracket: Lakeside National, Singing Hills, Rios Canyon, Rancho de Oro, Lakeside American, El Cajon National, West Hills, Santee National, Alpine, Fletcher Hills and Jamul.
Rancho de Oro again went through the bracket undefeated with victories against Rios Canyon (22-2), Fletcher Hills (8-1), Lakeside American (11-0) and Lakeside National (10-0).
Lakeside National recorded its runner-up finish after successfully navigating through the bracket with wins over Singing Hills (6-5), West Hills (7-3) and Alpine (5-2).
Alpine defeated Santee National (14-4) while Lakeside American defeated Jamul (13-1) in other quarterfinal-round games.
Eight teams participated in the Intermediate Division TOC bracket: Lakeside National, Rancho de Oro, West Hills, Alpine, Jamul, Lakeside American, Singing Hills and El Cajon National.
Alpine American defeated Singing Hills for the TOC title. Alpine opened the tournament with commanding wins over West Hills (19-2) and Rancho de Oro (16-0). Singing Hills advanced to the championship round with victories against El Cajon National (10-0) and Jamul (9-5).
This year's Junior Division TOC bracket included four teams: Mountain Empire, Lakeside American, Julian and West Hills.
Lakeside American defeated Mountain Empire while West Hill defeated Julian in semifinal matchups. West Hills defeated Lakeside American in the championship round.
Little Stars
Santee National Little League won the Little Stars tournament title. Ten teams participated divided into three pools. The top two teams from each pool advanced to single elimination play. Santee National was the top seed in the A pool while West Hills was the second seed. Rios Canyon was the top seed in the B pool while Lakeside National was the second seed. Alpine was the top seed in the C pool while Rancho de Oro was the second seed.
West Hills shut out Rancho de Oro, 3-0, while Santee National edged Lakeside National, 2-1, in opening-round play. Rios Canyon defeated West Hills and Santee National defeated Alpine in ensuing semifinal matchups. Santee National won the championship with a 4-1 win over Rios Canyon in a game played on June 12.
Fletcher Hills and Jamul participated in the consolation game on June 8.
All-Stars champions
All-star tournament play started June 25. Pool play will be conducted in the 10U, 11U and 12U divisions before double elimination play determines a district champion.
Singing Hills defeated Jamul on June 22 to win this year's Intermediate Division district title.
District 41 all-star champions advance to California Section 7 tournament play in five divisions: 10U, 11U, 12U, Intermediate and Junior levels.
The 10U and 11U divisions both end at state level while the 12U Division extends all the way to the iconic Little League World Series Aug. 17-28 in South Williamsport, Pa.
The Intermediate and Junior divisions also have national championship tournaments. The Intermediate Division World Series is scheduled July 31 to Aug.7 in Livermore. The Junior Division World Series is scheduled Aug. 14-21 in Taylor. Mich. Additionally, the Senior Division World Series is scheduled July 30 to Aug. 6 in Easley, S.C.
The 2022 Little League World Series is set to return with a full participation field and fans after two years of not being able to hold events to full capacity because of the coronavirus pandemic.
This year also marks the 75th anniversary of the Little League Baseball World Series, squarely placing the long-held American tradition in the spotlight.
"We know how difficult these past two years have been, and continue to be, on our local leagues, players and families, but we are thrilled to welcome back fans and international teams at all seven divisions of our baseball and softball tournaments this summer," Little League President and CEO Stephen D. Keener said. "We are anticipating a more exciting tournament than ever with the celebration of the 75th Anniversary of the Little League Baseball World Series, the expansion of teams in Williamsport (baseball) and Greenville (softball), and the return of full competition at all seven of our divisions of play. We hope everyone has the opportunity to enjoy the World Series experience this summer with us, whether in person or watching at home with their family, and we look forward to writing a historic chapter in the Little League story."
The 2022 LLWS field will feature an expanded bracket of 20 qualifiers — 10 each from the United States and international regions. The U.S. field will increase from eight to 10 regional champions with the addition of the Metro Region (New York, New Jersey, Connecticut and Rhode Island) and Mountain Region (Montana, Wyoming, Nevada and Utah).
Previously, teams from the Metro Region competed as members of New England Region (Connecticut and Rhode Island) and Mid-Atlantic Region (New York, New Jersey) while teams from the Mountain Region formerly competed as members of the West Region (Nevada, Utah) and Northwest Region (Montana, Wyoming).
The Northwest Region now includes Alaska, Washington, Oregon and Idaho while the West Region now includes California (Northern and Southern teams), Arizona and Hawaii.
The reshaped New England Region includes Vermont, New Hampshire, Massachusetts and Maine while the Mid-Atlantic Region now includes Pennsylvania, Maryland, Delaware and District of Columbia.
Other U.S. regions include Southwest, Midwest, Great Lakes and Southeast.
The international field will comprise eight regional champions, plus two additional regions on a rotating basis. International regions include Asia-Pacific, Australia, Canada, Caribbean, Europe and Africa, Japan, Latin America and Mexico.
According to the international rotation plan, Panama and Puerto Rico will be included as standalone regions in 2022, Cuba and Panama in 2023 and Cuba and Puerto Rico in 2024.
California District 41 Tournament of Champions
MINOR DIVISION
Rancho de Oro Little League
MAJOR DIVISION
Rancho de Oro Little League
INTERMEDIATE DIVISION
Alpine American Little League
JUNIOR DIVISION
West Hills Little League
California District 41
All-Star Champions
INTERMEDIATE LEAGUE
Singing Hills Little League
LITTLE STARS CHAMPIONS
Santee National Little League
LITTLE LEAGUE BASEBALL WORLD SERIES UNITED STATES REGIONALS
NORTHWEST REGION
Alaska, Washington, Oregon, Idaho
WEST REGION
Northern California, Southern California, Arizona, Hawaii
MOUNTAIN REGION
Montana, Wyoming, Nevada, Utah
SOUTHWEST REGION
Colorado, New Mexico, Oklahoma, Arkansas, Louisiana, Texas, Mississippi
MIDWEST REGION
North Dakota, South Dakota, Nebraska, Kansas, Minnesota, Iowa, Missouri, Wisconsin
GREAT LAKES REGION
Michigan, Illinois, Indiana, Ohio, Kentucky
SOUTHEAST REGION
Tennessee, Alabama, Georgia, Florida, South Carolina, North Carolina, Virginia, West Verginia
MID-ATLANTIC REGION
Pennsylvania, Maryland, Delaware, District of Columbia
METRO REGION
New York, New Jersey, Connecticut, Rhode Island
NEW ENGLAND REGION
Vermont, New Hampshire, Massachusetts, Maine
INTERNATIONAL REGIONS
•Asia-Pacific Region
•Australia Region
•Canada Region
•Caribbean Region
•Europe and Africa Region
•Japan Region
•Latin America Region
•Mexico Region
California District 41 Little League All-Star Tournament
10U Division
At Lakeside National Little League
POOL A
Saturday, June 25
Singing Hills 13, Jamul 6
Fletcher Hills 20, Lakeside American 7
Monday, June 27
Fletcher Hills 13, Jamul 4
Lakeside American 8, Singing Hills 6
Thursday, June 30
Lakeside American 12, Jamul 11
Friday, July 1
Singing Hills 9, Fletcher Hills 7
POOL B
Saturday, June 25
Rios Canyon 15, El Cajon National 2
Rancho de Oro 3, Santee National 0
Monday, June 27
Rancho de Oro 12, Rios Canyon 2
Tuesday, June 28
Santee National 17, El Cajon National 9
Thursday, June 30
Rancho de Oro 26, El Cajon National 3
Friday, July 1
Santee National 7, Rios Canyon 4
POOL C
Saturday, June 25
Lakeside National 7, West Hills 0
Tuesday, June 28
Lakeside National 12, Alpine 2
Thursday, June 30
West Hills 9, Alpine 5
11U Division
At Rancho de Oro Little League
POOL A
Saturday, June 25
Fletcher Hills 3, Rancho de Oro 1
Monday, June 27
Rancho de Oro 13, El Cajon
Western 0
Wednesday, June 29
Fletcher Hills 12, El Cajon Western 0
POOL B
Saturday, June 25
West Hills 11, Lakeside National 1
Tuesday, June 28
West Hills 10, Santee National 3
Thursday, June 30
Santee National 2, Lakeside National 1
Friday, July 1
Consolation game: Lakeside National 12, El Cajon Western 4
12U Division
POOL A AT WEST HILLS
Saturday, June 25
Rancho de Oro 5, West Hills 0
Alpine 18, Rios Canyon 0
Monday, June 27
West Hills 20, Rios Canyon 2
Tuesday, June 28
Rancho de Oro 6, Alpine 5
Thursday, June 30
West Hills 11, Alpine 1
Friday, July 1
Rancho de Oro 23, Rios Canyon 0
POOL B AT FLETCHER HILLS
Saturday, June 25
Fletcher Hills 8, Lakeside American 3
Monday, June 27
Santee National 10, Fletcher Hills 7
Wednesday, June 29
Lakeside American 15, Santee National 1
POOL C AT FLETCHER HILLS
Saturday, June 25
Singing Hills 10, El Cajon National 0
Tuesday, June 28
Lakeside National 11, Singing Hills 7
Thursday, June 30
Lakeside National 11, El Cajon National 1
Friday, July 1
Consolation game: Santee National 10, El Cajon National 0
Intermediate Division
Championship: Singing Hills California Section 7 All-Star Tournaments
INTERMEDIATE DIVISION
At Jamul Little League
Wednesday, June 29
Sweetwater Valley 18, Singing Hills 0
Thursday, June 30
Sweetwater Valley 20, Singing Hills 1
Note: Sweetwater Valley advances to the Southern California regionals against Section 2 champion Santa Anita July 7-15 at Rancho Peñasquitos