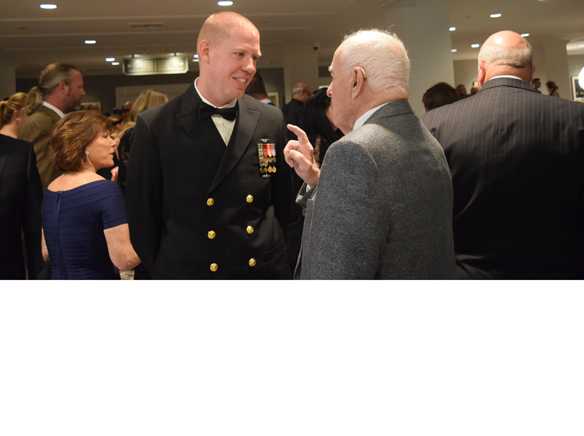 It was a night of celebration and inspiration at the Angels Foster Family network Fostering Futures fundraiser at the US Grant Hotel on May 12. With a Putting on the Ritz theme, this network of foster families, donors and supporters dressed in their best retro styles for an evening of sharing, celebrating and bringing awareness to the 1,200 children newborn to 5-years-old in San Diego County alone that need a home.

It was a night of celebration and inspiration at the Angels Foster Family network Fostering Futures fundraiser at the US Grant Hotel on May 12. With a Putting on the Ritz theme, this network of foster families, donors and supporters dressed in their best retro styles for an evening of sharing, celebrating and bringing awareness to the 1,200 children newborn to 5-years-old in San Diego County alone that need a home. With its primary goal to give these children the love and security that they need in the early stages of development and then finding them a permanent home with their biological family, Angels has a 90 percent success rate. At this time it has 63 fostering families and 30 applicants, but need at least 100 more to meet the needs of this ever-growing issue. Next to the County of San Diego, Angels is the largest provider of foster families in the county said Angels Executive Director Jeff Wiemann.
"May is Foster Care Month and it is perfect that we hold this fundraiser in conjunction with that to try and raise awareness and to help people understand the needs out there for families to help foster," he said. "Every day, more kids are coming into foster care and we need families to do that. Everybody here tonight is helping us to do that by raising money to help us go out there and find people, recruit people wherever we can in the community.
Wiemann said it mostly recruits' families via online, social media and word of mouth. Many people looking to foster, about 80 percent of them find Angels on the web. He said that Facebook is an excellent tool, but it is the current fostering families that are out there telling their stories and encouraging the people that they know and meet to join the cause.
There were many wonderful stories from foster families about the joys of taking in infants and sibling sets and the journey that they take in getting these children back with biological family. And each one said as difficult as it is to give up a child that you fall in love with, the joy that comes in know that you have not only helped a child, but also saved a family makes it worth every minute that you spent with the children and families to get them reunited. With Angels' high success rate, there are those children that are unable to be reunited with the biological family and a majority of these children wind up being adopted by the fostering family.
This brings us to Team Stone, the Stone family, who had an incredible journey to share.
Johnathon Stone, a Chief Petty Officer in the Navy said how he wound up working with Angels is "a long and beautiful story."
His wife Sarah and he were high schools sweethearts in a small town in Illinois. He joined the Navy and she followed him to San Diego. When they found out that she was pregnant for the first time, they quickly found out that they were having twins. "That's when it all started. We were going to be a team and it was game time no matter what," he said.
The twin girls were born three months early that threw them off a bit as they were in NICU for nearly three months. Stone was only an E-2 at the time, working every day and they only had one car. He spent three months driving her to the hospital, going to work, going back to the hospital and staying with the girls until they kicked them out. They then got up the next day and did it again. Now they are healthy happy 9-year-olds.
A couple of years later they had another little girl who is now 7-years-old. Stone was on deployment but made it home just in time to see her born. After that they talked about more children because they both wanted a boy. They were hesitant because they were sure if they tried, they might end up with another set of twin girls. And as much as Stone said he loves his girls, he really wanted a boy. They looked into adoption, but it was too expensive.
Her mother and father had fostered, so she encouraged them to head into that direction. Stone thought it was a great idea to be able to help as many kids as they could until they found the right child for their family.
"We came across Angels, went to information night and immediately we were in. So we plowed through the certification," he said. "The day we were certified we were at a beach cleanup because we love volunteering in the community with the kids. While we were there we got a call that we had a little boy. His name was Dragon Blaze Comstock. He was at the USD Hospital and he was 2-days-old and they said he needed a family. We said of course."
They went to the hospital the next day with now clue what to expect. Sarah went in first and when she held him up he was a little pale redheaded boy. Stone's whole family is redheaded and said it was an amazing experience at first sight. He looked just like him.
After a couple of months they realized that he was not hitting his milestones, as he should have. After visits to the doctors and testing, they found out that he had severe global delays because his mother was a drug user during her pregnancy.
"That's okay, it's his story and he is amazing," he said. "If you see this kid smile, he lights up the entire world. After a few months of working with him at home, I'm going back and forth back at sea and my wife is at home taking care of business. We found out that his biological mother had overdosed in the streets and when that happened they asked if we wanted to adopt him and make him a permanent member of our family. Of course we did. It was like 'Yes!' It was exactly what we dreamed of. We were a little disappointed that we were not able to help more children but we knew eventually that we would. He is now 4-years-old."
After coming back from deployment in December of 2015, his wife was complaining of severe stomach pains. He took her to the ER and found out that she had a tumor the size of a grapefruit on one of her ovaries, and other tumors that they could see.
"After crying for a while, it was that moment that we looked at each other and realized we had all these wonderful things and that we would focus on the good things every day and hopefully inspire others at the same time," he said.
So they started the process a few days before Christmas beginning with surgery. Stone said he was going back and forth and with the help of his neighbors, whom he calls "The Village" was able to get home, wrap presents and had a wonderful Christmas with the children. Going to the hospital, Sarah only 26-years-old bounced back from the surgery quickly and was home by Christmas night.
"Then our cancer journey started. She started chemo. She shaved her hair before chemo because she wanted to donate it. She had long red hair and wanted to help somebody. That's how unselfish she was," he said.
Stone said the night before her surgery they decided from that moment on that they would find a reason to smile every night before we went to bed and every morning when we woke up, not matter what.
"And we did that even when she really got sick. We found the good and smiled," he said. "In November she passed away. It is just my amazing four children and I. My twins, Maddy and Jackson (Dragon). She made me promise before she passed away to continue to do good things. To always be patient with the kids and to help inspire people. Live and not wait. She also told me that I better stay involved with Angels and that was the easy part," said Stone.
Stone began raising money, getting donations and let Angels know what happened.
"I've been helping them out whenever I can ever since," he said. "I'm telling the new foster families the Team Stone story. I continue now to make videos, take lots of pictures and show the world that no matter how bad life gets, there is always something good. There is no use focusing on the bad because when you do that your missing out on everything that is in front of you. So we are always making memories, living life and we sharing it with others. I feel like I'm here on this Earth to spread that message. Don't wait until something bad to happen to really start to live the life you are destined to do. Live through us. You can see what happened. Everything is working out. That is how life works."
To find out more about Angels Fostering Family Network visit www.AngelsFoster.org.