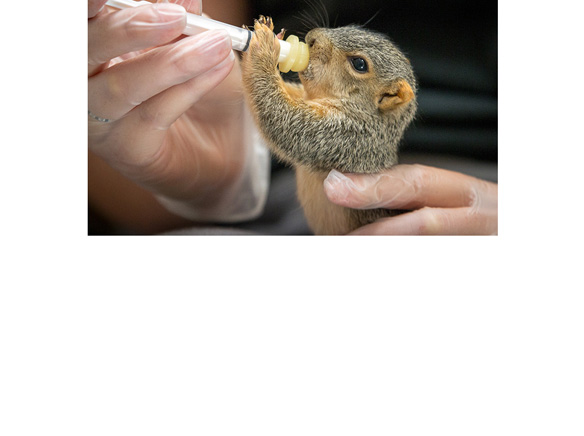 It's a pretty common experience. Nearly all of us have found a lost or injured wild animal. And since spring has sprung upon us, these instances will rise exponentially as nature kicks its baby season into high gear. So what do you do when you happen upon such a situation? Call (619) 225-WILD – Project Wildlife.
It's a pretty common experience. Nearly all of us have found a lost or injured wild animal. And since spring has sprung upon us, these instances will rise exponentially as nature kicks its baby season into high gear. So what do you do when you happen upon such a situation? Call (619) 225-WILD – Project Wildlife.
Project Wildlife is a non-profit organization that has been around since 1972. Now a program of the San Diego Humane Society, their goal is to restore sick, injured, and orphaned wildlife to full health so they may be released safely back to their natural habitat. Project Wildlife has grown to become one of the largest wildlife rehabilitation groups in the entire country. They have a central Triage Center and 64 satellite care sites throughout the county, facilitated by over 350 volunteers who work every day of the year to provide pre-release care to wild animals. In 2016 alone, Project Wildlife treated over 9500 animal patients.
So what should you do if you come across a sick, injured, or orphaned wild animal? Take the time to look, listen, and leave alone. It's possible they may not need your help.
Many animals are brought to Project Wildlife prematurely. People rush in, often for all the right reasons, to rescue something that may not need rescuing, especially if they perceive that a baby has been orphaned. In many cases, the mother is nearby and will come back to care for its offspring. This is true even in the case of birds. Mother birds will often continue to care for their chicks if they have accidently left the nest. So taking some time to watch the baby (and protect it if need be) may bring its own successful resolution.
However, if the critter is injured or you determine the mother is truly nowhere around, here is what to do:
Use gloves or something other than your bare hands to retrieve the animal (especially if it is a bat) and wash your hands after contact;
Gently place the animal in a warm, dark, quiet place (such as a shoebox with a lid, a coffee can with air holes, a pet carrier, etc. – and remember, it needs to breath);
Do not give it food or water;
Transport to Project Wildlife as soon as possible. It's always a good idea to telephone Project Wildlife before bringing in an animal.
Project Wildlife's Triage Center is located on Custer Street, off of Sherman Street in the Morena area. Their "Front Porch" is designed to accept animals 24 hours a day. During regular hours (8:30 a.m. to 5:00 p.m., 7 days a week), a staff member will be there to assist you. For after hours, there are simple instructions posted on how to leave an animal. It is important to fill out the information cards, especially including a zip code. Project Wildlife makes every effort to return its recovered animals to the area in which they were found.
Staff checks this area every day, first thing in the morning.
Project Wildlife does not handle domestic animals, only the wild variety. They do not handle animal nuisances. They are not able to go into the field to retrieve animals; they rely on the public to bring the critters to them.
According to Carly Padilla, Outreach Community Educator for Project Wildlife, they are seeing a wave of new compassion for wildlife. Such a trend is welcome, but sometimes leads to people acting and reacting before it is necessary.
Project Wildlife sees over 320 different species each year, mostly mammals and birds. In fact, 74% of all rescues are avian. With over 400 bird species in our county, it's understandable. So if you see a baby bird you believe is at risk, here are some tips:
Leave the baby alone for an hour. The mother could return and the bird's mom is best for the baby. Watch for predators.
It's a myth that touching a baby bird will cause its mother to reject it. Actually, most birds do not have a great sense of smell. If the nest is within your reach, you can simply (and carefully) put it back there. That might solve the problem.
If the baby is in a safe place on the ground, create a makeshift nest. The mother bird will often continue to care for their babies even if they are on the ground.
If the baby has feathers, it might be learning to fly. Young ravens and crows are sometimes on the ground for a week while learning to fly.
If the baby is obviously injured or you have other information to believe the mother will not return (or the nest is too high to reach), you may want to retrieve the bird.
Keep the baby in a warm, dark and quiet place.
Do not feed or water! Birds and mammals require specialized diets.
Stress is the number one killer of rescued birds. Do not handle the birds any more than you have to. Don't peek or check on them after you secure them in their warm, dark and quiet place.
Immediately transport to Project Wildlife.
Project Wildlife is not a hatchery, so they do not handle eggs.
Bats can be an issue all to themselves. There are 21 different species in the county. They have a horribly unfair and inaccurate reputation. Bats are quite valuable and beneficial to our health and well-being. They are insect eaters and especially love mosquitoes, eating thousands of them every night. But, like most mammals, they can catch rabies, though the percentage that does is extremely low. Bats do not have to be tested for rabies unless they have had physical contact with a human. So if a bat is left at Project Wildlife and there is no indication the rescuer used gloves or something other than their exposed hands, that bat cannot be released. They will have to be euthanized and tested for rabies, just in case that human presents symptoms at a later date. So, as a general rule of thumb, don't pick up wild animals without using gloves, or a towel or old T-shirt, or something similar.
Project Wildlife accepts all wild animals, but will sometimes transfer certain critters to groups with more specialized knowledge, such as reptiles to the Herpetological Society or local wild parrots to SoCal Parrots.
Do not consider helping by raising rescued wild animals. It is illegal to have a wild animal in your home for more than two days. Fines can be up to $50,000. Animals who survive this kind of "help" usually must be given up at a later date. Animals that "imprint" on humans cannot be returned to the wild. They can sometimes be turned into ambassadors for public education, but often must be euthanized. Do not keep wild animals. If you want a pet, there are tons of rescued dogs and cats just waiting for your love at the various shelters in the county.
Project Wildlife is currently housed adjacent to the old, original Humane Society complex on Sherman Street. A new and modern facility is under construction, which will increase their space by literally ten times. This building should open sometime in 2019.
At the time of this article, the organization had over 440 animals in their care, but new patients are always arriving. In case you're wondering, Project Wildlife has a 40% release success rate.
If you are interested in volunteering for Project Wildlife, go to their website at www.projectwildlife.org/volunteer or check out their Facebook page. The non-profit group also accepts donations. And they offer a variety of regular educational seminars and presentations
The non-profit also accepts donations.
So, when you come across a sick, injured, or orphaned wild animal, who you going to call?
Project Wildlife.