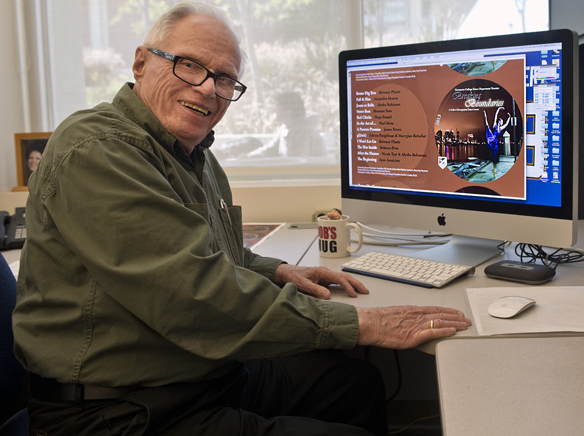 The only employee on the Grossmont campus who can remember military service during World War II is Bob Yochum, a graphic artist, who at age 86 still works two days a week.
The only employee on the Grossmont campus who can remember military service during World War II is Bob Yochum, a graphic artist, who at age 86 still works two days a week.
He enlisted in the military at age 17, and it was almost over by the time he left the United States for the Pacific Theatre. His transport stopped at a few islands in the Pacific before the war ended, and he never had to face combat—later wondering if he had been extraordinarily lucky or if he had missed out on something so many of his generation had experienced.
Yochum spent two years in the occupation forces in Japan, first working in maintenance, and later, in furtherance of his childhood dream to be an artist, finagling a job as a photographer and cartoonist" for the 24th Infantry Division newspaper. For most of the time, Yochum was stationed in Kokura on the southern island of Kyushu.
There was a rule that American GIs were not to travel alone in a country that so recently had been the enemy homeland, so when Yochum went to the offices of a Japanese newspaper in the evening, where the infantry division's newspaper was printed, two soldiers would take him there in a jeep, then drop him off. Then they would travel as the required pair back to the base, leaving Yochum all night with Japanese civilians who worked at the newspaper. "There was never any danger," recalled Yochum. "They were very friendly."
What danger Yochum did experience came when he and members of his unit were off duty. "One time, we went into a bunker to explore, and we looked up and the ceiling was covered with scorpions," he recalled. "We all turned around and walked out – we didn't want any to drop on us."
On another occasion, he and friends decided to explore a nearby cave. "We found an unexploded bomb lying there," he said.
Having served in the military taught him a lot of discipline, Yochum said, "It was a growing experience, more than anything else."
After the war, he attended the Art Institute of Buffalo on the GI Bill and in 1950 went to work in the advertising department of J.W. Clement, Inc., a large printing company that had plants in Buffalo and on the West Coast. "Art work was done by hand without the aid of computers back then," he said. He worked at a drawing board and also as the company photographer.
Yochum said he did a lot of industrial photography and once walked the beams high in the air on a new plant the company was building. "I felt like an iron worker carrying a camera."
In the 1970s he was transferred to the composing room to train fellow workers in the new procedures of setting type. He joined the union and was elected to the board of the local. "Being on the board was a growth experience, frightening at first, but it gave me the confidence to take a job managing apartments in Mira Mesa after I came to California."
In 1977, Bob Yochum came to San Diego in a tourist. A year later, he decided to move to California with his 16 year-old-son. Soon after he started working at Grossmont College part-time as a temporary employee. It was twenty years later when he obtained a permanent position. "I'm stubborn, huh?" he laughs.
Yochum was 51 when he began working in the art department, now known as Creative Services, at Grossmont College. He is still going strong today working two days a week with some colleagues who date back with him to 35 years ago. On November 1, they celebrated his 86th birthday at lunch.
Others think of retirement at a much lesser age, but Yochum said, "this is what I do and it keeps me going. I want to come up with new and creative solutions in my work. And we can all use a little extra money to enhance our life style."
The oldest employee on Grossmont College's payroll, he kids that he hopes to be able to work until he is 100. He enjoys his work and the camaraderie of his fellow employees and "all the hugs I get from the women."
How long will he continue to work? "When the Man Upstairs tells me it's time," he declared.