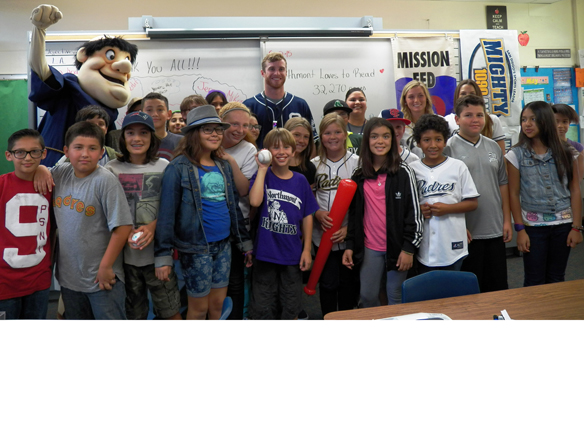 Ms. Susy Navarro described her 10- and 11-year-old fifth grade students at La Mesa's Northmont Elementary School as "so excited" but "nervous," when the class decided near the end of March to enter a reading contest conducted under auspices of the San Diego County Office of Education. The "Read With A Pro" contest was open to local children in class grades 2-5 throughout San Diego County, vying to be the students who read the most over a month, both as individuals independently at home and in school hours as a class. Navarro's 29 students were concerned over the stiffness of the competition they faced.
But these classmates from Navarro's room were already "very big on reading," she said, often requesting reading periods as their optional free-time activity. Also, the award for best readers was to be a visit and reading session with a San Diego Padres player, which attracted interest from the "lots of baseball fans" in the class. During the stretch from April 13 through May 15, the 14 young readers who participated from Navarro's class devoured a grand total of 32,270 pages, a winning average of 2,305 pages read per student.
And Padres infielder Cory Spangenberg, #15, and the "Swinging Friar" team mascot were on hand to congratulate Navarro and her best-reading schoolchildren during on June 2. Spangenberg answered a battery of questions from the students, bantered with them over baseball, softball and sports, and then he read to the class. On June 16, Navarro's class will attend the Padres game together as another portion of their recognition as best readers.
Navarro credits her students for taking on the challenge and following her advice, "Just try your best!" If all members of her class who read during that month had formally entered the contest, their total would have been over 82,000 pages of text read.
"I was so amazed at how much my students have come to value reading, and they were so amazed at all they were receiving with this award," Navarro said. "We hope this honor will motivate others to read more. Reading brings so many rewards in life, just on its own."
Representatives from Padres support staff and from contest sponsors Mission Federal Credit Union and the Mighty1090am sports radio station were also present. Each child in the class received a gift bag filled with baseball-themed goodies, including a baseball and plastic bat, a lunch bag and a pencil pouch with school supplies, and four tickets to the San Diego County Fair. As the children formed a line to meet him each personally, Spangenberg autographed the gift baseballs, children's books and hats and t-shirts for the kids and for Navarro. Reading Cinemas provided one free child theater admission pass for every 150 pages read. Jersey Mike's Subs fed the class lunch on award day and also provided a coupon apiece for another free sandwich.
The book Spangenberg read was "H Is For Home Run: A Baseball Alphabet," by Brad Herzog. The book covers everything from the ABC's of "All Stars," "Babe Ruth," and "Clutch Clean Up," to the XYZ's of the "Expos Team from Montreal," award-winning pitcher "Cy Young," and "Zeros" of a perfect game with no hits, no runs, no errors.
Laura Hollis has been principal at Northmont Elementary for two years. She said the reading contest was offered to all classes at the school, and Navarro's fifth-graders took off with the opportunity.
"This was a great surprise," Hollis said. "We are so excited over the support we've been given. This is a wonderful little school, and I am very proud of our students."
Northmont Elementary, located at 9405 Gregory Street in La Mesa, has an enrollment of around 500 students.
Angie Lasagna, of Mission Federal Credit Union, said that her financial organization seeks ways to support schools, finding the contest a "great opportunity to encourage reading."