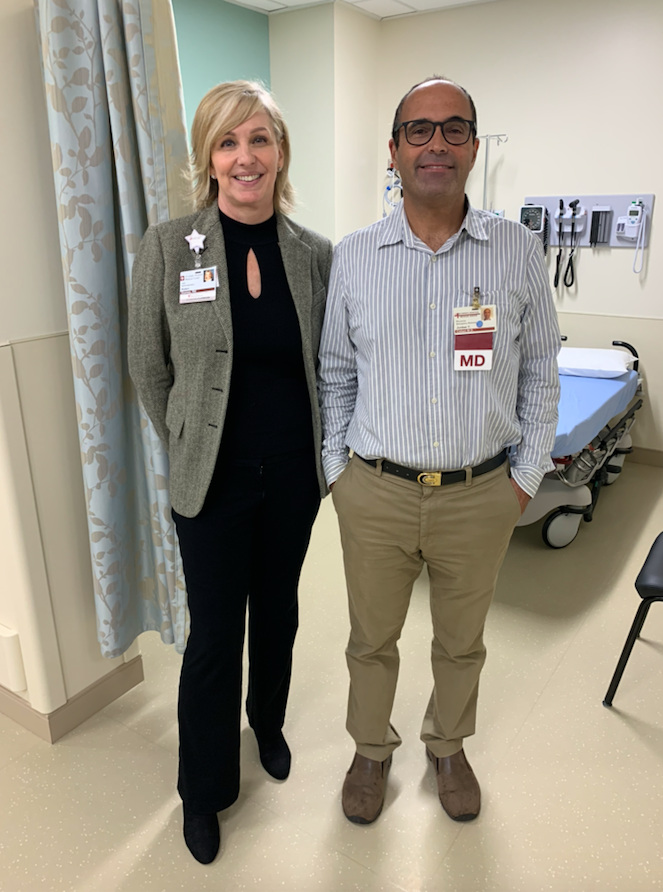 The new Emergency Department at Alvarado Hospital is located in a new, two-story building built adjacent to the current emergency room. This more than doubles the bed capacity to 32, with the ability to expand further in the future, if needed. This new facility is built and equipped per the latest operational and safety standards for emergency care, including a modern trauma care room, negative-pressure isolation rooms, a networked digital throughput management system, and a spacious, open floor plan that allows for a fast-track emergency care section. The new facility will be manned by the same experienced and knowledgeable staff that has brought Alvarado Hospital local and national recognition for clinical expertise and patient safety.
The new emergency department holds a Geriatric Emergency Department Accreditation (GEDA) from the American College of Emergency Physicians, meaning that our staff are specifically trained, and our facility is specifically outfitted, to care for the needs for our senior-aged patients.
Alvarado Hospital decided to pursue a GEDA as part of its greater mission to directly serve the needs of our immediate community. The GEDA is our latest certification, adding to our certifications as a Severe Heart Attack Receiving Center (STEMI), and our accreditation as an Advanced Primary Stroke Center.
About Alvarado Hospital
Alvarado Hospital, a member of Prime Healthcare, is a 306-bed full-service, acute care hospital centrally located in San Diego adjacent to SDSU.
Ranked in the top 5 percent nationally for clinical excellence, the hospital is also ranked among America's 100 Best Hospitals for Orthopedic Surgery(tm), Spine Surgery(tm) and Critical Care(tm).
Alvarado Hospital offers more than 25 programs and services, including the Advanced Spine & Joint Institute, cardiac and cancer services, otolaryngology, surgical weight loss, outpatient rehabilitation, sexual medicine, digital mammography, geriatric-psychiatric care, vascular services and sleep medicine. To learn more, visit AlvaradoHospital.com or call (800) ALVARADO.