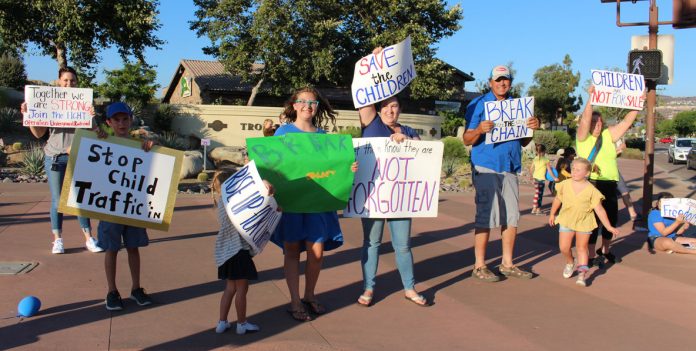 According to the United Nations, women make up 49 percent of human trafficking victims; 23 percent are underage girls.
About 25 Santee residents pushed back against those statistics on July 30, drawing attention to their cause with an awareness outreach event held on the corner of Cuyamaca Street and Mission Gorge Avenue.
Young children laughed and played with colorful balloons alongside handmade posters proclaiming "Children are not for sale" and "Break the cycle" being held up by adults and teenagers.
Landon Pann said he and the group were there in an attempt to bring local attention to the fact that it was World Day Against Trafficking in Persons and inform the community that the problem is everywhere, including San Diego.
Holding up a sign proclaiming 'I am an Abolitionist,' Pann gestured to a portable speaker playing recorded information on child sex trafficking for drivers and pedestrians to hear.
"There's a big rally happening up in Del Mar but we wanted to do something here locally. Our whole family is really involved with Operation Underground Railroad," Pann said.
According to ourrescue.org, Operation Underground Railroad was founded in 2013 by Department of Homeland Security Special Agent Timothy Ballard and now operates alongside law enforcement agencies throughout the world to recover child victims of sex trafficking.
Pann said he is not up on exact statistics but believes school and business closures enacted to slow the spread of COVID-19 have resulted in the possibility of more children being targeted online.
"There are a lot of side effects because of the shutdown, you know, everyone is on the computer," Pann said.
One teen not on the computer that day was thirteen-year old Kaylyn Gnat, who said she was there to help spread awareness of the severity of the situation, hoping to keep kids like her from being targeted online.
"I'm here, well, we're all here because we want to stop human trafficking. I know a lot of kids out there are suffering and many people don't know about it, or they think it's not real so we're drawing awareness to the fact that it exists," Kaylyn said.
Her mother, Erin Gnat , agreed.
"It is a real problem and it is right here, in our own country. People don't always realize how close to home this is," Gnat said.