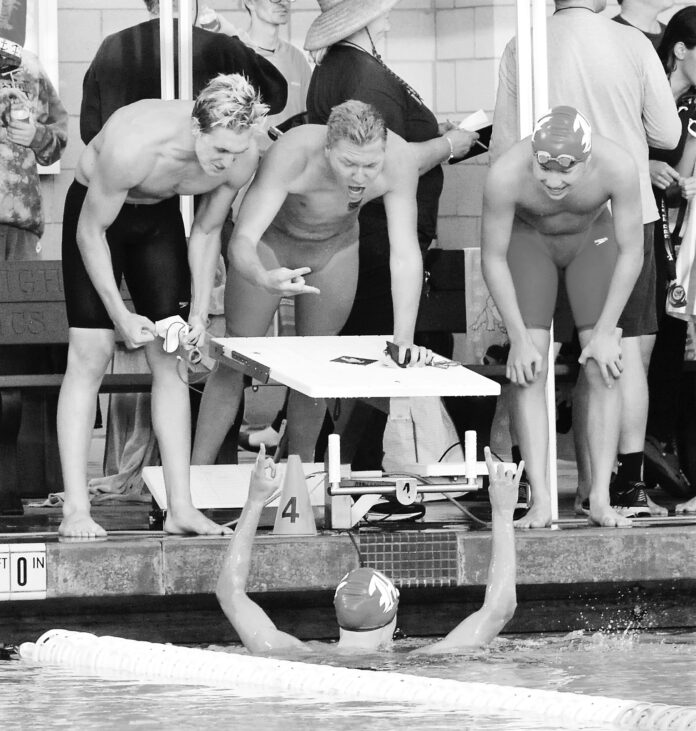 At the conclusion of last Friday's Grossmont Hills League championship swim meet, cheers of "Helix! Helix!" could be heard ringing around the pool deck at Granite Hills High School.
And with good reason.
The foursome of junior Asher Eaton, senior Cameron Drake, freshman Evan Tucker and junior Coen Riggins had just combined to set a new meet record in the boys 4×100-yard relay with a time of 3:15.49.
The record-setting unit celebrated at the blocks, then the whole team joined them in the water with arms upraised after the finals team scores were announced with the Highlanders on top of the boys slate with 497 points to runner-up Granite Hills' 475 tally.
The ecstatic in-the-pool celebration was loud and went on for quite some time as the setting sun devoured the last rays of daylight.
No doubt, the Scotties certainly made a huge splash at last Friday's league finals — on both the boys and girls sides.
The Helix boys won two relay events while capturing first-place finishes in two other individual events for four gold medals. The Highlanders tacked on four silver medals and three bronze medals.
Individual gold medalists included Antunez in the 50 freestyle (22.23) and Riggins in the 100 butterfly (51.55).
Eaton, Tucker, Riggins and Antunez combined talents to win the 200 freestyle relay in 1:29.39.
Eaton finished second in the 100 freestyle (49.08) and third in the 50 freestyle (22.68) while Tucker finished runner-up in the 100 backstroke (58.29) and third in the 200 individual medley (2:02.19). Riggins was third in the 200 freestyle (1:48.01).
Drake lost a celebrated stroke-for-stroke dual with Granite Hills junior Braden Felio in the 500 freestyle. Felio (4:42.63) finally managed to break free over the last lap while Drake (4:45.14) placed second.
The quartet of Landon Avalos-Kennedy, Wyatt Loorya, Michael Whitman and Antunez finished runner-up in the meet-opening medley relay in 1:44.45.
"I wasn't sure what to expect," Riggins said. "I looked up at the scoreboard and saw that I won. It still hasn't sunk in. It's super exciting."
Tucker is one to keep an eye on after winning two gold medals and silver and bronze medals.
Junior Riley Hull led the Lady Highlanders in the pool with individual championships in the 100 butterfly (58.77) and 500 freestyle (5:06.63). Hull won the 200 and 500 freestyle events last year.
"It's great," she said. "I have had a great team supporting me and cheering me on. I wouldn't be here without them, and a great coach."
Three meet records were set in last Friday's league finals — two by Granite Hills (one in the 200 medley relay in 1:38.95 and the other by Felio in the boys 500 freestyle in 4:42.63 besides the Highlanders' new mark in the 400 freestyle relay.
Interestingly, Drake (4:48.06) had out-clocked Felio (4:54.32) in the preceding prelims before they flipped positions in the finals.
Felio finished the meet with three gold medals (200 medley relay, 500 freestyle and 200 freestyle in 1:44.44) and one silver medal (400 freestyle relay in 3:21.04).
Senior Aidan Keane, junior Teagan Pennings, Felio and Vaughan Clark swam legs on the record 200 medley relay. Keane also had an individual double with golds in the 200 IM (1:58.16) and 100 backstroke (55.17)
The Valhalla Norsemen, who finished third in the regular season dual meet standings, produced their own share of accolades as senior Rachel Munch swam to individual championships in the girls 200 individual medley (2:09.25) and 100 breaststroke (1:07.53). Junior Tess Forstot won the girls 100 backstroke in 59.14 while senior Louis Fehrensen captured the title in the boys 100 freestyle (48.84). Senior Alexander Golu claimed first place in the boys 100 breaststroke (1:00.55).
Fehrensen and Golu joined forces to help Valhalla finish second in the 200 freestyle relay (1:30.21) and third in the 400 freestyle relay (3:24.67) with Matthew Hansen and Tyler Piscopo.
Golu (2:00.54) placed second in the 200 IM while Piscopo placed second in the 50 freestyle (22.45).
Forstot, Munch, freshman Angela Prado and senior Emily Hansen placed second in the 200 medley relay while Much joined forces with juniors Margot Chammas, Marissa Sparks and Alexandra Schow to win the 400 freestyle relay.
Munch has won three league IM championships and two league breaststroke titles.
"I'm really happy I could win leagues again my senior year," she said. "Definitely that last lap I made sure I got ahead of the other girls."
Granite Hills finished as the regular season dual meet champion in both gender fields. At the league finals, the Lady Eagles topped the field with five gold medals (200 medley and 200 freestyle relays, 200 freestyle, 50 and 100 freestyle), two silver medals (200 IM and 100 backstroke) and four bronze medals (200 IM, 50 freestyle, 100 breaststroke and 400 freestyle relay).
"The girls swam great and we were only partially rested," GHHS girls coach Cathy Elgas noted. "The girls raced. We got a lot of automatic CIF cuts."