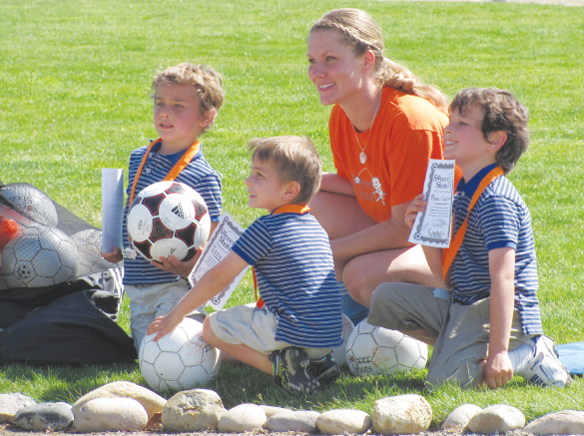 Dribbling and honesty, shooting and encouragement, sharing and passing. These are just a few of the life lessons and emotional management embedded in the curriculum surrounding one of the world's favorite sports—soccer.
Dribbling and honesty, shooting and encouragement, sharing and passing. These are just a few of the life lessons and emotional management embedded in the curriculum surrounding one of the world's favorite sports—soccer.
Liz Barker-Aquino, East San Diego Soccer Shots director, is an entrepreneur that turned her love of the sport into a business to help support her family and gives back to the community. She said it is her love of soccer that taught her the most important lessons in life and she can find no better way of passing along those lessons to the youth in the community.
A nationwide franchise, Soccer Shots is geared towards children 2 to 12. It is an age group where organized sports are not normally provided for in a school setting and Barker said that its relationship with local schools is welcomed and a large part of getting the young involved in the character involvement curriculum and have fun at the same time.
"All of us coaches come from soccer backgrounds that changed our lives, so we work to give back to the kids what the world of soccer has given us," she said. "All of our coaches are qualified to teach preschool and we go to around 80 schools right now. But we also play in local parks so this way any child has accessibility to the program."
Barker said any child can sign up through schools or just go to its website to sign up, and then show up. Now, Barker's Soccer Shots is working with around 900 families each season.
"We get a real positive response from the schools and we are growing quickly," she said. "We love what we do and working with children it is very easy to get excited about it and motivated. Soccer shots is a non-competitive program and I am really proud of that fact, because there are a lot of people out there that have a bad image of sports because they were screamed at as a child. We try to avoid that atmosphere and make it a really positive experience for the kids. It is a place for these children to be emotionally safe and learn the sport without all of the pressure."
Barker, in business and serving East San Diego for two years now, said that Soccer Shots was the perfect match for her.
"I came to Soccer Shots, through my husband who is a soccer player from Brazil. Another gift that soccer gave me," she said. "While on vacation I was reading books on giving back to the community and how to start your own franchise. Then one day on Facebook I saw a small ad for Soccer Shots, clicked it, filled out the form, they called me and it was the perfect match."
At Barker's location there are 15 people working and there are two other Soccer Shots in Central and Northern San Diego.
But Barker said the sport of soccer is what brought her to where she is today. She said she was the kid that was not good at math and education never drew her in just for the sake of education. "I wouldn't get an A in math, but I could hold a pull up longer than anyone in class," she said. "Sports have always been a pull for me. So I started playing soccer and though I played other sports soccer was always a constant in my life. I found I was good at it and made the varsity team in high school. I finished high school because of soccer because I had no interest in school. I wound up with a soccer scholarship for college and said I could go to school for soccer, but when it was all over I was so thankful that I had that education."
Now with two children, they started at soccer in the community at the ages of 2 and 3. She said as a business and a family they believe strongly in giving back to the community, often providing baskets for silent auctions, or any organization that needs something for a worthy cause.
Justin Bredeman, vice president of recruitment for Soccer Shots, said that the franchise was conceived and built by three college buddies that loved soccer and wanted to pass along the same life lessons the sport had given them. "Soccer Shots was born out of our passion for the game and our love for the impact it had in our lives," he said.
Bredeman said Barker is doing extremely well in her practice and he is impressed with what she has accomplished in such a short time and what he see in store for her in her future.
"She understands the concept of Soccer Shots, where age, weight, gender are not a consideration of the ability to play to sport," he said. "As the program was created, she is able to influence the lives of kids, teach them soccer skills and help them develop life skills of strong character, teamwork and good sportsmanship, which is a stronghold of our curriculum."
Barker said even the youngest of players benefit from the sport, but with a toddler you have to be a bit more patient.
"In the first weeks they are clinging to mom or dad's leg," she said. "At that age they have not been exposed to organized environments, like a classroom so you have to praise them for everything they do right. When they first kick the ball, or pick it up and throw it. You will be surprised within just a few weeks. After watching the other children play and interact, within a few weeks you will suddenly see them become more active and actually dribbling."
Fall season for Soccer Shots begins in September, with classes being held at Hilton Head Park in Rancho San Diego. From Sept.16-21 there will be free programs all throughout the county. There is a fundraiser at Petco Park on Sunday, Sept. 22 at 10 a.m. Dodgers vs. Padres Kidsfest is a joint effort between the Padres and Soccer Shots where donations go to Soccer for Success, a program that is pulling kids out of gangs through safe places to play and high quality instruction. Face value of tickets are $27, but can be purchased through Soccer shots for $18.
For more information on Soccer Shots and how to register go to www.soccershots.org/eastsandiego.