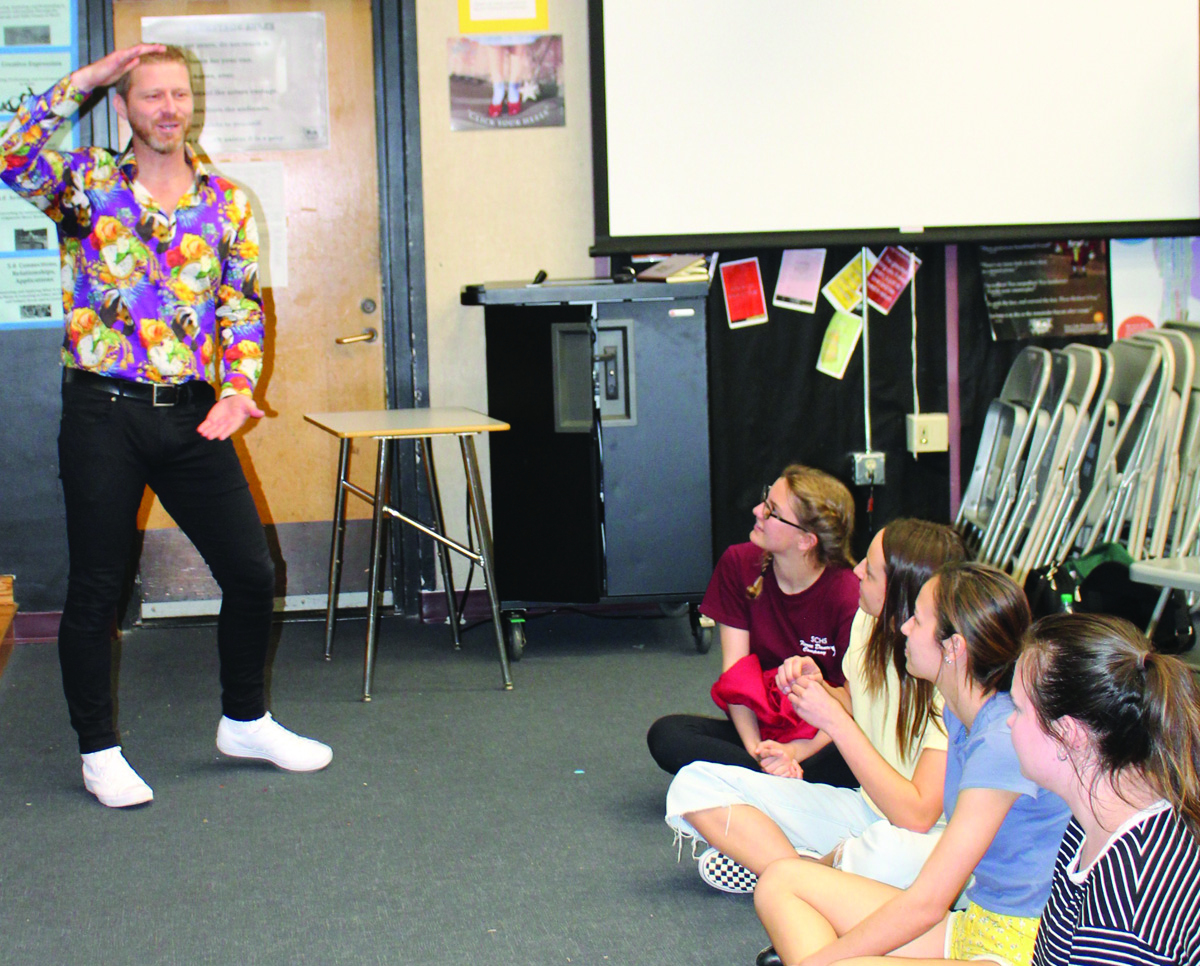 Actor Dean Chisnall has played to audiences throughout the U.K. in notable roles such as Shrek at the Drury Lane Theater, and Jean Valjean from "Les Miserables" at the Queen's Theatre. However, a recent Thursday had him in a backstage classroom at Steele Canyon High School, workshopping character development with students in preparation for their upcoming production of "Shrek, the Musical."
Sitting among the students, he frequently shifts position in a metal chair from where he is directing questions at the teens one by one in an effort to pull out the backstory of their fairytale characters. He crosses and uncrosses his legs, leans in, and giggles lightly at some of their answers, nodding slightly as he listens.
"You guys are brilliant, utterly brilliant. I did this in rehearsal in England with Shrek and I wasn't nearly as good, I hadn't thought up my backstory yet. You're all brilliant," Chisnall said.
This is actually a return trip to Steele Canyon for Chisnall, who previously visited the school in March 2019 when the students were mounting "Les Miserables" under the direction of music director Heather Luck and theater director Nicole LaBella.
"My dad was a head teacher for 30 years and I feel it is important for me to give something back. I say this with full modesty: I would have longed for someone to come like I now have the opportunity to do, to give back. I'm very excited to be here," Chisnall said.
In fact, this is the only school where Chisnall has developed this type of outreach, from working with the budding actors to spending time with the young orchestra.
Chisnall said that it is the students who take things to the next level, often asking him questions that he can't anticipate. He says getting the opportunity to play Jean Valjean was a dream come true for him, something he never thought he'd get to do and that he tries to encourage all the students to stick with their dreams.
"Resilience is a really big word in this industry. There's always a way to land your dreams but you have to invest in yourself," Chisnall said.
He smiles when asked about his experience of working his way up to a lead role.
"It gives you a grounding when you're promoted from within, from understudy.  I've also been a swing, been responsible for knowing all the parts, so it feels like I've really built my way. I tell all the kids that it's not about what part you play, it's what you bring to the company that matters," Chisnall said.
If he had to pick another route, the actor said it would likely have been something in sports, claiming that he wasn't overly academic as a teen.
"It is an enormous passion of mine, not unlike theater with the passion it takes to achieve something as a team. Still, I can't imagine not having taken this path in life," Chisnall said.
The actor said focusing solely on academics can be hard on teens when it is given more emphasis than creative exploration.
"Putting aside any creative pursuits over straight academics is absolute nonsense. I'm talking of England as I can't speak for America. Of course, you have to have schooling but I had a bit of freedom to discover theatre and I loved sports growing up. It wasn't all about a test, that isn't a world I would want to be raised in," Chisnall said.
"I think I'm on the most magical, bizarre journey I could have."