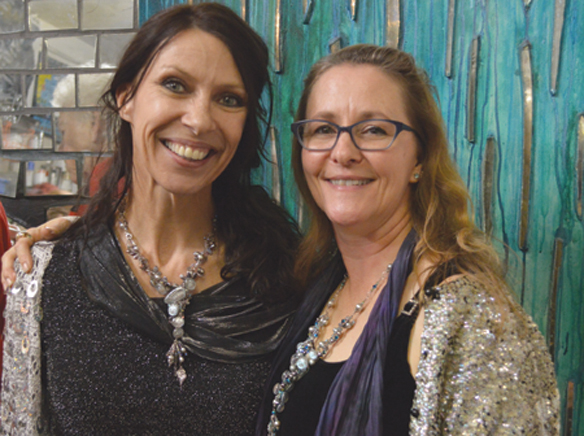 Illuminating, translucent spectrums of light shined through the evening at Fusionglass Co.'s 10th year celebration as nearly 200 people gathered in its gallery and workshop on Saturday, Nov. 30 in La Mesa.
Illuminating, translucent spectrums of light shined through the evening at Fusionglass Co.'s 10th year celebration as nearly 200 people gathered in its gallery and workshop on Saturday, Nov. 30 in La Mesa.
Much of the sparkle came through company founders Paul Fernandes and Debb Solan, but the majority came from patrons of the shop, most of whom were adorned with custom, unique jewelry, each one a piece of art like no other. And that is what Fusionglass is all about. It's handcrafted dichroic glass jewelry and pieces of art are unique and cannot be replicated. With its vast array of jewelry, artwork and functional art, this shop is tailored for the entire community, with price ranges that fit the needs of anyone that desires a one of a kind piece of art.
Solan said the evening was more than a success, it was a celebration of the community that they had created through their art, patrons, classes, group tours and local artists that they have joined forces with.
"When Paul and I opened up shop 10 years ago, we had been doing a lot of travelling with our products," she said. "But that much travelling takes a toll on your health, and when a place opened up in La Mesa we decided to take it wanting to build a community of artists in our own neighborhood and that is what we have been doing for the past 10 years."
Solan said she is self-described as Obsessive Compulsive Disorder and always has to be doing something. Always an artist, she has worked with pottery, murals, and stained glass and during this process is where she met Fernandes. She said one day he called her and told her about his new venture into fusion glass.
"For more than a year we played with glass in his kitchen," she said. "His wife only got the kitchen table for Thanksgiving Day and Christmas, then we were back at it."
She said it was at a charity event that she realized that she made more money in a few hours that she made in a month and that is when they decided that they would set up shop permanently. But her love for this art and its intricacy is what draws her most in working with this medium.
"There is not really a recipe in making much of my artwork," she said. "Each piece, no matter how small or extensive in design are made as I go. Much of my work, for example my tableware collection is made from recycled glass from showroom display cases. When I learned how to take the 'temper' out of tempered glass, it opened up an whole new world in the art of crafting glass. This comes in particularly well with our fundraisers, where we have to supply all of the materials."
Fusionglass participates in many charity events, she said, with proceeds from the evening's event going to Take Part, an educational program where they reach out to local schools, teaching the art of fusion glass and helping to keep art education in the schools. Ten teams of artists participate in what is described as a program that moves from "palette to palette."
Taking classes on stained glass with Fernandes for three years, Marjorie Pezzoli, also a good friend of Solan, said she provides handmade original silk scarfs, which can be seen throughout the gallery, with jewelry and decorating other displays.
"I love this place and have been a part of this community here," she said. " I help with ladies night out, held every second Wednesday of the month, where we make glass pieces or other pieces of art, It is so much fun and always reminds me of how creative this place really is."
During the event, Fusionglass showcased 20 local artists that ranged from paintings in every medium, bone carving, clothing, and accessories. Fernandes said they always do their best to support local artist like themselves and the additions to their gallery were welcomed and wanted.
With sparkle, sparkle, sparkle being the theme of the evening, clients and artists alike dressed in period costumes, their most glittery outfits or let the jewelry they wore do the sparkling for them. Solan said she was overwhelmed, but not surprised at the support for the event, as she knew everyone there.
For more information about the jewelry and other custom art pieces available go to www.fusionglassco.com. Fusionglass Co. is located at 8872 La Mesa Blvd, in La Mesa. It offers group tours, classes and community events all year long.