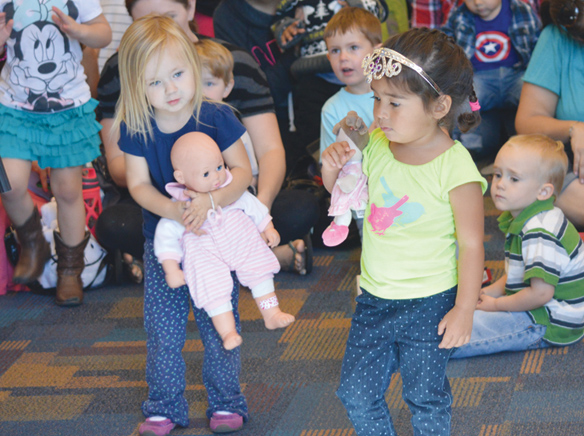 Children sprinted up and down the aisles of the LaMesa library last Friday as the county kicked off its 1,000 Books Before Kindergarten program. While most would assume that the kids would be forced to be there, the bursting excitement of the children present said otherwise. Many boys and girls sifted through the selection, snatching their favorite books and loading them into their parents waiting arms. Handfuls of literature became stacks, which in turn became piles. All ages of children perused through the books, from children just about to enter kindergarten, to toddlers unable to even walk.
The 1,000 Books Before Kindergarten program promotes a challenge to both parents and their children. Have your child read or read them one thousand books before they enter kindergarten. This challenge has popped up all over the country, with dozens of libraries and schools swearing by its effectiveness. La Mesa is a strong supporter of this educational initiative.
La Mesa Mayor and teacher Mark Arapostathis spoke about the prompt for literacy. Arapostathis said credit is due to parents that made all these children such avid readers.
"You (parents) are the first contact to your child," he said. "You are going to do the best job as teachers."
The newly elected mayor went on to read the children an interactive interpretation of "Bark Jorge," asking the audience to chant the noises of animals inside the story. His passion for reading and children could be plainly heard as he exclaimed cries of "moo" and "oink."
San Diego County Library Director José Aponte spoke on practical utilities for reading, bringing up the necessity of reading for maps and navigation.
"It's really hard for mom or dad to go to work if they don't know where work is," he said.
Aponte said impact of literacy is undeniable in schools, reinforcing that "reading is key" in early education. He addressed this directly, while maintaining a teacher's demeanor to the audience.
"While it sounds like I'm talking to the kids now, I'm actually talking to their parents," he said.
Aponte ended by leading "The Wheels on The Bus" with the crowd. The program had already signed up 90 students in the less-than-a-month that precluded the kickoff on Jan. 23. They expect to sign up many more, and plan on maintaining the movement continuously. Arapostathis and Aponte asked parents to aid in their child's learning. They also encouraged older sibling to help out by reading to younger brothers or sisters. The challenge is one that can be taken on as a family. Aponte said it is extremely important for children to achieve literacy.
"Reading is the biggest indicator of success," Aponte said.
To learn more about the 1,000 Books Before Kindergarten program go to your local county library or visit www.sdcl.org/1000books.