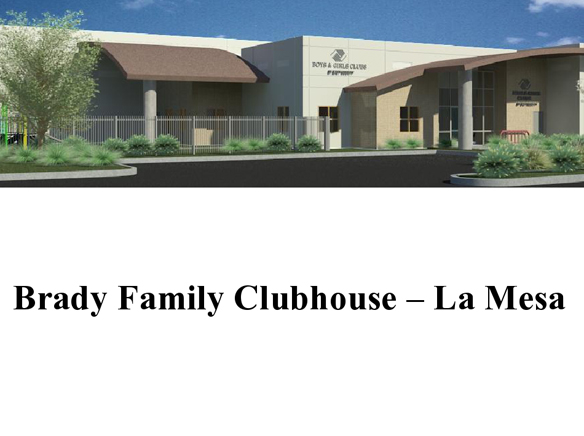 More than 30 La Mesa community leaders launched a campaign to raise $4.45 million toward construction of a new local youth clubhouse, improvements to an existing teen center and an endowment to operate both facilities—because, in the words of one local businessman, "It's better to build kids than try to mend adults."
More than 30 La Mesa community leaders launched a campaign to raise $4.45 million toward construction of a new local youth clubhouse, improvements to an existing teen center and an endowment to operate both facilities—because, in the words of one local businessman, "It's better to build kids than try to mend adults."
The group, dubbed The La Mesa Campaign Cabinet, seeks half the $8.9 million required for the project, with the first portion already raised by The Boys & Girls Clubs of East County Foundation. The group, whose members include figures in business, politics, education and government, states the goal is to raise the remaining funds over the next two years.
The facilities are to be located in Highwood Park, on the La Mesa Middle School campus, near the intersection of Parks and University avenues. Beginning of construction is planned for late next year or early 2016, with operations scheduled for the start of the 2016-17 school year.
The so-called Brady Family Clubhouse and Brady Family Teen Center are named in recognition of a $3 million pledge from La Mesa residents and commercial subcontractors Mary Alice and Ron Brady.
"We're doing this to impact young people because it's better to build kids than try to mend adults," Ron Brady said at a recent kickoff breakfast. "We're proud of the work of the Boys & Girls Clubs. They're teaching kids the importance of personal responsibility and accountability for their own lives."
That phrase about mending adults has gotten famous since Brady said it, said Jerry Fazio, Boys & Girls Club foundation executive director.
"The fundraising is going especially well," he said. "You would get that line from any fundraiser that had the ear of a writer, but La Mesa has simply opened up its arms to the Boys & Girls Clubs. It's refreshing and wonderful to see the reception that we've gotten."
The first half of the funding package, Fazio added, was raised in about 10 months.
The La Mesa-Spring Valley School District, which includes La Mesa Middle, has 12,500 students. About 10,300 of those students live within the school district. La Mesa Middle serves 1,100 students in grades six to eight.
The teen center, which opened in 2006, serves about 2,000 young people annually. Boys & Girls Clubs of East County, founded in 1961, administers five youth centers countywide.
"We have the advantage of having operated a teen park in that neighborhood for several years," Fazio said. "We've gotten to know the families pretty well, and those families that we serve look a lot like the families we serve."
They include low- to moderate-income households, single-parent families "and a lot of kids who'd be home alone or out on the streets if it weren't for the Boys & Girls Clubs."
Fazio said that his foundation approached the La Mesa Police Department in 2011 to gain a better understanding of the need for the facilities. That information reflected 495 calls for police service to three schools within two blocks of the club site and 401 calls within one mile of the site for infractions that typically involve juveniles, including vandalism, burglaries, runaway situations and drug violations.
La Mesa Police Chief Ed Aceves, a member of the campaign cabinet, noted that such fundraising programs are especially noteworthy in an era of dwindling state resources. His department, he said, has managed to stay afloat through local funding for diversion programs "to try to hit our youth a little bit earlier.
"But our communities," he said. "Used to be full of state programs. Now, there's very few programs that are funded by anything other than just nonprofit programs that have found a need for people to fund them. It really is a great thing, that there are people who have the money and see the need to put their resources toward something like this."
Suggested donation amounts range from $500 to $300,000.
At 25,000 square feet, the new clubhouse will be the largest of the area Boys and Girls Clubs facilities. The clubhouse will feature a learning center, a kitchen and nutrition center and a "Little Rascals" area for children ages 5 to 7.
Plans at the teen center call for cosmetic exterior improvements and interior upgrades, including flooring and carpeting, new furniture, computers and a security system.
The fundraising group's business members include Mike Hansen, Grossmont Center shopping area general manager; Neal Reynolds, president of Reynolds Communities homebuilders; Gary Clasen, owner of Continental Catering; Vickie Whitmire, vice president of Argent Bank; Bill Fischbeck, a lead attorney at Fischbeck & Oberndorfer; Allen Brown, a lead attorney at Stebleton & Brown; and Jamie Dominquez owner of Grossmont Escrow.
Elected officials include Mark Arapostathis, La Mesa city councilman; Priscilla Schreiber, trustee for Grossmont Union High School District; and Rick Winet and Bill Baber, members of the La Mesa- Spring Valley School District board. Former elected officials include Debbie McElravy, of the Grossmont Healthcare District board; Mary England, La Mesa Chamber of Commerce CEO, and La Mesa city councilman Dave Allan.
City attorney Dave Witt is also a cabinet member.
Additional members include LeRoy Knutson, retired La Mesa city attorney; Paul Botte, principal at Petix & Botte Financial Services, Philip Szold, a retired pediatrician, and Jerry Hollingsworth, former chair of two capital campaigns benefiting area Boys & Girls Clubs facilities.
Honorary chair of the group is NBA Hall of Fame member and La Mesa native Bill Walton, for whom the clubhouse gymnasium will be named. Chairman of the capital campaign is Steve South, president and CEO of EDCO Disposal.