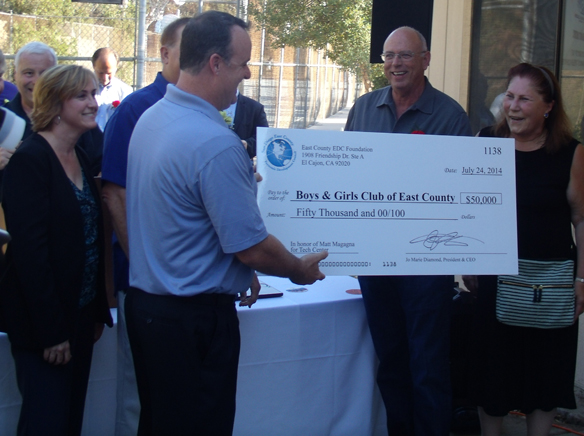 The thousands of fans dressing up for Comic Con were not the only gathering of superhero's in San Diego this week. These heroes however, do not need masks or a fortress of solitude. Their superpowers are compassion, teamwork and determination, and they could be found at the La Mesa Teen Center for a ceremony to celebrate the creation of a new fortress, a Boys and Girls club for the child superheroes tomorrow.
The thousands of fans dressing up for Comic Con were not the only gathering of superhero's in San Diego this week. These heroes however, do not need masks or a fortress of solitude. Their superpowers are compassion, teamwork and determination, and they could be found at the La Mesa Teen Center for a ceremony to celebrate the creation of a new fortress, a Boys and Girls club for the child superheroes tomorrow.
There are more contributors to this project than members of the Justice League, but Steve South may represent of the "Man of Steel" on this occasion. South is the campaign chairman of the La Mesa Boys and Girls Club of the East County Foundation and CEO of EDCO services and said he has been involved with the Boys and Girls club for nearly 25 years.
South said he is excited that after endless talks of planning and fundraising this center is becoming a reality.
"It's thrilling," he said. "La Mesa has been talking about a boys and girls club for a long time but it never really developed. It's a great opportunity for a community to come together and to do that in a way that helps kids for generations is just an over the top experience because at the end of the day, it's all about the kids and a project like this is going to last decades and decades. There are few things that can bring together people, government and community members, kids are one."
It takes more than just a great idea and community connections to bring together something like this however, sometimes you need the help of a local legend. That legend is La Mesa native and NBA Hall of Famer Bill Walton. He spoke longer than any, reminding everyone of the reasons they had all been brought together.
"Sadly too many of our young children today don't have the same opportunity that we had, that same sense of hope," he said. "So as we build and look forward to the future and we must see the angels who have given so much to help build our great communities."
Walton said that Ron and Mary Alice Brady were perhaps the two greatest of said angels.
"Ron is the epitome of what it means to be at the top of the mountain and realize that he didn't get there by himself," he said. "Too many people get up there and build an electric fence around the mountain. That is the antithesis of Ron and Mary Alice Brady. Because the first thing they do when success comes their way is turn around and they put that open hand down and out and say 'Come on, you're coming with us.' They are that beacon of hope, that inspiration, that shining star on the hill that gives all of these young children the hope and the dream that we all took for granted."
Mary Alice Brady said that seeing this plan come to fruition was "a dream come true" and that it brought out some intense emotions.
"Overwhelming," she said. "It always is because growing up as I did, it's amazing to me that I could be involved in something as wonderful for our community, for the world. When I first came to San Diego I was one of these children who needed a place to go. There were no boys and girls clubs then and I was placed in a foster home. This neighborhood where my husband grew up, right up the street, really needed a boys and girls club, a safe environment, a place where the kids could have good role models."
Nearly $5 million has been generated for this project that will help about 500 kids a day. The La Mesa Teen Center was renovated with upgrades to the façade, new furniture, new computers new walls and ceilings blinds and a security system. A separate facility for the Boys and Girls club will be built a short distance away but is still in the planning phases.
Nile Brandt, director of the La Mesa Teen Center said renovations have already made a difference and that these kids deserve it.
"Everything that has been done to this place has stuck out in a positive way and I think the kids feel more accounted for," he said. "I've been incredibly fortunate over the last four years here to be able to work with an amazing team and the best group of kids that I could possibly imagine. I don't have bad days here. I can come here in bad mood, car broke down, whatever, but as soon as that first kid walks through the door it's a complete 180. I hope one day to be a board member for the boys and girls club here and give back everything they have allowed me to accomplish here."
La Mesa Mayor Art Madrid was in attendance, along with Bob Taylor of Taylor Guitars. Taylor represented the East County Economic Development Council, who presented a $50,000 check to the Boys and Girls Clubs of East County.
Diane Magagna was one of the contributors honored during the ceremony, and Magagna said she was touched by the support she has received, especially from Bob Taylor.
"Fourteen years ago when my son Matthew died, Bob came to my rescue," she said. "I work at Taylor Guitars, Matthew worked at Taylor Guitars and so does my son Aaron. We founded this foundation and we've come a long way haven't we? It's really been a pleasing to be able to do things like this but it wouldn't have been possible without you Bob, thank you for everything."
It really has been a tremendous community effort, said Walton, something he never loses sight of.
"When you're part of something special, which I have been in my life, that's a privilege, a privilege that you have to earn every-day," he said. "I had that privilege but now I'm able look around and I see all the people that have gotten me to where I am today. I'll start with my mom Gloria. She is here today. My mom still lives in the same house that we all grew up in and I got to go over there and pick her up on the way here today. There is no greater feeling having people come up to me, as they have today and say 'Your mom changed my life.' To be able to bask in the warmth and love that La Mesa has given to our family."
To Gloria Walton, the face of fame for her is normal, now that it has come gradually. She also said her son's success was a combination of great mentors and a focused desire.
"He was very fortunate to have great role models and very good coaches all the way through," she said. "You don't get that far without working very hard but the coaches also taught him self-discipline. For his birthday one year, my husband got him a spotlight for the backyard so he could shoot at night. He wouldn't come inside until he hit 100 consecutive shots. Those are the kinds of goals he set for himself. Now he does a lot of these fundraiser types of events and I think one of his greatest feats is the public speaking, he used to have a stammer up into his twenties and now you can't shut him up ha-ha."
Gloria Walton recalled one of her favorite stories of Bill, before the world fell in love with his basketball prowess.
"I was a librarian, so I was always pushing reading," she said. "I had four children, three boys and one girl so I would bring home a stack of books every week and would say let's take a story time break. So I'd set up on the couch and it was always a fight for who was going to sit right next to me, there was a lot of rivalry. Bill got the idea one day that he was going to sit on the floor in between my knees and hold the book so he would be closest to me. That's just a cute story but we really did want them to love reading. My husband and I were not at all athletic."
Gloria Walton finished with a word of motherly advice.
"Give your kids something to work towards," she said. "A hobby, a sport or an interest. Especially if it's reading, encourage them to do things. Play outside, I grew up before television had such a grip on people but now there are so many distractions."
Before the NBA and UCLA, Bill Walton and Dave Grundstrom explored the hills of La Mesa the old fashion way, by getting into trouble. Walton said that Grundstrom is his best and longest running friend, and that they first connected in 1962, playing basketball at Helix High School. Grundstrom said that with connections from influential community members Jerry Fazio, director of Boys and Girls club and Ron Brady, he was able to bring along his lifetime friend Walton in on the project. Grundstrom was also willing to share one of the wild adventures he and Walton used to have growing up.
"One of our high school classmates sold me this dune buggy for 25 bucks that he couldn't get running," he said. "This thing was an old ford flathead V8 with straight pipes coming out and no exhaust, it's like a dragster basically. So I get it fired up and tell Bill hey lets go take it for a ride. My dad comes home and Bill and I are strapped in were in flames coming out the back my dad says, 'be careful what are you doing? You shouldn't be doing that.' So my foot slipped off the clutch and the thing popped a wheelie going all the way up the hill. My dad said, 'You are going to kill yourself and Bill Walton, you're crazy!' That's one of a million stories."
With any luck, and some a few helping hands from the old neighborhood, La Mesa will now host a center for the next generation of kids to grow and play as should be able to, without a care in the world.