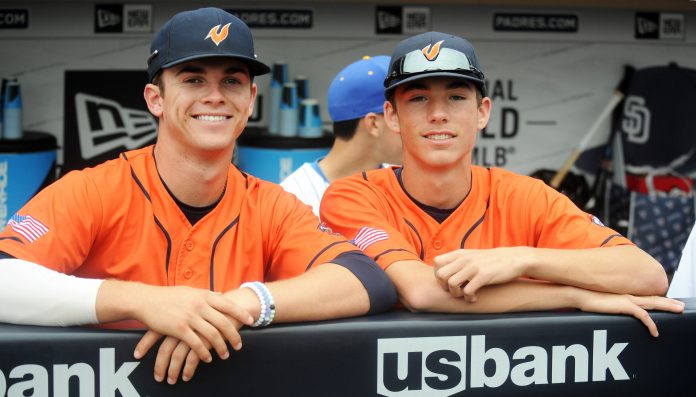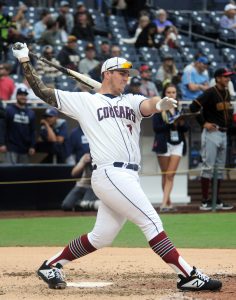 The San Diego Section's second annual high school all-star game took place June 5 at Petco Park following the San Diego Padres' regularly scheduled Major League Baseball game against the Philadelphia Phillies.
The event, held in conjunction with the Padres, included a pregame home run derby and nine-inning game featuring an East versus West format.
Rosters for the High School All-Star Night event showcased the top 48 players — 24 per team — in San Diego County as selected by the baseball coaches' advisory committee and select media.
Batter up
A total of 10 players represented East County on the East team. The group fared well both at the plate and on the mound despite falling 7-3 to the West team.
Juniors Joseph Ingrassia and Kyle Casper represented San Diego Section Division III champion Valhalla.
Ingrassia pitched a scoreless third inning while Casper reached base on an infield single in the sixth inning and drew a walk in the eighth inning.
Ingrassia (5-2 with a 0.95 earned-run average) pitched his second career no-hitter earlier this season while hitting .354 with 19 RBI for the Grossmont Valley League champion Norsemen (25-8).
Casper hit .369 for Valhalla during the season with 18 RBI and two home runs.
Helix, a semifinalist in this year's Open Division playoffs, contributed three players to the East roster: senior Eric Smelko and juniors Jordan Thompson and Alonzo Richardson.
Thompson reached base three times via two singles and a walk and scored one run while Richardson set down the order in the top of the ninth inning as the final East pitcher.
Steele Canyon senior Billy Tellous, the Grossmont Valley Player of the Year, had two hits – a single in the second inning and a leadoff double in the fifth inning.
Senior Jack Hyde (7-2 with a 0.62 ERA during the season) pitched a scoreless fourth inning while representing the Division I runner-up Grossmont Foothillers.
Granite Hills junior T.K. Parker drove in one run in the bottom of the seventh inning as the East scored two runs to bounce back from a 5-1 deficit.
Santana senior Brandon Glowacki, the Grossmont Hills League Player of the Year, singled in the second inning while Mountain Empire senior Trevor Elliott pitched the eighth inning, allowing a two-run home run to Cathedral Catholic junior Zavien Watson, who was named the game's MVP.
Elliott finished the 2019 season with a 0.39 ERA and 168 strikeouts in 71 innings. At the plate he hit a prodigious .564 with 20 RBI and three home runs.
Ingrassia, Thompson, Glowacki and Tellous all were First Team All-CIF selections while Elliott, Parker, Smelko and Casper made the second team.
For the local contingent, the chance to play in a Major League Baseball stadium was obviously a moment to savor.
"It was a blessing, it was fun to play," Richardson piped up after the game.
"It was very fun," Parker added. "It was a once in a lifetime opportunity; I just wanted to swing with it."
"It's something I will always remember… hanging out with all my friends from the other teams in the county," Thompson said.
"It was unbelievable fun, I enjoyed myself," Glowacki said. "I got to play with some kids who I've played with most of my life. It was crazy (playing in Petco); it was surreal."
Among the seniors, Tellous has committed to San Jose State while Hyde will continue his baseball career at the University of San Diego. Smelko has signed to play at St. Mary's.
San Diego Section commissioner Jerry Schniepp said the prep all-star game has definitely grown in stature in its second year.
"We've organized it better," Schniepp explained. "The Padres are so invested in it. It's a fantastic credit to them. The players were picked up in a team bus at SDCCU Stadium, given new shoes, a postgame meal and a gift bag. They also presented home run derby and MVP awards."
The Padres presented the CIF with a check for $7,500 to boot.
To get the evening started on a high note, Padres superstar Manny Machado posed for photos with players from both teams prior to the home run derby.
Long ball
The home run derby featured four players from both the East and West teams. Ramona senior Derek Diamond, Steele Canyon's Tellous, Helix's Thompson and Rancho Bernardo senior Miles Cook represented the East team while Torrey Pines senior Mac Bingham, La Costa Canyon senior Spencer Jones, Carlsbad junior Thomas Saggese and Francis Parker senior Michael Campagna represented the West team.
In the first round, all players had two-and-a-half minutes to score as many points as possible. Hitters received one point for a ball that hit the warning track and three points for a ball that cleared the Petco Park wall.
In the final round, the two hitters (from either East or West squad) with the most points in the first round had two minutes to score as many points as possible to determine the champion.
Diamond (20 points) and Cook (19 points) advanced to the finals where Cook out-scored Diamond 22-13 to win the home run derby title.
Sim (16 points), Saggese (14 points), Campagna (13 points), Thompson (10 points), Jones (five points) and Tellous (three points) rounded out the first-round hitters. Jones was last year's champion.