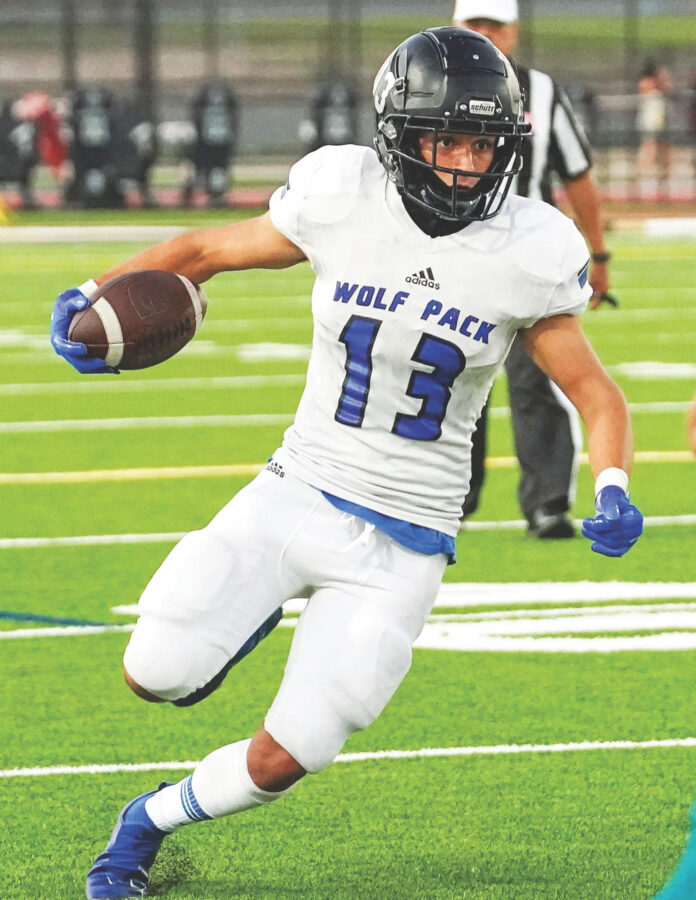 It has come down to two teams for this year's Grossmont Valley League football championship: the undefeated West Hills Wolf Pack (9-0 overall, 5-0 in league play) and the El Capitan Vaqueros (8-1 overall, 5-0 in league).
Kickoff for the title game is 7 p.m. at West Hills High School
The winner also gains possession of the Tony Burner Memorial Trophy besides the league championship title, so it will be doubly emotional evening for both teams.
The Wolf Pack last won a league title in 2014; the Vaqueros last won a league championship in 2015.
"This is going to be our toughest game of the year by far with a lot of things on the line — the Tony Burner Memorial Trophy, league championship and seeding in the Division III playoffs," El Capitan head coach Ron Burner said. "West Hills is going for their first ever perfect regular season and on top of that they are very good and coached very well. All parts of their game are solid. It is going to take a near perfect game from us to be in it until the end. Our games are always classic battles and I see this one being the same."
West Hills rolled to its 11th consecutive win, including games from the shortened 2021 spring season, by topping cross-town rival Santana, 23-7, last Friday to retain bragging rights to the coveted Mayor's Cup, emblematic of the annual Santee city championship between the teams.
Meanwhile, El Capitan extended its current winning streak to six games after topping the visiting Monte Vista Monarchs, 41-20, last Friday.
The Mayor's Cup contest was a battle throughout even with Santana playing with a banged-up lineup.
"Santana came out ready to play," West Hills head coach Casey Ash said. "We'll have to do a better job taking care of the football if we want to keep winning."
West Hills led, 7-0, at halftime on an option halfback pass from sophomore Collin Dill to senior Dylan Snyder. Senior quarterback Braden Oberg had initiated the nine-yard scoring play with a pitch to Dill, the team's back-up signal-caller.
Snyder doubled the Wolf Pack lead to 14-0 on a 33-yard scoring run late in the third quarter.
But the Sultans (2-2 in league, 6-2 overall) countered with another gadget play as senior Dylan Anderson took a pitch and completed a 39-yard halfback scoring pass to junior Reed Robertson to halve the deficit to 14-7.
The hosts capped their homecoming victory with a 12-yard scoring run by Dill and a 26-yard field goal by junior Tyler Haley, who was two-for-three on extra-point tries.
Oberg completed five of 11 passing attempts for 127 yards with one interception while rushing 13 times for 22 yards. Dill had two completions for 17 yards and one touchdown while rushing four times for 27 yards and one touchdown.
Snyder rushed five times for 46 yards and one touchdown while making two catches for 17 yards and a touchdown.
Senior Rhodes Canfield had two catches for 64 yards while senior Jake Partington had two catches for 50 yards.
The Wolf Pack howled on defense with three sacks (one each by senior Orion Koster and Ashton Callan and junior Rye Schultz) and one interception (by junior Donovan Mjelde). Ash said middle linebacker Dylan Freund played his best game of the season.
On the year, Oberg has passed for 1,129 yards with 14 touchdowns and one interception while rushing for 442 yards and six touchdowns.
Snyder has scored 10 touchdowns on the season — five rushing, five receiving.
Anderson amassed 163 yards in total offense, including 84 receiving yards and 73 passing yards, in the loss for Santana. Sophomore Alex Rico passed for 108 yards in his varsity debut.
Not far away in Lakeside, the visiting Monarchs were testing the host Vaqueros with an early upset bid after taking leads of 6-0 and 14-7 before Burner's troops marched to victory with five unanswered touchdowns.
El Capitan led 7-6 at the end of the first quarter before putting up 21 points on the scoreboard in the second quarter to lead 28-14 at halftime. El Capitan outscored Monte Vista 13-0 in the pivotal third quarter to build a 41-14 lead before the Monarchs added a lone touchdown in the final quarter.
Senior quarterback Savigon Yokley completed five of seven passing attempts for 198 yards and three touchdowns, including a 78-yarder to twin brother Antwone. Savigon Yokley also rushed eight times for 157 yards with one touchdown on a signature 80-yard run. He finished the night with a 153.3 quarterback efficiency rating.
Senior Daisean Desinor (two catches, 81 yards) finished the game with two touchdown receptions while also scoring on a 20-yard run. His TD catches went for two and 52 yards.
"It was a battle early as Monte Vista came to play and were well coached," Burner said. "We eventually got it all together and won. Savi had another great game combining for four touchdowns and over 375 yards of offense. Daisean Desinor had three TDs as well."
Burner called the latest Vaqueros' victory a "total team effort as usual."
The Vaqueros tallied six touchdowns in the game — three passing and three rushing. Senior Antwone Yokley (two catches, 109 yards) caught one scoring pass while senior Xavier Peace (two carries, seven yards) scored once via the rush.
The Vaqueros racked up 511 total yards in the victory.
Defensively, juniors Dom Dehna and Chad Allread keyed El Capitan with 12 and 11 tackles, respectively, while junior Austin Cordeiro had one fumble recovery.
On the season, Savigon Yokley has passed for 1,196 yards with 19 touchdowns against just one interception while rushing for 1,002 yards with 14 touchdowns. He's also compiled 254 receiving yards and three touchdowns. His total yardage is almost off the charts with 2,452 yards — an average of 272.4 yards per game.
He's also scored on an interception return to lead the team with 18 total touchdowns and two conversions. Twin brother Antwone ranks second on the team with 13 touchdowns (all TD catches).
Aiden Robey broke off a 62-yard scoring run as Monte Vista stunned the Vaqueros early on for a 6-0 lead. Senior quarterback Jayden Richardson passed 15 yards to sophomore Matthew Felix for the Monarchs' second go-ahead touchdown
El Capitan defeated West Hills, 27-14, during the 2021 spring season to win the Tony Burner Memorial Trophy.
Regardless of the outcome of Friday's games — Santana closes out regular season play at El Cajon Valley — all three Grossmont Valley League leaders will be headed to the playoffs, likely with home-field advantage. Entering this week, West Hills held down the No. 5 position in the San Diego Section Division III power rankings while Santana was No. 6 and El Capitan was No. 8.
Mt. Carmel (8-1) topped the division, followed by No. 2 Santa Fe Christian (9-0) and No. 3 Mater Dei Catholic (8-0).
Three of the section's remaining four undefeated teams reside in Division III.
Mount Miguel 27, Valhalla 13
The visiting Matadors (3-2 in league, 4-3 overall) enhanced their prospects to qualifying for the upcoming Division IV playoffs with the win over the Norsemen. The win was the second consecutive for Mount Miguel, which now stands No. 10 in the division power rankings — one spot ahead of Valhalla (1-4 in league, 2-7 overall).
Sophomore Jeremiah Castillo rushed for 151 yards and scored twice to key the Matadors while Hector Armento had three interceptions, including one for a score.
Mount Miguel, which had two games scrapped this season because of health protocols, has completed its league schedule and will end regular season play with a non-league game at No. 6 Del Norte (5-4) this Friday.
Christian 32, Canyon Hills 6
Jake Davila passed for 141 yards and two touchdowns and tacked on 18 rushing yards and a score to lead the Patriots (5-3, 1-1 in Eastern League).