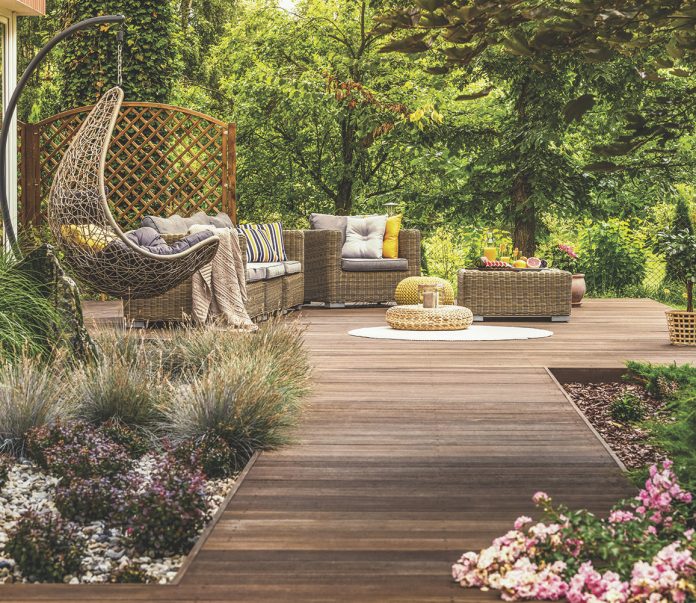 By Brian Gonzales
Courtesy J&W Lumber
One of the most exciting advancements in construction is how far composite building materials have come in the last few years. Upgrades in production and materials have resulted in composite products that perform at a high level and look fantastic.
Among our favorite versatile outdoor building materials is Trex decking. If you're not familiar with Trex (or just know the basics), here's a quick run-down of whether or not you should consider this versatile product for your next project.
1. How much future maintenance are you prepared to do? One of the primary selling points of Trex is just how little maintenance it needs. To enjoy years of use from a great-looking lumber deck, you'll typically need to perform maintenance (power wash, possible sanding, and staining) every few years. Trex, on the other hand, will look nearly identical to the day you bought it well into the future with the occasional basic wash with soap and water.
2. Will your project be subjected to strong sunlight? Trex decking comes with a robust fade and stain warranty, so you won't have to worry about discoloration due to exposure to direct sunlight.
3.  Do you have basic DIY skills? Are you planning to install a deck yourself and feel comfortable working with wood? If so, then you'll have no problem installing Trex, since the material is easy to manage with basic construction tools. All Trex decking features an innovative built-in hidden fastening system, which conceals screws between planks to create a sleek look without countersinking any screws or filling any holes.
4. Are you working within a budget? DIYers are often surprised at the affordability of Trex decking. The range of composite options has expanded significantly in the last decade or so, making products like the Trex Enhance® line an economical option priced in line with many lumber choices.
5. Are you living in an area with harsh weather conditions? Southern California is home to hot deserts, frosty mountains, and salty coasts. Composite products like Trex withstand and last well against these environmental challenges.
6. Will your project require staining? Trex decking planks come pre-colored in many attractive options, so you'll never need to paint or stain it. This not only eliminates the need for maintenance, but also saves money upfront on labor and materials costs.
7. Are you afraid composites aren't environmentally friendly? Indeed, lumber is the most eco-friendly option, but Trex isn't far behind. Trex decking is primarily made from reclaimed wood and recycled plastic film (from recycled grocery bags), so it's an eco-conscious choice you can feel good about.
8. How much life do you want to get out of your project? In addition to requiring little to no maintenance, Trex composite decking is also a durable option. It won't crack, split, or warp and it resists damage from rot or insects. This makes Trex an extremely long-lasting choice.
9. Are you concerned that composite will look "fake"? One of the best things about the modern lines of Trex decking is how natural they can look. Trex Enhance Naturals and Transcend Tropical lines feature multiple tones and an organic-looking streaking. This non-uniform appearance mimics the look of lumber.
10. Are you thinking of getting creative with your deck?  By heating the product, a Trex dealer with a Trex oven can introduce curvature to the Trex planks to create stunning curved railings, deck perimeters, and steps.
Beyond building a deck, because of its durability, Trex can be also used in many exterior applications. Many homeowners and contractors have used Trex planks to build outdoor seating, exterior wall paneling, storage boxes, and occasionally horizontal fences.
Homeowners interested in taking a closer look at the options available for Trex have the option to visit a J&W Lumber store locations.