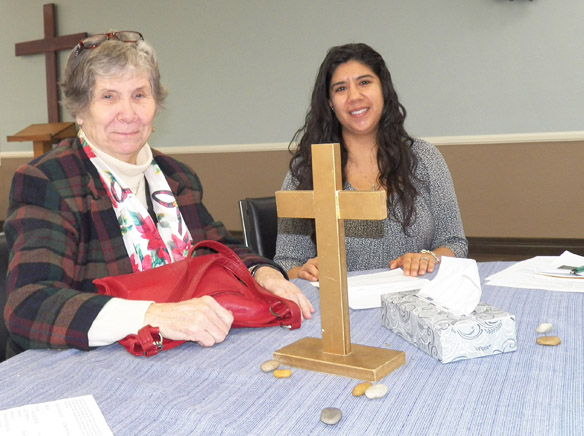 On January 5, the United Church of Christ of La Mesa celebrated the Christian tradition of Epiphany Sunday by hosting the testimony of two representatives of the Interfaith Committee for Worker Justice of San Diego County (ICWJ). The church's new senior minister, the Reverend Kaji Dousa, opened the 10 a.m. sanctuary service with a call for parishioners to acknowledge the year-beginning event as a journey guided by the light of divinely-lit stars, with the congregation singing "Somos pueblo que camina" in Spanish to signal "We are people on a journey," who appreciate the paths other individuals are traveling. Her pastoral message touched on New Year's resolutions as a "lovely tradition" and "beautiful time of reflection" on the intentionality required to live a human life of dignity, with natural desires for joy and justice.
Elizabeth Robinson, Program Coordinator with the ICWJ, drew parallels to her organization's goals from the Epiphany story of the Magi visiting the Christ Child, bearing gifts. She noted that the Wise Men, who were wealthy, educated elites of the day, sought out the Holy Family, despite the humble origins of Jesus, at a time when they were all strangers in strange lands. An adherent of the Catholic Church, Robinson described the fact that her group also seeks to advocate with a "moral presence" for the poor, the humble, the estranged, because of this belief: "Everyone is created in the image of God."
Robinson is a native of San Diego and worked with the ICWJ for six years. The child of immigrants, she was first in her family to earn a college degree, when she graduated from San Diego State University. She said of her work, "I want to be a living representative of God's love. This is not a job, this is a calling." Although the ICWJ is addressing no current worker-situation problems with specific East County businesses, she noted that many area residents are employed in often-troubled positions as security officers, fast food restaurant workers, taxi drivers, hotel maids, greens keepers, janitors, and non-unionized grocery clerks and sales clerks. She urged people in East County to be sensitive to the possibility that a neighbor, though employed, might be poor, at times going hungry, suffering, in need of help and understanding. She further encouraged support for California legislators to adopt a "moral budget," in that "Budgets are about people, not just about money," observing that East County residents can help ensure that state spending honors the needs of the area and reflects the priorities of East County communities by contacting their statewide elected representatives. She cited such concerns as maintaining the "safety net," education and schools, and programs to alleviate possible sufferings of the elderly, the sick and the disabled. She concluded, "Impoverished workers need our voices to amplify theirs and their need for support."
Also invited into the UCCLM pulpit was Sister Justine Church, a Catholic nun who has served on multiple medical missions and studied the theology of economics. She has worked with the ICWJ for 15 years. She recounted how she participated in the economy in assistance to poor workers by taking a job as a hotel maid. She cited the long hours and few work breaks while being required to heft the weight of heavy mattresses as a simple example of counterproductive work conditions easily corrected. "Let you present be your presence," she advised, in knowingly bringing justice, dignity and respect to low-wage workers.
As the service ended, UCCLM churchgoers were treated to the church tradition of members being handed personal Epiphany stars, each bearing a meaningful word to guide meditation and reflection during the year. Reverend Douŝa smiled, disclosing that her star's guiding word is "Peace," which she considers perfectly fitting with her recent news of expecting a child this year.
The ICWJ was established in San Diego County in 1998. A new activity offered by the organization is providing information to other groups about the Patient Protection and Affordable Care Act (ObamaCare). The Golden State's "insurance exchange" under the ACA is called Covered California, and the ICWJ can educate audiences about the exchange's available insurance options.
The United Church of Christ of La Mesa is located at 5940 Kelton Avenue and can be contacted at (619) 464-1519 or www.ucclm.org. The church conducts two services each Sunday, an informal meeting-hall gathering at 8 a.m., followed by sanctuary worship at 10 a.m.