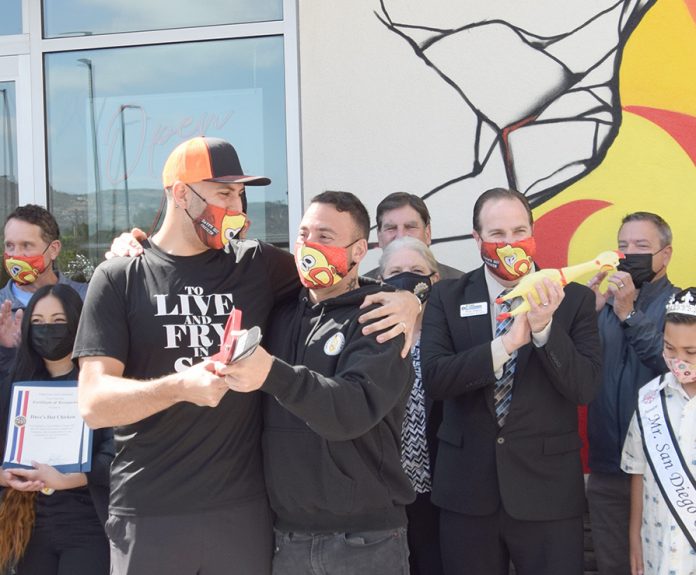 Hundreds of people attended the ribbon cutting and opening day festivities as the San Diego Regional East County Chamber of Commerce welcomed Dave's Hot Chicken to El Cajon on April 25. This is business partners Lawrence Joseph Kourie and Andrew Feghali's second location in the county, with plans to build 12 more.
Dave's Hot Chicken started as a popup startup in a parking lot in East Hollywood in 2017, when four friends came together and decided to bring Nashville Hot Chicken anywhere. It opened its first store in 2018. Its menu is a simple menu of chicken tenders, sliders, fries and kale slaw. Kourie said that they try to be the "In-N-Out" of chicken. Owning the franchise rights to San Diego County, Kourie said although they want to be across the county, that they targeted El Cajon for their second restaurant, following their first location in Pacific Beach.
"We really appreciate the El Cajon community and cannot wait to provide them premium chicken," he said. "We have morals and values that align with the city of El Cajon. We want to give back to others, provide serving leadership, and provide an opportunity for our team."
Kourie said that they place their team first and is happy to bring jobs to El Cajon.
"Right now, we employ more than 60 people, and we are very proud of that," he said. "And that is during the pandemic. We pride ourselves in making sure that we portray the best in the industry and employing 60 people means a lot to us. That is 60 families, and we treat them like our family."
Kourie said it is great to be part of the El Cajon community.
"We cannot thank the community enough for helping us open. We want to make sure that we make you proud," said Kourie.
Dave's Hot Chicken is located at 110 Fletcher Parkway.