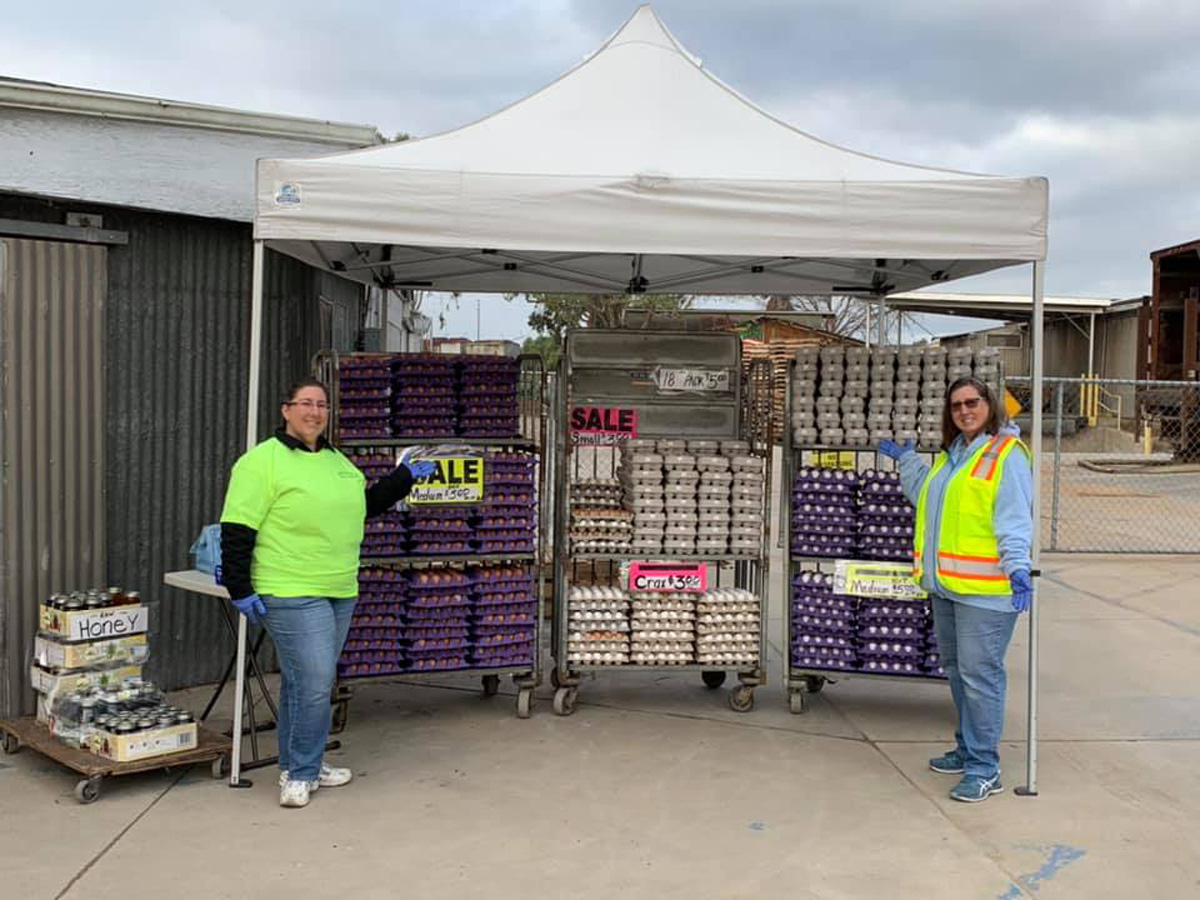 Spanning four generations, since 1942 Hilliker's Ranch Fresh Eggs in Lakeside has provided East County with more than just eggs, and Frank Hilliker is a staple of East County, involved in most of its community's chambers, politics and more. In response to the COVID-19 stay at home policies, businesses closing their doors and empty grocery aisles, on March 15, Hilliker rearranged his urban farm business to accommodate as many people as possible and give them the fresh cage free eggs. He added six new employees and started a drive thru process which has had lines down from his farm on El Nopal to the 7-11 on Riverford Road.
"We have a really good plan [with the long lines of traffic]," said Hilliker. "The CHP came by and looked at it. I talked an officer and he said, 'I see that you have a plan to get cars in and out in a fast way, you're doing a good job, you're executing your plan, so keep it up and you can't control what happens down here on the road.;"
Hilliker said some people are happy, and some are not.
"It just depends," said Hilliker. "For the most part people are happy that they can drive in and get eggs today. But we have a few regulars that are angry that they have to wait in line. They are angry that they can't get what they usually can get because the way we do it now, we are literally doing a drive thru. We have the eggs in the middle of the driveway, you drive around and we have people that come to you and say these are the products that we have available, and that's it. So, the selection has been limited, but I have to make it easy because we have so many people that want to come in and normally I sell 15 different products. But it is too hard when you have that high of a volume."
Though the deals have changed, and he has had a couple of days of closure for himself, his staff and his chickens to regroup, Hilliker is providing daily information on the ranch's Facebook page. Depending on his stock, he's been offering medium 20-egg flats, and large and a dozen jumbo white or brown eggs at $5, and as long as he has stock, local honey. To make it as quick as possible, it is a cash only deal, and there is a limit set each day depending on supply.
"Although my volume is higher, I have to pay all these people I hired. As much as we can we are still doing our wholesale. Everybody is getting a little bit," said Hilliker. "If you want to come buy eggs at the ranch, people need to go to Facebook and look at Hilliker's Ranch Fresh Eggs. I don't care if they like the page or not, but all of the information is there. When we are open, what we are selling, the costs."
The ranch's Facebook page is updated daily.
Hilliker said that they have always been a big part of the community in East County, because that is where its customer base is.
"We are doing the best we can to make sure that we can provide fresh, wholesome essential eggs, but people are buying so many, so quick that we close down from time to time so that we can get everything packed, restocked, and regrouped," said Hilliker.
Hilliker' Ranch Farm Eggs is located at 11329 El Nopal in Lakeside. To keep up with its daily hours, supply and prices visit https://bit.ly/Hillikereggs.